2021-2022 Player Profile: Race Thompson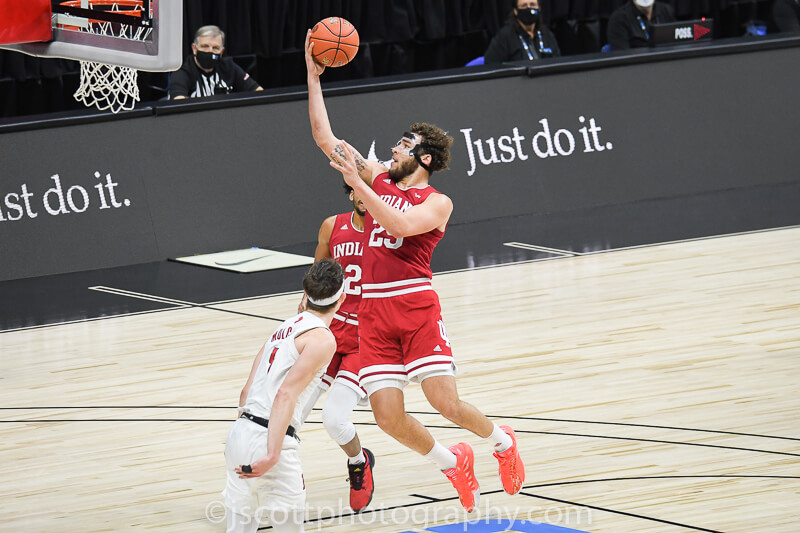 With the start of college basketball season on the horizon, we've transitioned from our look at other Big Ten programs to our player-by-player previews of the 2021-22 Indiana roster. Today, our player profiles conclude with a look at senior Race Thompson.
Previously: Logan Duncomb, Tamar Bates, Khristian Lander, Jordan Geronimo, Anthony Leal, Trey Galloway, Trayce Jackson-Davis, Michael Durr, Miller Kopp, Xavier Johnson, Parker Stewart, Rob Phinisee
The longest-tenured player on Indiana's roster, Race Thompson was the first player to commit to Indiana under Archie Miller.
Thompson, originally a member of the 2018 recruiting class, committed to Indiana on July 16, 2017. Rather than finishing out his high school career at Robbinsdale Armstrong High School in Minnesota, Thompson opted to reclassify and enroll a year early at IU.
The 6-foot-8 forward redshirted the 2017-18 season and suited up in the candy stripes for the first time in Miller's second season. Thompson's first Indiana season was marred by injuries. He logged four minutes in Indiana's second game of the season – an 80-35 blowout win over Montana State – and then didn't play again until the Minnesota game on Feb. 16.
His most notable moment as a redshirt freshman came when he logged 22 minutes and grabbed seven rebounds in a 75-73 double-overtime win over Wisconsin at Simon Skjodt Assembly Hall. For the majority of that game, Thompson more than held his own defensively against Wisconsin's Ethan Happ, one of the Big Ten's toughest frontcourt covers.
His role expanded as a redshirt sophomore as he appeared in 29 games and averaged 3.7 points and 3.9 rebounds. Thompson's potential was finally realized last season when Miller finally inserted him in the starting lineup and he blossomed as a productive contributor alongside Trayce Jackson-Davis.
Thompson averaged 9.1 points and 6.2 rebounds last season in 28.1 minutes per game. He started all 27 of the team's games despite suffering a face injury that forced him to wear a mask over the final five games.
Following Miller's dismissal last spring, Thompson entered the transfer portal, but quickly removed his name after getting to know Mike Woodson.
"I've said it before: I don't know how you could say no to Coach Woodson," Thompson said of his decision to return to Indiana. "I don't care who you are."
Now Woodson and Thompson have to meet the challenge of taking his game up another level this winter.
As a high school player, Thompson frequently stepped out to the midrange and the 3-point line and knocked down shots. That freedom wasn't allowed to him under Miller. Over his first three seasons, Thompson only attempted 28 3-pointers.
"Our offense was just different," Thompson explained. "It's not that I couldn't do it. It was just that role I was in. I was just really focused on doing my best at that role."
To date, most of his attempts offensively have come at the rim or from opportunities he created for himself on the offensive glass. For Woodson's four-out, one-in offense to work with Thompson and Jackson-Davis on the floor together, one of them is going to need to be able to space the floor effectively.
To Woodson's credit, he's been open to the idea of Thompson doing more on the floor than just being the glue guy who does the dirty work.
"Every day he just gives me more and more confidence handling the ball, facing the basket, playing the game," Thompson said this offseason.
Even if the 3-point shot doesn't materialize, Thompson should be able to lift his scoring average by a couple of points with one simple improvement: free throw shooting. Last season, he ranked second in the Big Ten in free throw rate (FTA/FGA), but only knocked down 62.5 percent of his attempts from the stripe.
For an Indiana team that needs to show significant shooting improvement, Thompson is a key given the amount of minutes he logs and the number of attempts he's generating from the line.
Bottom Line: Thompson isn't going to be on any preseason All-Big Ten lists, but he's one of Indiana's most important players for several reasons. He's a leader on and off the court who is liked and respected by his teammates. He was one of Indiana's captains last season and showed toughness late in the season by playing through a painful injury. Thompson is also productive statistically but is capable of taking his game to another level if he's able to convert more regularly from the free throw line and knock down the occasional perimeter shot.
Quotable: "I'm a tough guy. There's good days and bad days. If you can get through the worst days then the best days are great." – Thompson on what he's learned about himself so far over his first four seasons in Bloomington.
Filed to: 2021-2022 player profiles, Race Thompson