2021-2022 Player Profile: Tamar Bates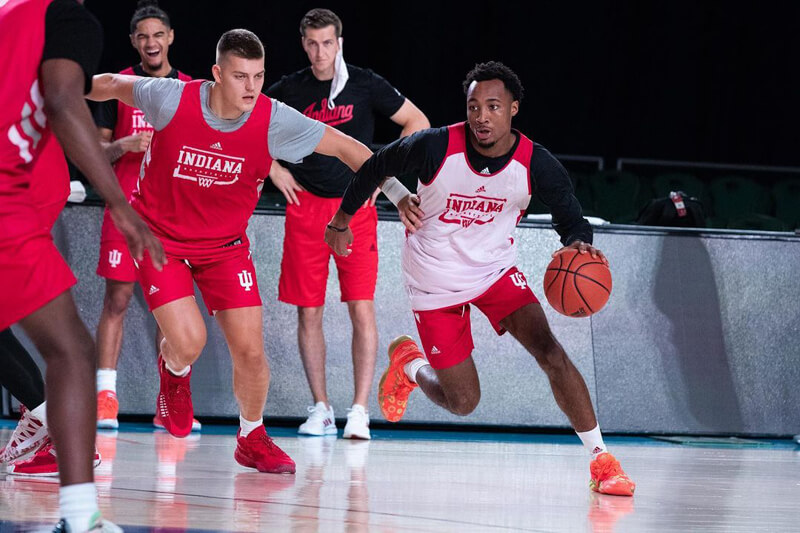 With the start of college basketball season on the horizon, we've transitioned from our look at other Big Ten programs to our player-by-player previews of the 2021-22 Indiana roster. Today, our player profiles continue with a look at freshman Tamar Bates.
Previously: Logan Duncomb
A year ago, Tamar Bates was committed to Texas. Now, he's less than three weeks away from starting his college basketball career as a Hoosier.
Bates committed to Texas in August 2020 but requested a release from his national letter of intent following head coach Shaka Smart's departure for Marquette.
That's when Mike Woodson stepped in.
Bates — a Kansas City, Kansas, native who played at Piper High School before spending his senior year at IMG Academy — knew who he was and just how important he was to the game of basketball. He said it was crazy to hear all of the great things Woodson had to say about him.
But it was Woodson's honesty that sold Bates on Indiana.
"They didn't make any promises, which is what stood out to me and my family," Bates told Inside the Hall's Tyler Tachman in late May. "I've never had things handed to me. I've been ready to work for everything. Just being straightforward, that's what stood out to me."
The now five-star shooting guard committed to Indiana on April 19, rounding out the freshman class alongside Logan Duncomb.
As one of the new guys, Bates hasn't had a problem fitting in. Everyone has picked up on his nickname "Scoop" that he said his mom gave him when he was younger. He attributes that level of comfort to the family atmosphere Woodson has created within the program.
"We are all really close," Bates said at Indiana Basketball media day in September. "We all spend time together every day, so just coming together as a group hasn't been a problem for us. We are the team where we all like each other, so it'll show on the court."
He won't have a problem fitting in on the floor, either. Unlike Duncomb's uncertain role, it's clear Bates will have the opportunity to make an impact early on as a freshman.
The left-handed shooting guard has a quick release and athleticism. His perimeter stroke is a strength — Bates shot 40 percent from 3-point range his senior year — but he can also make tough shots in traffic.
At 6-foot 4-inches, Bates is primarily a scorer but is also categorized as a combo guard for his role as a distributor and vision of the floor.
He's dangerous on the defensive end as well, with quick hands and explosiveness that help him jump passing lanes. He averaged two steals per game during his junior year. But he's still got room to grow in his rebounding and skills as a one-on-one defender.
Although no lineups have been set into stone by Woodson yet, Bates has plenty of competition among the crowded guard scene at Indiana.
On the wing, he'll compete with the likes of Anthony Leal, Miller Kopp, Trey Galloway and Parker Stewart for minutes. But if Woodson wants to use him as a facilitator as well, he'll enter an already tight point guard competition among Khristian Lander, Rob Phinisee and Xavier Johnson.
Bates, according to teammates, is putting in the work in the preseason. Trayce Jackson-Davis said he works on his jump shot every night in the gym and Bates is always right there working with him.
Bottom Line: Bates' late commitment to Indiana will be a huge asset to the program this year. He won't just contribute through crucial minutes on the floor, but this year will help develop him to lead the offense in the future. He will bring a level of shooting Indiana desperately needs after dealing with several seasons of inconsistencies. His quickness on defense is sure to get him in the rotation. Indiana assistant coach Dane Fife said last spring that Bates is a wild card, comparing him to Armaan Franklin and Al Durham. But Bates' versatility is what will allow him to help the Hoosiers.
Quotable: "My story is how I was originally committed to Texas and how I ended up here. I feel like it was all in my plan to end up at Indiana. I definitely feel like I'm here at the right time, being like the first wave of players, the first team that coach Woodson has at Indiana. In practice, we compete, we get after it. Like Trayce said, coach Woodson brings a positive vibe every day. And with that and the respect that we have for him, it makes us want to play harder" – Bates at IU's media day in late September.
Filed to: 2021-2022 player profiles, Tamar Bates