Freshman Focus: Tamar Bates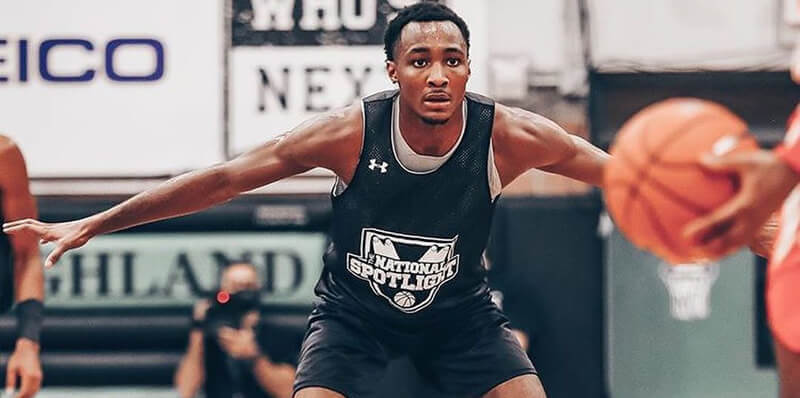 Indiana may have found a gem late in the 2021 recruiting cycle with the addition of shooting guard Tamar Bates.
Bates was originally committed to play for Shaka Smart at Texas but reopened his recruitment in late March after Smart left for Marquette. Shortly after, newly hired Indiana head coach Mike Woodson reached out to express interest. Even before they connected, Bates was already well-aware of Woodson's past in the NBA.
"I knew how important he was to basketball," Bates told Inside the Hall. "It was kind of crazy hearing him having so much good stuff to say about me."
Over the next few weeks, Bates grew relationships with all three assistant coaches at Indiana. During that time, Woodson made it clear that their relationship would extend past Bates' playing days. But it was Woodson's honesty that resonated most.
"They didn't make any promises, which is what stood out to me and my family," Bates said. "I've never had things handed to me. I've been ready to work for everything. Just being straight forward, that's what stood out to me."
On April 19, Bates committed to Indiana, joining Logan Duncomb in Indiana's 2021 freshman class. At the time, Bates was the No. 56 player and No. 13 shooting guard in the country. But since, his stock has risen. He's now up to No. 27 overall and recently earned a five-star rating.
Earlier in his high school career, though, Bates was often overlooked. He was coming off of a junior campaign averaging 22.1 points, five rebounds and 4.1 assists at Piper High School in Kansas City, but wasn't even ranked in the top 100 players nationally, according to 247Sports.
Ahead of his senior season, Bates transferred to IMG Academy, where head coach Sean McAloon immediately realized that Bates, who had already committed to Texas, was flying under the radar nationally.
In the preseason, Bates showed out in an event on ESPN, going toe-to-toe against powerhouse Montverde Academy. During the regular season, against some of the top competition in the nation, Bates averaged 11 points, 2.5 assists, three rebounds and 1.2 steals per game, while shooting 50 percent from the field and 39 percent from three.
In less than a year at IMG program, Bates already gained trust from his teammates and coaches. If his peers weren't doing their job, he held them accountable. When IMG held open gyms around 7 a.m., Bates was there.
"He was one of the first ones like 'Yep, no problem, I'll be there,'" McAloon said.
Even as Bates began to catch the attention of more national media throughout the season, he maintained the same underdog mentality.
"That's part of the reason that I play as hard as I do," Bates said. "I like it that way. When I perform the way that I do, as a result of the work I put in, it's not a surprise to me."
Now, Bates will arrive in Bloomington with a chance to make an immediate impact. He is, however, entering a crowded group of guards. He'll be competing for playing time with Anthony Leal, Trey Galloway and Parker Stewart at a wing position, plus Khristian Lander, Rob Phinisee and Xavier Johnson if Woodson decides to use them off of the ball.
What Bates brings to the floor is a dynamic skill set that translates to the modern game. Standing 6-feet 4-inches tall with length, Bates boasts good size for a wing, enabling him to be effective on the defensive end. He still has plenty of potential to fill out his frame with Clif Marshall.
Most importantly, though, Bates has the ability to help Indiana's inconsistent shooting from the last few seasons. As a junior in high school, he shot 44 percent from deep. But Bates can also handle the ball and finish at the rim, making him a nearly perfect fit for Woodson's spread-out offensive system.
"He's a really good three-level player," McAloon said. "He can shoot the three, he can hit the midrange, he can get to the rim, he shoots free throws well. So definitely a tough guard."
Indiana assistant coach Dane Fife, who hasn't watched Bates as much as McAloon, likened his game to two former Hoosiers.
"I think that he's a little bit of a wildcard in a good way," Fife told Inside the Hall. "He can do a lot of nice things. Maybe compare him to a little bit of (Armaan) Franklin, a little bit of Al Durham all into one."
Bates will undoubtedly have a chance to earn major minutes in his freshman season and even compete for a spot in the starting lineup. There's always an adjustment for freshmen as they transition to the college game, but Bates has all of the characteristics, both physical and intangible, to thrive early in his career.
Filed to: Tamar Bates