2021-2022 Player Profile: Logan Duncomb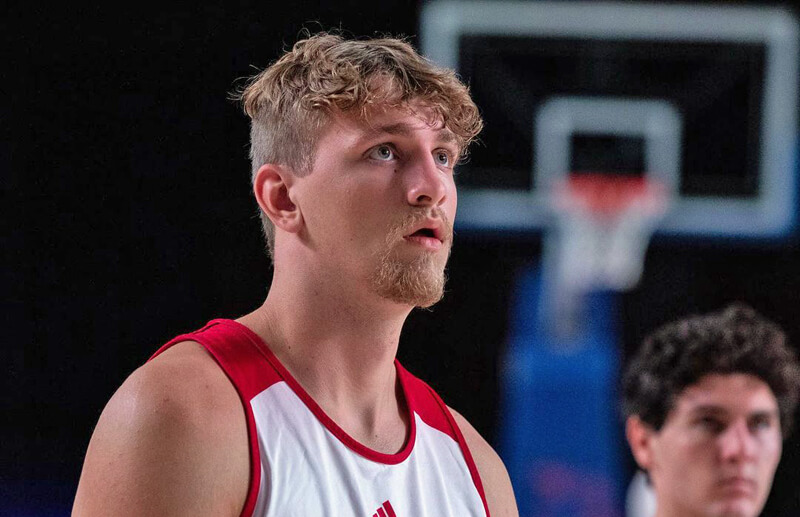 With the start of college basketball season on the horizon, we've transitioned from our look at other Big Ten programs to our player-by-player previews of the 2021-22 Indiana roster. Today, our player profiles begin with a look at freshman Logan Duncomb.
A lot changed in the 14 months that elapsed between Logan Duncomb's commitment to Indiana and his arrival on campus.
Duncomb, a four-star center from Cincinnati, gave his pledge to Archie Miller and the Hoosiers in early April of 2020.
Due to the COVID-19 pandemic, Duncomb's communication with the coaching staff he believed he would play for in college would be all virtual over the next 11 months.
As a senior at Archbishop Moeller High School, Duncomb averaged 13.9 points and 9.2 rebounds per game and helped lead his school to a district championship.
But as Duncomb found success on the floor and improved his national ranking, the Indiana program was crumbling under Archie Miller.
Miller, hired to elevate the program beyond the three Sweet Sixteens and two Big Ten championships Tom Crean delivered, struggled to deliver any consistent results. Recruiting, a strong suit early in his tenure, had basically ground to a halt. When the signing period arrived in November of 2020, Duncomb was the only player to tender his signature to the Hoosiers.
When the 2020-21 campaign ended for the Hoosiers at the Big Ten tournament, athletic director Scott Dolson had no choice but to move on from Miller. In many coaching changes, signed recruits ask out of the letters of intent to explore their options. But that didn't happen with Duncomb.
Rather than exploring his options, Duncomb stayed in contact with Dolson over the 13 days in between the firing of Miller and hiring of Mike Woodson. Before Duncomb even spoke to Woodson, he publicly endorsed the hire.
"I think that it's an awesome hire," Duncomb told Inside the Hall's Tyler Tachman in late March. "He seems like a really good coach with an NBA background. And they bring on Thad Matta who has college experience. It seems like a deadly duo."
Just a few days later and following a conversation with Woodson, Duncomb reaffirmed his commitment to the Hoosiers.
The four-star recruit arrived on campus in June as one of two freshmen in Indiana's 2021 recruiting class. But unlike Indiana's other freshman – five-star guard Tamar Bates – the role for Duncomb as a freshman is uncertain.
Duncomb did not play in Indiana's two-game exhibition tour in the Bahamas in August due to a shoulder injury. On the depth chart, he's clearly behind Trayce Jackson-Davis, Race Thompson and Jordan Geronimo. If Michael Durr is healthy, he'll be behind him, too.
But even if Duncomb doesn't get many minutes as a freshman, there's plenty to like about his game for the future.
He's a willing and capable passer out of the post. He hustles and plays hard all of the time. He has a reliable mid-range shot and is working on stretching his range out to the perimeter. He's mobile and loves to dive for loose balls, which is why he's broken his nose on many occasions.
More importantly, Duncomb wants to be at Indiana. Despite the coaching change, he stuck with the program when other schools would have been clamoring to get him last spring.
Bottom Line: It's unlikely that Duncomb will be in Indiana's rotation this season, but long term, he projects as an important piece in the frontcourt rotation. The Hoosiers are likely to lose Trayce Jackson-Davis after this season to the professional ranks. Thompson and Durr still have an additional year of eligibility beyond this season, but there's no guarantee either player will use it. Duncomb has legitimate size, has good footwork and continued to improve over the course of his prep career. Having a season to get adjusted to the college game will probably suit him well as he gets his body ready to compete in the post in the Big Ten.
Quotable: "I'm good now (injury wise). I had a strain in my shoulder so that put me out for a couple of weeks. I had a couple of more injuries at the very beginning when we started practicing together. I've recovered from all of that, I'm getting better. I'm practicing now full-go. For me to get on the court, I have to use what I have which is hustle, being able to play as hard as I can and doing the little things." – Duncomb at IU's media day in late September.
Filed to: 2021-2022 player profiles, Logan Duncomb