2021-2022 Player Profile: Miller Kopp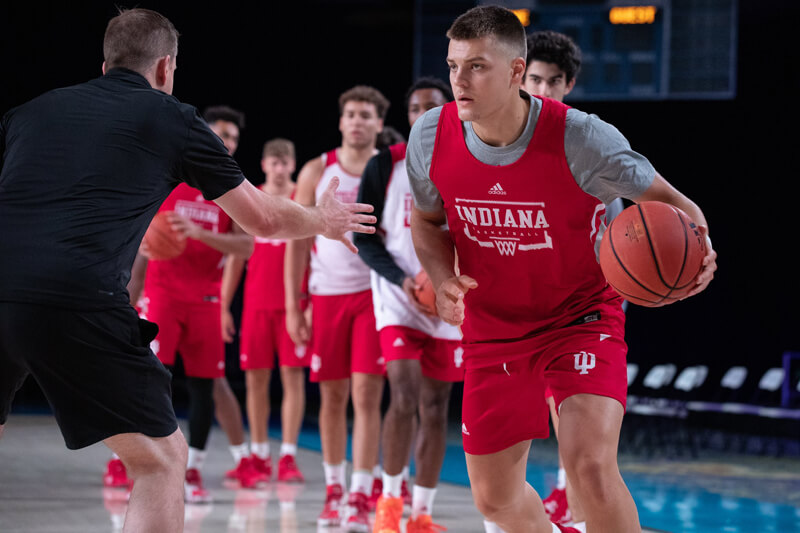 With the start of college basketball season on the horizon, we've transitioned from our look at other Big Ten programs to our player-by-player previews of the 2021-22 Indiana roster. Today, our player profiles continue with a look at senior Miller Kopp.
Previously: Logan Duncomb, Tamar Bates, Khristian Lander, Jordan Geronimo, Anthony Leal, Trey Galloway, Trayce Jackson-Davis, Michael Durr
As one of the new faces on Mike Woodson's first Indiana roster, Miller Kopp is gearing up for his first season as a Hoosier. It won't, however, be his first time playing in Assembly Hall.
Kopp transferred from Northwestern in April and had quite the stroke of luck playing on Branch McCracken Court. Last December, he led the Wildcats in a 74-67 win over the Hoosiers, shooting 5-of-6 from the field and scoring 13 points.
That's why when he put his name in the transfer portal, schools reached out within 30 minutes.
"It was pretty wild," Kopp told Inside The Hall in April. "It was like 8 o'clock at night and I had talked to compliance and I thought I was going in the portal in the morning. But like 30 minutes go by and I start to get some texts and calls. So it really caught me by surprise because I was expecting some stuff the next day and not that night."
Twenty schools reached out and he narrowed it down to Indiana, Oregon State and Utah. His 40 percent shooting average and 9.6 points per game over three seasons would explain the amount of interest.
On April 20, Kopp decided on Indiana.
He came into Bloomington to fulfill the shooter role the Hoosiers desperately needed, but Woodson wants more from him. Woodson wanted to help Kopp evolve his game.
"I came here to be pushed, to be more than just a shooter, challenged defensively and be a better rebounder," Kopp said at Indiana media day in September.
Every day in practice, Woodson and the assistant coaches work with him on his defense — guarding every possession and rebounding shots.
Another area of growth for Kopp was learning how to be the new guy. He had played against some of his new teammates before, but then had to find a way to fit in. And that wasn't hard at all.
"One thing that I've definitely noticed with this team is the fact that we've become really good friends off the court. On the court, we're working hard and getting better," Kopp said. "It's huge for us to come together as teammates and just get closer off the court. Because eventually, that's gonna lead to us being better off, too."
He has led the team in growing together. Not only is he talented, but he's likable. When asked what he's like off the court, Xavier Johnson described him as "a funny dude."
"He says the most random things at times, most of the time it's funny," Johnson said. "He's a pretty interesting dude."
When he's not on the court, he's making vlogs or TikToks or just talking to the random people he meets around Bloomington.
That's what has made Kopp so valuable to the team. The players talk often about how much fun they have had, and it's clear Kopp plays a large role in that fun.
"Talking to teammates, encouraging them. At the end of the day, that's the biggest thing. I just try to do that every day," Kopp said. "I don't say I work on it, but it's just something that I do. It's a part of who I am."
But he also brings something so important to the team that they haven't had for the last few years: consistent shooting.
At 6-foot-7 with a strong frame, he has the size of a forward but the skillset of a shooting guard. Over the last two seasons, Kopp recorded 98 3-pointers and shot 87 percent from the free throw line.
He is effective in shooting off of screens but is also efficient in knocking down jumpers off the dribble and scoring out of pick-and-rolls.
Although Woodson hasn't come out with a set starting five yet, it's expected that Kopp will start next week's season opener at the three alongside fellow big men Trayce Jackson-Davis and Race Thompson.
Bottom Line: Kopp is the sharpshooter Indiana fans have desperately been waiting for. His efficiency — especially from behind the arc — will allow the Hoosiers to spread out the floor more on offense and provide Trayce Jackson-Davis with more relief in the paint than he's ever had before. At the three, he won't always be able to break down his defender off the dribble, but his skills attacking with either hand will give him another option when he's run off the 3-point line. The biggest area for growth in Kopp's style of play is his defense, namely rebounding and on-ball defense.
Quotable: "I have a lot of untapped potential to my game in terms of defensive rebounding, and I think coach Woody is somebody to me who got across his vision for me and how I can help this team. And that was the biggest thing, because it's not about me. It's about him bringing my best out so we can win games here at Indiana." — Kopp at Indiana's media day.
Filed to: 2021-2022 player profiles, Miller Kopp