2021-2022 Player Profile: Khristian Lander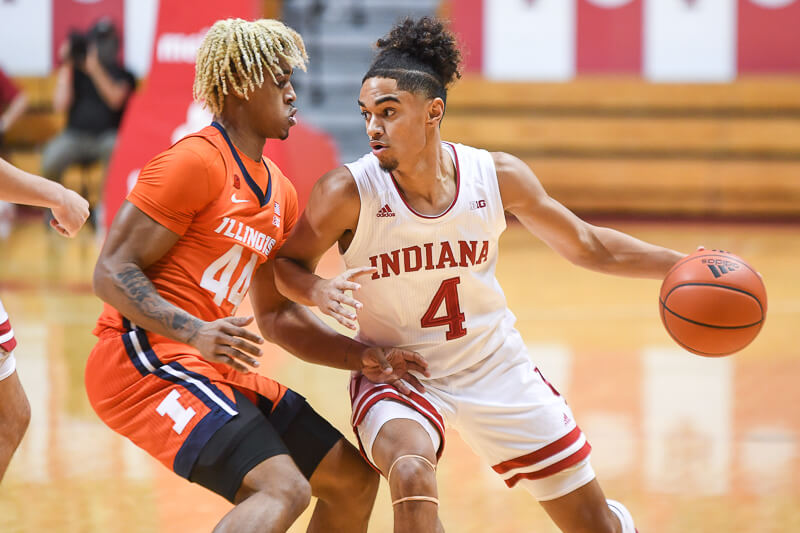 With the start of college basketball season on the horizon, we've transitioned from our look at other Big Ten programs to our player-by-player previews of the 2021-22 Indiana roster. Today, our player profiles continue with a look at sophomore Khristian Lander.
Previously: Logan Duncomb, Tamar Bates
Khristian Lander's commitment to Indiana basketball in late February of 2020 was a major recruiting win for the program.
Lander was the third five-star prospect to commit to the Hoosiers under Archie Miller. And for a program in desperate need of improved guard play, Lander appeared more than capable of providing a lift.
Less than three months after committing, Lander opted to reclassify and he enrolled for the 2020-21 year.
"We are thrilled to be welcoming Khristian and his family to Indiana University," Miller said in May of 2020. "He is a tremendous addition to our program not just as a basketball player, but a great person, and terrific student."
Lander's freshman season at Indiana, however, came and went with little fanfare. He arrived on campus at the age of 17 and early in the season, it became clear he would need time to adjust to the rigors of college basketball.
Indiana's condensed schedule allowed few opportunities for Lander to play in low leverage situations. The Hoosiers played no secret scrimmages, no exhibitions and only two guarantee games in Lander's freshman season. When he saw the floor early in the season, he often tried to force things offensively which resulted in turnovers or badly missed 3-pointers.
Things never improved with any consistency as Lander's debut season moved along. He only scored in double figures once and finished with an offensive rating of just 69.7, easily the lowest on the team. He shot only 6-of-26 on 2s and 12-of-44 on 3s. Lander's turnover rate was higher than his assist rate.
At the conclusion of the season, Miller was fired and the Evansville Reitz product put his name in the transfer portal. His name would stay in the portal for less than two weeks and on April 5, Lander announced that he would return to Bloomington for a second season.
Given the fact that he enrolled a year early and gets last season back from an eligibility standpoint, it's best for Lander to hit the reset button on his career and not dwell on his struggles last season given the circumstances.
Playing under Mike Woodson should give him more freedom to operate in a free-flowing offense. A full offseason in Indiana's strength and conditioning program should prepare him to deal with the physicality of the Big Ten. And it's fair to assume that much of Lander's poor freshman season was a result of confidence that seemed to shrink over the course of the season.
"I think (last year) gave me a pretty good head start, to be honest," Lander said last month. "Because I got the experience of a year of college early. I matured a whole lot through that year. I'm still maturing. I feel like that year definitely gave me a head start."
Bottom Line: Given his struggles last season, expectations are modest for Lander entering his sophomore season. Assuming everyone is healthy, Pittsburgh transfer Xavier Johnson is the presumed starter at point guard with Rob Phinisee his likely backup. But in terms of raw talent, Lander might have the highest upside of Indiana's point guards. His court vision and playmaking ability were both excellent in high school. If he can get back to playing with confidence, he could definitely carve out some minutes in the backcourt rotation.
While Lander only played sparingly in Indiana's trip to the Bahamas, Woodson said in late September that Lander is starting to "step up now." One wildcard in Lander's situation is that he was in a boot at Hoosier Hysteria in early October, but recent practice video showed him participating in a scrimmage.
Quotable: "I think it was just my confidence level was kind of down. It's back up now and that's all I really need is my confidence. My work ethic and all of that will take care of itself. My mentality has just gotten a lot better. I think the positive energy around me this year is a whole lot better." – Lander at Indiana's media day
Filed to: 2021-2022 player profiles, Khristian Lander