Khristian Lander to return to Indiana for 2021-22 season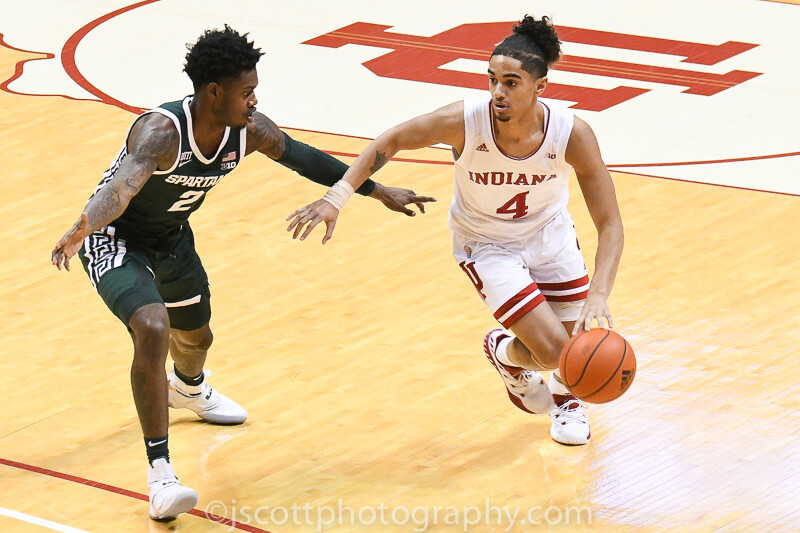 Indiana point guard Khristian Lander announced Monday that he will be returning to Indiana next season. He was one of the six IU players to enter the transfer portal last week.
?#pt2 pic.twitter.com/xqsvTOKMeW

— Khristian Lander (@khristianlander) April 5, 2021
Lander, who graduated high school a year early to enroll at Indiana last fall, struggled mightily as a freshman last season. He averaged just 2.1 points and 1.2 assists per game, while shooting 25 percent from the field.
The numbers, however, aren't indicative of Lander's talent. At Reitz High School in Evansville, Indiana, Lander was ranked as the No. 1 point guard in the 2021 class. As a junior, Lander averaged 21 points while earning second-team all-state honors. In his three years at the high school level, Lander scored 1,314 points.
There were extremely high expectations for Lander entering last season, many of which he wasn't able to perform to. Early in the season, he often looked lost, failing to get into a rhythm offensively and being taken advantage of defensively.
But there were also times when Lander showed flashes of his potential, like in the home win over Iowa where he dished out three assists, scored three points and contributed to a first-half surge. His elite vision was also apparent, although overall his passing was inconsistent.
Lander's return is yet another lift for head coach Mike Woodson and the Hoosiers. Lander has an incredibly high ceiling that if Woodson can help develop, could eventually make him into an All-Big Ten caliber player.
This decision also marks an overarching wave of IU players buying into Woodson and the program. Within the last week, Trayce Jackson-Davis, Parker Stewart and Lander have announced they're returning to Bloomington. Assistant coach Kenya Hunter will also remain on staff for the Hoosiers. Indiana recruits Logan Duncomb and CJ Gunn also reaffirmed their commitments after speaking with Woodson.
It all speaks to Woodson's plan. When he was announced as head coach last Sunday, he said his first goal was to convince the Indiana players in the transfer portal to stay in Bloomington. So far, he's done that.
Now there are just three players left that are considering transferring: Armaan Franklin, Race Thompson and Jordan Geronimo. Keeping the trio will be Woodson's next task.
Filed to: Khristian Lander