2021-2022 Player Profile: Jordan Geronimo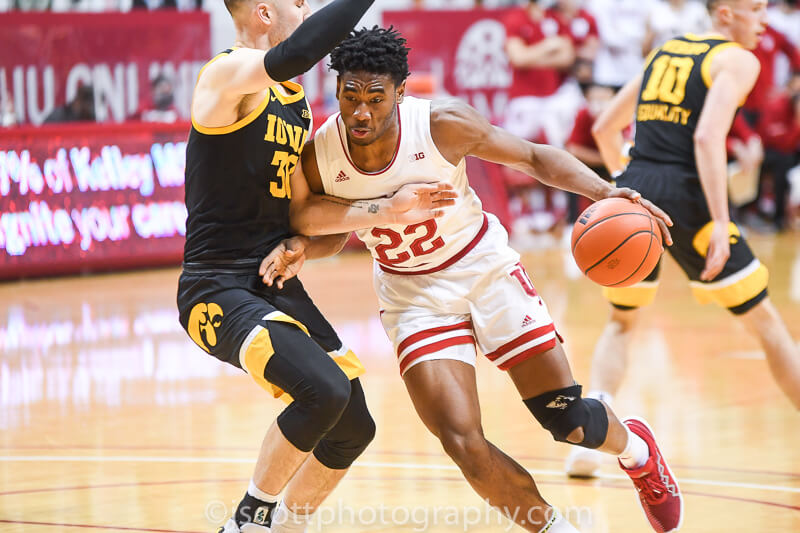 With the start of college basketball season on the horizon, we've transitioned from our look at other Big Ten programs to our player-by-player previews of the 2021-22 Indiana roster. Today, our player profiles continue with a look at sophomore Jordan Geronimo.
Previously: Logan Duncomb, Tamar Bates, Khristian Lander
A year before Jordan Geronimo committed to Indiana, he wasn't even planning on playing college basketball. Basketball was more of an "extreme hobby" to him at the time.
But he was too good for basketball to just be a hobby. In his senior season at St. Paul's High School in Concord, New Hampshire, the power forward averaged nearly a double-double with 18 points and nine rebounds a game.
He was ready to accept the first offer he received at the University of New Hampshire because he didn't know any better. He trusted the recruiting process, though, and ended up in the Hoosier state.
He was the only member in last year's freshman class to come from out of state. He moved 750 miles away from his hometown of Newark, New Jersey, to play under Archie Miller.
Then, following Archie Miller's firing at the conclusion of his freshman season, Geronimo became the fifth Hoosier to enter their name in the transfer portal.
"Dear Hoosier Nation, First, I want to thank Indiana Basketball for contributing to my growth as a basketball player and a person. However, after some deep thought and long conversations, I will be entering my name in the transfer portal with the possibility of returning," he wrote in an Instagram post.
But less than two weeks later — and after Mike Woodson's appointment as the new head coach — Geronimo decided to return. His announcement was much simpler on social media that time:
"I believe in coach Woodson. Let's get to work."
Geronimo said after learning how Woodson planned to develop him as a player, he knew he was the best guy to get him where he wants to go.
Geronimo had work to do in the offseason. His raw athleticism was a huge asset to the Hoosiers last season, but getting him to use that natural talent to fine-tune his skills was what required work.
He averaged eight minutes over the course of 21 games played last season. In his few minutes on the court, Geronimo put up 2.2 points and grabbed 1.8 rebounds a game, while shooting 51.4 percent from the floor.
But his stat line doesn't speak to his contributions on the floor. If there was one game to describe the impact Geronimo has on the floor and foreshadow what he could do for the program, it was Indiana's upset win at No. 4 Iowa on Jan. 21.
He came off the bench and played for just 10 minutes. But it wasn't the seven points he put up for the Hoosiers that got fans excited about what he could do. It was the way he was able to lock down All-American Luke Garza.
After Trayce Jackson-Davis and Race Thompson got into foul trouble early, the team looked to Geronimo to guard Garza. He helped hold Garza to just 10-of-22 shooting from the field and did it all in only his 10th game as a Hoosier.
Standing at 6-foot-6 with a 7-foot wingspan, Geronimo's athleticism comes both vertically and laterally. He is explosive on offense and defense and shoots the ball well, too.
Geronimo grew as a player throughout the offseason and it became very clear in Indiana's two games against BC Mega in the Bahamas. He came in off the bench and averaged 5.5 points and 8.5 rebounds over two games.
Bottom Line: Geronimo's pure athleticism is undeniable and can prove a real asset coming off the bench this season. Last season, he provided a spark and burst of energy desperately needed at times, but he still had room to mature and improve his game. Based on what his teammates have said and what he did in the Bahamas, he's really worked to fill those gaps in his skills and maturity during the offseason. He has also put on muscle and weighs in at 220 pounds, giving him strength down low to accompany his shooting skills from outside. His versatility married with his newfound confidence could be the catalyst to take him to the next level this season.
Quotable: "A couple things I think you'll see from me this year is more 3-point shots. In the Bahamas, I kind of gained confidence shooting the three and I think that's going to be more consistent throughout the year. Also just getting in the mix, rebounding a lot more. That's something that you're going to see a lot from me as well. Last one is probably just being the hustle player. I feel like I say this all of the time, but that's just my game though. I'm that kind of guy that will put his body on the line for the play. That's the type of player I'm going to try to be this year." – Geronimo at Indiana's media day in September.
Filed to: 2021-2022 player profiles, Jordan Geronimo