2021-2022 Player Profile: Trey Galloway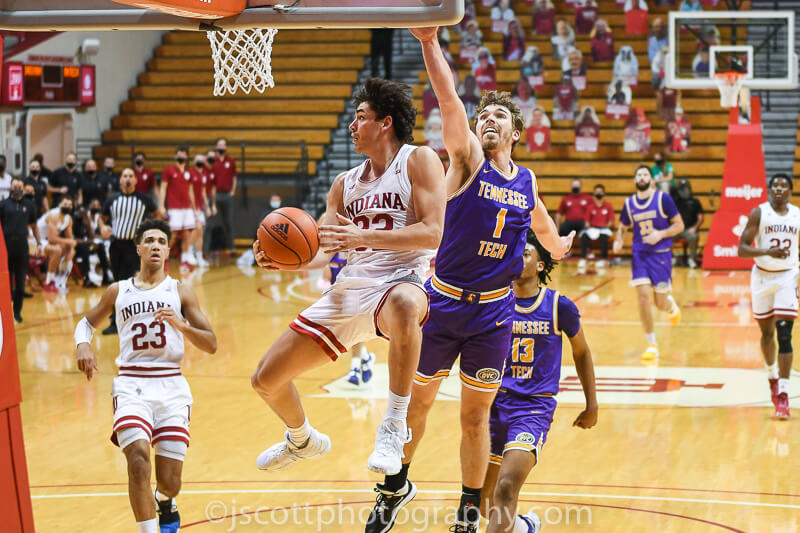 With the start of college basketball season on the horizon, we've transitioned from our look at other Big Ten programs to our player-by-player previews of the 2021-22 Indiana roster. Today, our player profiles continue with a look at sophomore Trey Galloway. 
Previously: Logan Duncomb, Tamar Bates, Khristian Lander, Jordan Geronimo, Anthony Leal
Trey Galloway showed no fear as a freshman.
The Culver Academies product came to Bloomington with little fanfare and ranked as the 157th best player in the 2020 class by the 247Composite. He figured to be in the mix for spot minutes in his debut season, but there were no expectations Galloway would work his way into the starting lineup.
But that's exactly what happened when he earned a start in seven of the team's first 14 games last season.
While his perimeter shooting never got off the ground, Galloway's aggressiveness off the dribble was a bright spot offensively for the Hoosiers. He made an impressive 56.9 percent of his 2s in his debut season. Galloway scored in double figures on three different occasions.
His best performance came in an 87-85 overtime win over Penn State on Dec. 30 when he scored 10 points, dished out five assists and grabbed four rebounds in 36 minutes.
"He is a terrific playmaker and is as good of a playmaker, especially at his age, in this type of competition," Archie Miller said of Galloway after the win. "He is fearless in terms of putting the ball on the floor, getting in places, and being able to get out to people."
His lack of a perimeter shot, however, was an issue. Once opponents had a chance to scout his tendencies and knew he preferred to drive to finish or dish off to a teammate, they simply left him free to take perimeter shots. Galloway shot only 6-of-33 on 3s for the season and just 4-of-22 from deep in league play.
By season's end, Galloway was a mainstay in the rotation and he finished his first season with averages of 3.6 points, 1.9 rebounds and 1.6 assists in 19.6 minutes per game. Like his teammate and close friend Anthony Leal, Galloway declared he would return to Indiana at the conclusion of the season before a new coach was even announced.
"I'm staying and I believe in IU basketball and I trust in everything that is going to happen in the future," Galloway said in a statement to Joe Tipton on March 15.
As the Mike Woodson era begins, Galloway is coming off a Bahamas trip where he averaged just 1.5 points over two exhibition games. Galloway played a total of 36 minutes on the trip, but took only four shots.
His spot in the rotation hierarchy is an unknown with just two weeks until the regular season begins. Galloway has value as defender and as someone who can drive and create scoring opportunities for himself and others. His outside shot, however, remains a major question mark and could go a long way in determining how much time he carves out as a sophomore.
"I've stayed in the gym. That's one thing I've really focused on is competing and keep trying to get myself better," Galloway said in late September. "The offseason, that's the one time you can really get better and improve yourself. I think I've improved overall at everything."
Bottom Line: Galloway is projected to land in Indiana's rotation in Bart Torvik's preseason ratings. He was often effective last season because of his aggressiveness off the dribble. His perimeter shot, however, must improve significantly if he's going to develop into a regular Big Ten starter. Galloway's primary competition for minutes will be Leal, Parker Stewart, Tamar Bates and Miller Kopp. Each of those guys are more reliable shooters. Galloway, however, is a capable defender who can get to the basket and finished very well in his debut season.
Quotable: "He's the ultimate competitor. He's that guy you want to be in an alley with if something goes down. He's ready to go at all times." – Miller on Galloway in November 2020.
Filed to: 2021-2022 player profiles, Trey Galloway