2021-2022 Player Profile: Anthony Leal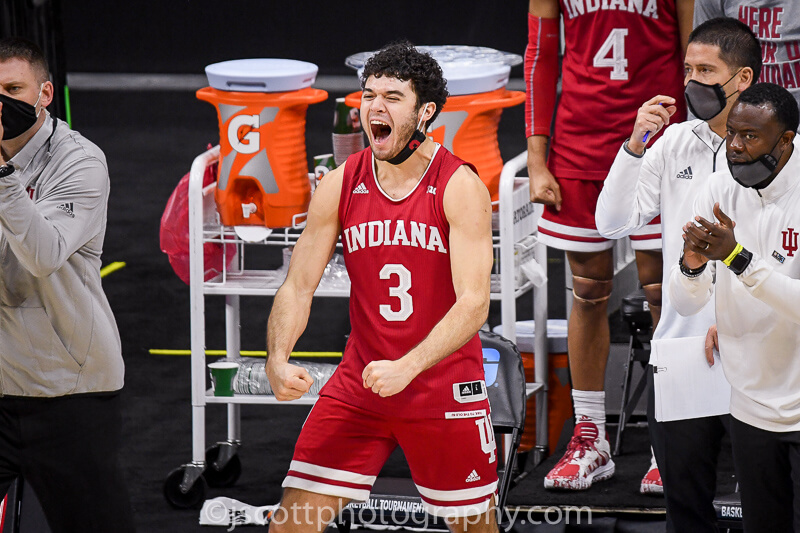 With the start of college basketball season on the horizon, we've transitioned from our look at other Big Ten programs to our player-by-player previews of the 2021-22 Indiana roster. Today, our player profiles continue with a look at sophomore Anthony Leal. 
Previously: Logan Duncomb, Tamar Bates, Khristian Lander, Jordan Geronimo
Indiana's Mr. Basketball in 2020, Bloomington South product Anthony Leal entered last season on the fringe of IU's rotation.
With Al Durham Jr. and Armaan Franklin ahead of him in the rotation, Leal played 15 or more minutes in just six games. He didn't score in double figures all season and only made three 3-pointers in one game.
The 6-foot-5 guard, known as a knockdown shooter in high school, struggled with his perimeter shot in his first season. Over 20 games, shot just 30 percent from distance on 30 attempts. That was just below Indiana's team average of 32.4 percent on 3s.
But there were moments that Leal showed flashes of his long-term potential.
In Indiana's double-overtime loss at Wisconsin in early January, he scored nine points and was a major reason the Hoosiers pushed the Badgers to double overtime. Leal was also effective in a 67-65 win at home over Iowa in February. In that upset victory, he scored six points, grabbed four rebounds, and had three steals in 15 minutes.
As Indiana prepares for its first season under coach Mike Woodson, Leal is one of several players that will be battling for a spot in the rotation. After several Hoosiers entered the transfer portal last spring, Leal never wavered in his commitment to staying in Bloomington. Even before Woodson's hiring, Leal declared that he intended to stay at Indiana.
So what might Leal's role be in his second season?
Leal, who didn't play in either of Indiana's exhibitions against BC Mega in the Bahamas, has stiff competition for minutes.
His AAU teammate and close friend, Trey Galloway, isn't as good of a shooter but offers more versatility offensively because of his aggressiveness in driving to the basket. Parker Stewart has been a knockdown shooter in previous stops at Pitt and UT-Martin. Freshman Tamar Bates might be the most talented guard on the roster. And Miller Kopp has major experience in the Big Ten and is also a capable shooter on the wing.
Bart Torvik's preseason projections don't have Leal among Indiana's top 10 contributors this season. Leal's path to minutes will be perimeter shooting and reliable defense. While he had two solid performances last season from distance, he'll need to be more consistent with his stroke to challenge for regular minutes. His offensive game last season was solely taking 3-pointers. Of his 32 field goal attempts, 30 of them were 3-pointers.
Defensively, he was often a plus when on the floor in his first season. Leal more than held his own defensively when he played major minutes against Iowa and Northwestern.
Bottom Line: Injuries, as we've seen in the preseason, are a wildcard when attempting to project a rotation for this Indiana team. Several players have had limited availability this preseason and the Hoosiers didn't even play their first closed scrimmage against Cincinnati because of player availability. Last season, Leal's first major chance for minutes came because of an injury to Franklin. While Leal may start this season on the fringe of Indiana's rotation, he certainly has the talent and shooting ability to challenge for minutes as a sophomore.
Quotable: "I want everybody to know that I'm here for the school and for the program and for this jersey. No matter who the coaches are or who my teammates are, I'm here and I'm here to win. That's the ultimate goal." – Leal at Indiana's media day in September.
Filed to: 2021-2022 player profiles, Anthony Leal