2021-22 Player Profile: Michael Durr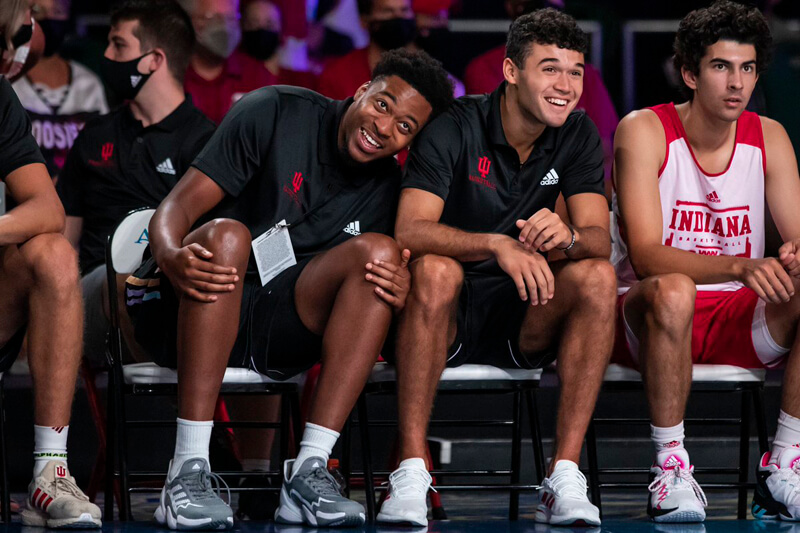 With the start of college basketball season on the horizon, we've transitioned from our look at other Big Ten programs to our player-by-player previews of the 2021-22 Indiana roster. Today, our player profiles continue with a look at senior Michael Durr.
Previously: Logan Duncomb, Tamar Bates, Khristian Lander, Jordan Geronimo, Anthony Leal, Trey Galloway, Trayce Jackson-Davis
South Florida transfer Michael Durr was the final addition to Indiana's 2021-22 roster.
Indiana announced Jerome Hunter would not return for a fourth season on May 13 and Durr committed to the Hoosiers just four days later.
In a release issued by Indiana on May 21, Mike Woodson cited Durr's experience and physicality as two of the primary areas where the Atlanta native could make an impact in Bloomington.
"Michael will add a tremendous physical presence to our team," Woodson said. "He's a veteran player who has started more than 80 games at the Division I level. I think he has shown he is an excellent rebounder, his free throw shooting is markedly improved and he can help us offensively and defensively down low. He's a true center who will make us better."
Over three seasons at South Florida, Durr averaged 6.7 points, 6.5 rebounds and shot 47.2 percent from the field over 87 games.
On film, Durr was very active on the glass at South Florida and he was also aggressive in challenging shots. He didn't post gaudy block totals for the Bulls, but he did get off the floor well and altered shots. He was fourth in the AAC last season in offensive rebounding percentage (11.8) and third in defensive rebounding percentage (23). In a league full of dominant bigs, those are encouraging numbers for a player who is being brought in as a backup.
Offensively, Durr's modest output at South Florida was held back some by the fact that he was just an average finisher at the rim. According to Hoop-Math, he made 52.3 percent of his shots at the rim last season. Overall, he shot just 44.5 percent on 2s and only 42.5 percent on 2s in AAC play.
He did show steady improvement as a free throw shooter during his time in Tampa. As a freshman, Durr knocked in just 53.8 percent of his free throws on 104 attempts. He improved to 63.3 percent from the line as a sophomore on 79 attempts and last season, he shot 79.3 percent on 58 attempts.
The big question with Durr, however, is will he be available to play?
He did not suit up for exhibition game for the Hoosiers in the Bahamas and he was not a participant at Hoosier Hysteria, either.
"I'm looking forward to getting after things," Durr said at Indiana's media day in September. "Obviously not playing in the Bahamas, it sucked. But the team got off to a great start, building chemistry. But I feel like we're all going to be fine."
If Durr is healthy and available to play, he will come off the bench as a backup to Trayce Jackson-Davis and Race Thompson, who are expected to start in the frontcourt.
But if Durr starts the season sidelined, that could move Logan Duncomb into a more prominent role than expected as a freshman and also increase opportunities for Jordan Geronimo, who will likely see most of his minutes as a backup at the four.
Bottom line: Durr's availability entering the season, which is now just over one week away, remains a mystery. Indiana rarely comments on injuries unless they are season-ending, but we should have a much better idea of Durr's status when the Hoosiers take the floor against Eastern Michigan on Nov. 9. He certainly has a chance to be a productive contributor for the Hoosiers given his size and experience and having him available would allow Duncomb to ease into a role more slowly as a freshman.
Quotable: "He (Mike Woodson) can help me take my game to the next level. That was very big for me because that was what I was looking for. Go to a situation where they can help me and my game take the next jump. Also with the team, he said he's having next year, I just felt like this was the right choice." – Durr to Inside the Hall's Tyler Tachman on his decision to commit to Indiana.
(Photo credit: IU Athletics)
Filed to: 2021-2022 player profiles, Michael Durr