2021-22 Player Profile: Trayce Jackson-Davis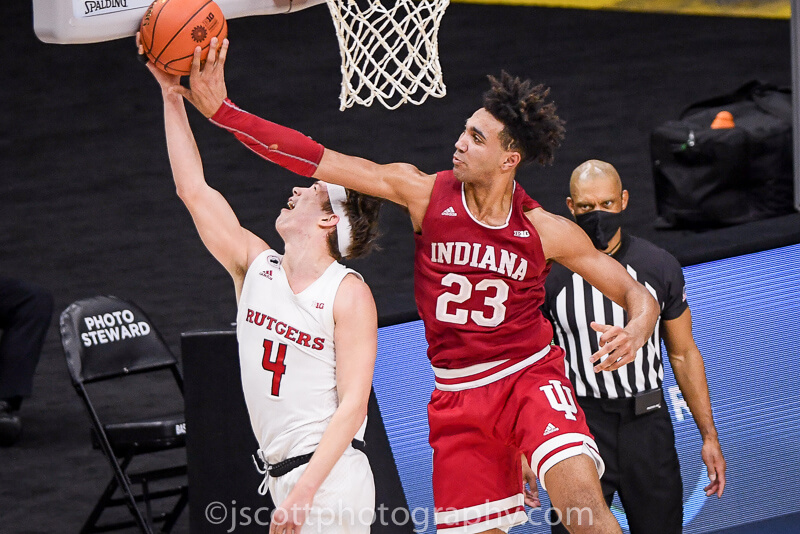 With the start of college basketball season on the horizon, we've transitioned from our look at other Big Ten programs to our player-by-player previews of the 2021-22 Indiana roster. Today, our player profiles continue with a look at junior Trayce Jackson-Davis. 
Previously: Logan Duncomb, Tamar Bates, Khristian Lander, Jordan Geronimo, Anthony Leal, Trey Galloway
In total, Trayce Jackson-Davis estimated, it took about five minutes.
It was shortly after Mike Woodson had been hired as the head coach at Indiana. He was meeting with players to set his vision for the program and convince them to stay. Jackson-Davis was still weighing his options.
Eventually, Woodson invited Jackson-Davis' family down to Bloomington, where they all met. Instead of building up Jackson-Davis' ego and praising him for his skills, Woodson went a different route, telling him the "things that I didn't want to hear." Woodson showed film of what Jackson-Davis needed to improve, notably his right hand and outside shot.
At that point, Jackson-Davis was sold. His father, Jackson-Davis later said, only needed about five minutes to get on board. In early April, Jackson-Davis officially announced he'd be returning for his junior season.
The decision signified more than just a single commitment. Woodson's charisma and brutal yet right-minded honesty would continue to be cemented in the following months as he convinced impact transfers to come to Indiana. It showed in Jackson-Davis' decision. Few people would've blamed Jackson-Davis, a third-team All-American, if he would've decided to take the professional route, especially after the coach that recruited him was fired. On top of that, he endured one of the most frustrating seasons in recent history.
Instead, at the risk of his own professional career, Jackson-Davis decided to continue his career in the cream and crimson. As he enters his third season, expectations are ballooning: Jackson-Davis was recently named an AP preseason All-American. Given his first two collegiate seasons, the accolades are justifiable.
The former Center Grove star quickly made an impact as a freshman, earning third-team All-Big Ten honors. It was followed by a dominant campaign last season, one in which he was the only high-major player to average 19 points and nine rebounds per game. In a conference stacked with talent, he was fourth in scoring, and fifth in field goal percentage, while being named first-team All-Big Ten.
It's expected for Jackson-Davis to be an alpha dog this year, not only with his play but also with intangibles. That much became evident over the course of the offseason, where Jackson-Davis seemed to be the symbolic leader of IU basketball's newfound energy. This season, he texts teammates to make sure they're on time to practice. If they need help with anything off the court, he makes sure they can talk to him.
There's also the two main weakness in his game, the ones that Woodson pointed out months ago. It's not, though, as if Jackson-Davis hasn't heard he needs to work on his jump shot and right hand before. Rather, it's just a matter of Woodson putting him in better positions to showcase those skills.
The offseason addition of center Michael Durr should undoubtedly help put Jackson-Davis in a better spot to do that. Durr, a 7-foot transfer from the University of South Florida, will play the five, allowing Jackson-Davis to play his natural position of power forward at times. With Joey Brunk out all season with an injury, Jackson-Davis was forced to play more at the five, limiting the opportunity to showcase perimeter skills.
Similar to his frontcourt teammate Race Thompson, Jackson-Davis doesn't need to shoot a high volume of jump shots. Instead, he just needs to show the ability to hit them on a somewhat consistent basis, forcing defenders to respect his shot and guard him more tightly on the perimeter. Not only will this open up more options for the offense, but also improve his draft stock.
It will also help Jackson-Davis that Indiana should have improved frontcourt depth this season. In a physical league, Jackson-Davis played a laborious 34 minutes per game last season. There's optimism that Durr, who has still not proved to be healthy this offseason, could provide a lift. Race Thompson is a veteran presence. Jordan Geronimo has one season under his belt. Miller Kopp can play the four. Freshman Logan Duncomb can fill in, too.
Bottom Line: Amid the many inconsistencies, Jackson-Davis had to carry Indiana on his back last season. If Jackson-Davis wasn't playing at a high level, Indiana didn't have a good chance of winning. This season, however, there is reason to believe that could change. Indiana has surrounded Jackson-Davis with capable pieces in hopes that there will be a more balanced attack.
Quotable: "Ever since coach Woodson got hired, I felt like it's been new positive vibes. We're just really excited to be out there, and just being part of the team and just getting to work." – Jackson-Davis after announcing he'd return for his junior season.
Filed to: 2021-2022 player profiles, Mike Woodson, Trayce Jackson-Davis