Mike Woodson is giving Race Thompson a chance to be himself on the court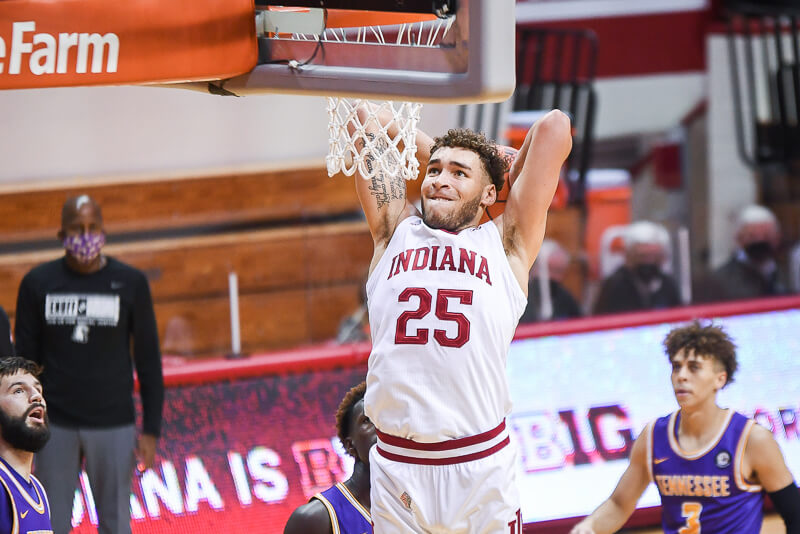 Mike Woodson isn't the type of coach to make foregone conclusions solely based on what a player did in the past. "I don't want to pigeonhole" them, he says. Still, Woodson does his research, asking around to gain a better understanding of who he'll be coaching. This is exactly what he did shortly after taking the job at Indiana in the spring.
It was around then that he asked some of the current coaches, who he did not name, about Race Thompson. The response left Woodson somewhat taken aback.
"Well, he can't handle the ball that well," Woodson recalls hearing.
"Probably, don't want him handling it," Woodson recollects.
"Can't shoot out on the floor," Woodson remembers them saying.
In high school, these were all characteristics Thompson displayed with relative frequency. He handled the ball. He faced up to the basket. In his junior year at Armstrong High School in Minnesota, Thompson made 45 percent of his 3-pointers, according to IU's website.
At Indiana, those facets have largely been absent. His ability to show off perimeter aptitude has been limited due to the roster and style of play. He's attempted just 28 3-pointers over three seasons, making just six. In his first two seasons, he played in the post with Justin Smith at the three, which sacrificed having floor spacing for dominance on the glass. Last season, Thompson and Trayce Jackson-Davis, both natural power forwards, were forced to play center-by-committee with Joey Brunk out all season.
"Our offense was just different," Thompson said. "It's not that I couldn't do it. It was just that role I was in. I was just really focused on doing my best at that role."
Woodson knows this, which is why those conversations in the spring about Thompson's limited skillset have remained in his mind. Woodson didn't believe what he was hearing then. He doesn't believe them now.
"My job and your job as a coach on my staff is to get him to do that," Woodson said. "That's what we do as coaches."
As he enters his senior season, Thompson's Indiana career exists at the intersection of many fascinating storylines. He was Archie Miller's first commitment at Indiana, but is now the only player left from that inaugural 2017 class. Miller is gone, too. Thompson has played in three seasons at Indiana, but still yet to display his full skillset. He could be one of Indiana's most valuable players this season because of his intangibles, but it remains unknown whether he can fit into Woodson's open style of play.
There was a time, though, where it seemed unlikely that Thompson would even end up at Indiana.
As a junior in high school, Thompson attended a basketball camp where he was paired with was an underclassman roommate named Trayce Jackson-Davis. Naturally, Jackson-Davis, a native of Indiana, asked Thompson if the Hoosiers were recruiting him.
"Yes," Jackson-Davis recalls Thompson saying, "But I don't really mess with them."
But about a month later, after developing his relationship with the coaching staff and visiting campus, Thompson committed to Indiana. After reclassifying up and then using that year to redshirt, Thompson was a role player off the bench in his first two seasons, with a few memorable moments as he battled multiple injuries.
Thompson took on a significantly larger role last season, where he was named a team captain and his toughness was as notable as his statistics. He started 27 games, scoring 9.1 points per game, making him the 6th most improved scorer in the Big Ten. He also averaged 6.2 rebounds per game. In February, he underwent facial surgery, but didn't miss a single game. Before that, following Indiana's home loss to Illinois in early February, Thompson returned to the court to shoot extra free throws. After the head coaching change, Jackson-Davis brought up Thompson's name when asked by Woodson who should be a captain this season.
"I'm a tough guy," Thompson said when asked about the biggest thing he has learned about himself during his first four years at IU. "There's good days, there's bad days. If you can get through the worst days then the best days are just great."
Thompson entered the transfer portal this offseason after Miller was fired. But he quickly built trust with Woodson, who called him nearly every day. During those conversations, Woodson didn't promise a chance to play on the perimeter, nor did he discount it. The prevailing message, Thompson said, was "I want you to play basketball."
"I've said it before: I don't know how you could say no to Coach Woodson," Thompson said. "I don't care who you are."
This offseason, Woodson has been focused on helping Thompson rekindle the versatility he showed in high school. He's been drawing up plays for Thompson not only in the post but also to come off pindown screens and make plays on the perimeter. During a film session a few weeks ago, Woodson kept rewinding plays, asking Thompson "what do we want you to do right here?" Thompson answered, "shoot it." Woodson kept asking until Thompson said it loud enough.
"Every day he just gives me more and more confidence handling the ball, facing the basket, playing the game," Thompson said.
During two exhibition games in the Bahamas this summer, Thompson went 1-of-3 from three. Similar to Jackson-Davis, Thompson doesn't need to become a lethal shooter to be effective in Woodson's system. Rather, he just needs to make enough shots to keep the defense honest and keep the driving lane open. The addition of 7-footer Michael Durr should also allow Thompson should be able to play the four with more regularity this season.
There's no guarantee that Thompson will ultimately become the versatile player that he and Woodson are envisioning. But at the least, Woodson is giving him a chance to be that guy. And at this point, maybe that's all that Thompson needs.
Filed to: Mike Woodson, Race Thompson