Jordan Geronimo's energy, confidence becoming evident as his sophomore season approaches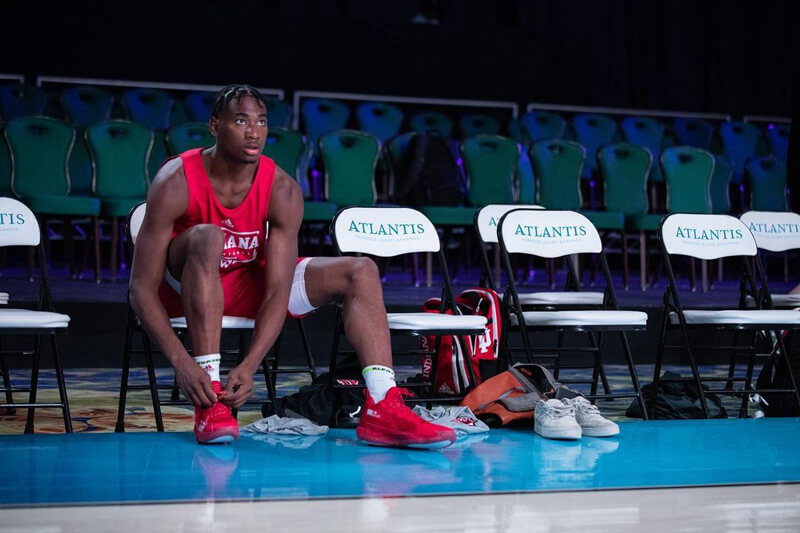 Jordan Geronimo wants the ball. His knees are bent, arms outstretched, palms facing up in anticipation of a pass. It's late in Indiana's first game against BC Mega in the Bahamas and Geronimo's positioning makes his intention clear: feed me the rock.
But Geronimo, who is wide open at the top of the key, does more than that. He demands the ball.
"Oh yeah," Geronimo says loud enough to be heard over the squeak of sneakers and murmur of the crowd.
Indiana's ball-handler, who's probing through the lane, hears the call, whipping the ball to Geronimo. He gets a clean look in rhythm. The shot, however, ricochets off the backboard.
That outcome, though, doesn't define the significance of this brief, but telling moment. Last season's version of Geronimo may not have been in the right position to receive a pass like that, much less vocally demand the ball.
It was representative of Geronimo's confidence in Indiana's two victories against BC Mega in the Bahamas. The sophomore forward was a spark plug off the bench for the Hoosiers, scoring 11 points and grabbing 17 rebounds over two games.
"He's just playing more confidently," senior forward Race Thompson said of Geronimo. "He's real confident in his shot, in his moves and everything in practice. I think it really is just him growing up a little bit, and the game slowing down for him."
Last spring, Geronimo entered the transfer portal after finding himself amid a cloud of uncertainty at Indiana.
The man that recruited and coached him had been fired. Unlike the other members of his recruiting class, Geronimo didn't grow up in Indiana and hadn't been entrenched in the Hoosier culture for the entirety of his life. In a COVID-19 riddled freshman season, he wasn't able to fully experience all that makes Bloomington special.
Still, Geronimo decided to stay. He was excited when Woodson was hired, knowing his pedigree of developing players in the NBA, then was sold even more after having conversations with the long-time professional coach.
"He (Woodson) said how he was going to develop me as a player at the next level," Geronimo said last week. "I just felt like he'd be the best guy to get me where I want to go."
With an elite athletic ability and shredded physique, Geronimo has all the measurables to get to the next level. Admittedly, Geronimo hasn't always been a force in the weight room. Early in high school, he was, as he describes himself, "a little skinny." Even as a senior, he was only listed at 6-foot-6 and 195 pounds. He also didn't have the knowledge of how to train properly.
"I would hit legs four times a week and not know how to rest and all the rules," Geronimo said.
That has changed since arriving at IU, where Geronimo has learned from strength and conditioning coach Clif Marshall. This summer, among other exercises, Geronimo did footwork in the sand, bench press, change of direction on a "slide board" for balance and wall sits. Players are also given a comprehensive nutritional breakdown to supplement their training.
The result? Geronimo is now listed at 220 pounds. Earlier this summer, according to a post by Marshall, Geronimo was chiseled at 6.9 percent body fat.
"Just getting in the weight room, being with Coach Clif and working on my body," Geronimo said about what he attributed his explosiveness to.
Geronimo's freshman season was largely inconsistent, but he showed flashes of his memorable athleticism. It crescendoed during Indiana's upset against Iowa, where Geronimo scored seven points and managed to slow down the nearly unstoppable Luka Garza. In the next game, however, Geronimo played just six minutes and wasn't able to build off his breakout performance, potentially in part due to Miller's questionable distribution of playing time.
Among the many adjustments as a freshman, Geronimo had to get used to something else: being recognized around the community. Even earlier this week, his humility was apparent when he referred to a college-aged reporter as "sir." It's somewhat of a unique characteristic but could be explained by the fact that he was an under-the-radar recruit for the majority of his high school career.
"It was different," Geronimo said about being approached by fans last year. "I'm kind of used to it now… Me as a person, I just love conversing and socializing, so it's been fun."
On Friday, in the first matchup with BC Mega, Geronimo calmly knocked down a three-pointer in transition. On another possession, he grabbed two offensive rebounds, despite being undersized compared to BC Mega's forwards. In the second game, he made more gritty plays, including at the end of the first half when he stuck back a layup to beat the buzzer, part of a crucial shift of momentum for Indiana. It was a part of the potential and raw ability that Woodson saw when first watching film of Geronimo.
"Here's a young man that hasn't played a lot of basketball, it's obvious," Woodson said. "He's just got to slow down and start thinking (about) the game. I have to help him in that area. Put him in situations where he can be successful to help us win games."
Geronimo's versatility is a perfect fit for Woodson's system on both ends of the floor. He may have been somewhat overlooked with all the newcomers arriving this offseason and his performances in The Bahamas were a small sample size, but his ability to be an instant impact player off the bench this season was evident.
"He's always doing the right thing for our team," Trayce Jackson-Davis said following a 64-53 win over BC Mega. "We need big games from him, just like he did tonight."
Filed to: Jordan Geronimo