The patient rise of Jordan Geronimo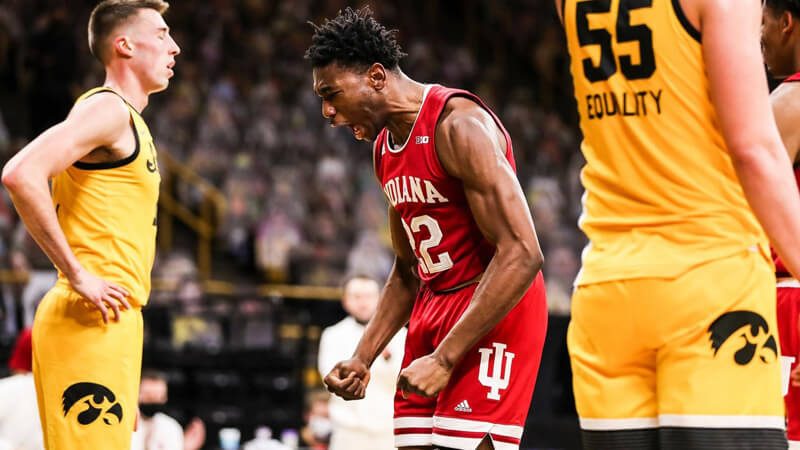 Jordan Geronimo was ready to commit. Right then and there. This was the one.
It was late-November of Geronimo's junior season at St. Paul's School in New Hampshire. He was icing his knees and kicking back with a friend when he answered his phone. It was a coach from the University of New Hampshire. He wanted to offer Geronimo a scholarship. It was his first offer.
"I was like 'bro, I'm going to commit,'" Geronimo said on a podcast in 2019. "I'm going to commit to UNH."
All of this was new to Geronimo. Consider the fact that, a year earlier, he wasn't planning on playing college basketball. People always told him he had potential. But he saw basketball as more of an "extreme hobby," as he put it. So when the call came, Geronimo thought it was the norm to commit on the spot.
After getting off the phone, Geronimo called his mother Dawn, who had played at North Carolina and understood the recruiting process. She told him to be patient.
"It's the first of many," Geronimo remembers Dawn telling him. It was a phrase that Geronimo said she loved to repeat.
As it turns out, Geronimo didn't, in fact, commit to New Hampshire. Instead, he waited.
Eventually, his stock took off as a high-flying blue-chip prospect. Eventually, Indiana came calling. Eventually, there was Thursday night against No. 4 Iowa when Geronimo played the most important 10 minutes of his young career, providing a lift of seven points off of the bench in Indiana's 81-69 upset win over the Hawkeyes.
"I thought Jordan Geronimo, best game he's played," Indiana head coach Archie Miller said after the win. "I mean, his contributions tonight were awesome in terms of how he brought energy and how physical he was."
Ever since that first offer in November of 2018, Geronimo's game can be bottled up into two words: untapped potential. It's what intrigued Miller on the recruiting trail. It's what Mass Rivals AAU head coach Vin Pastore saw in the fall of 2018.
At the time, Geronimo was an unknown recruit. But Pastore knew what talent looked like and was impressed. A few years earlier, he'd helped the development of former IU basketball star and NBA forward Noah Vonleh.
Pastore was intrigued by Geronimo, who was 6-feet and 5-inches tall with a 6-foot 10-inch wingspan and exploded off the hardwood like it was a bouncy house.
"Him (Pastore) saying I was a good player was something different," Geronimo said. "My mom said I was a good player but, you know, that's my mom. She's supposed to say that."
When Geronimo made the Mass Rivals that fall, it was his first serious AAU team. Then everything changed the following summer.
Geronimo's profile blew up at the Adidas Gauntlet tournament in July of 2019 where he averaged 9.1 points per game while shooting 56 percent from the field and 36 percent from beyond the arc. His athleticism and physical gifts had coaches drooling. Recruiting expert Brian Snow identified Geronimo as one of the standout performers.
Geronimo had developed into a top-100 prospect and four-star recruit. Power-five attention came from Georgia and Boston College, among others.
"It's the first of many," Dawn always liked to say.
That summer,  there was a text from Miller offering a scholarship to Indiana.
When Geronimo visited Bloomington, he was given a tour by Armaan Franklin. He saw the basketball-themed carpets at the Graduate Hotel. He sat down and watched film with Miller. He saw Romeo Langford at the facilities.
"I'm not going to lie, I was kind of fanboying," Geronimo said.
In the September of his senior year, Geronimo committed to the Hoosiers.
"The community was very lively when I was there, and they had so much energy," Geronimo told Inside the Hall after his commitment. "The cherry on top that really sold me was how the rich basketball history Indiana had was able to project into the community."
Now, as a freshman at IU, the early part of Geronimo's season has mirrored his past as a recruit. Miller has constantly spoken about his promise on the court. At media day, Geronimo said his vertical was forty inches.
But through the first 14 games of the season, Geronimo was used sparingly. There were five games where he didn't even log a single minute. The only two occasions where he played double-digit minutes were against Tennessee Tech and North Alabama.
So Geronimo waited. He waited for his name to be called. Waited for his opportunity.
It came on Thursday in arguably Indiana's biggest challenge of the season: on the road against Iowa and reeling after a loss to Purdue. And just 12 minutes into the game, Indiana's already fatigued and depleted frontcourt of Trayce Jackson-Davis and Race Thompson had picked up two fouls each.
Indiana needed someone to fill those minutes. The task was trying to slow AP player of the year favorite and 265-pound bulldozer Luka Garza.
So in ran Geronimo who, four years ago wasn't even planning on playing collegiate basketball, ready to take on the challenge. To be clear: Geronimo didn't stop Garza. Nobody could. But Geronimo pestered him. He got a low center of gravity and forced Garza into uncomfortable situations. He fronted him the post. Even if it was a foul, Garza was bothered.
"I thought the quickness level of Jordan, the quickness level of our perimeter to swarm the ball when he kind of turned his back was sort of a big deal," Miller said.
In three first-half minutes, Geronimo scored three points but more importantly allowed Thompson and Jackson-Davis a breather.
The foul trouble didn't go away in the second half and Geronimo was platooned back on the court. He continued to cause Garza trouble, helping hold him to just 4-of-11 from the field along with four turnovers in the second half.
Garza seemingly didn't have an answer for Geronimo. Neither did Iowa as Indiana went on an absurd 23-3 run. The Hawkeyes, who have a nuclear offense, didn't score a field goal in more than ten minutes.
During that dominant stretch, with just under five minutes remaining, Geronimo caught a pass from Franklin and soared through the air, slamming down a tomahawk jam. It gave Indiana a seven-point lead and the Hoosiers didn't relent.
"I'm really proud of him. Honestly, really, really, proud of him," Jackson-Davis said.
Geronimo didn't put up huge numbers. But, he was the quiet key in disrupting the rhythm of Iowa's offense. He played with energy and poise, lifting IU's frontcourt when they needed it most.
"If you just put your head down and do what you're supposed to do and put the work in, and when you look up, I promise you something good is going to happen," Geronimo said back in 2019.
That's what happened Thursday. It was a reminder of how far he's come, but also a glimpse of what he could become over the next four years.
It was, as you could say, the first of many.
(Photo credit: IU Athletics)
Filed to: Jordan Geronimo