Trayce Jackson-Davis is staying at Indiana to chase something bigger than himself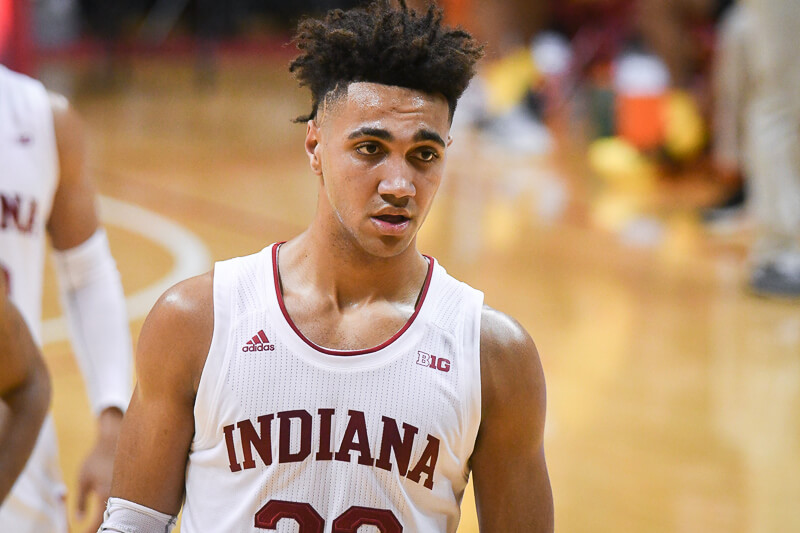 At the end of Indiana's season, Trayce Jackson-Davis' mind was essentially made up. In his own words, he was "almost dead set" on hiring an agent and entering the NBA draft. His two-year career at Indiana would've come to an uninspiring close.
But after Archie Miller was fired, Jackson-Davis wanted to give the new coach a chance, so he waited. Two weeks later, Mike Woodson was hired.
After an initial meeting with Woodson, Jackson-Davis liked what he heard. His parents, on the other hand, were still skeptical about him returning for a third year. So Jackson-Davis invited his parents down to Bloomington to have a conversation with Woodson.
"Give them a chance and see what they have to say," Jackson-Davis recalled telling his parents.
During the meeting, Woodson pulled out the film from last season. He pointed out what Jackson-Davis did wrong when he missed shots. He showed Jackson-Davis how to approach specific situations differently. Woodson made it blatantly clear that Jackson-Davis needed to work on his jump shot and right hand.
"The things that he really told me is the things that I didn't want to hear," Jackson-Davis said. "That right there was already showing me that he already wants what's best for me… I think that's when my parents were sold on it as well."
In all, the meeting lasted two hours. After it concluded, Jackson-Davis and his family only needed five minutes to consult with each other. His dad told him he was staying.
On Friday afternoon, Jackson-Davis made it official, posting on social media that he'd be returning to Indiana for his junior season.
"He (Woodson) said that he doesn't want a rebuild, he wants to win right away," Jackson-Davis said Friday. "And he said that I'm a big piece of that. After hearing an NBA coach tell you that, it was really a simple decision to come back."
The decision also marks yet another positive swing in momentum for Woodson as he begins to lay the groundwork for the future of the program. Having Indiana's most productive piece back, especially after it was likely he was leaving for the NBA, will prove invaluable to the energy and trajectory for the Hoosiers next season.
As much as Jackson-Davis' decision was about his own development and potential to get to the next level, there was also a sense of unfinished business from last season.
With two weeks left in the season, Indiana was on the right side of the bubble and seemed on track to make its first NCAA tournament appearance in four years. But then came six consecutive losses. The Hoosiers' season was effectively derailed, finishing with a 12-15 record.
Jackson-Davis did all that he could. He finished the season averaging 19.1 points and nine rebounds per game while being named a third team All-American. He did it all, Jackson-Davis noted Friday with maybe a little bit of Woodson already rubbing off on him, without utilizing his right hand.
The pieces around Jackson-Davis never quite worked cohesively. Indiana's offense sputtered and its defense fell apart under Miller. Indiana was competitive in most of the games, but couldn't make plays when they mattered most. They were booed off the court after a first-round exit in Big Ten Tournament to Rutgers as frustration mounted.
"I feel like we've been in the dark for a while and there wasn't any energy," Jackson-Davis said. "There was no energy here. I feel like all of the life after the season was sucked out of us."
Then Woodson was hired and Jackson-Davis has felt a sudden shift around the program. Woodson brought in an experienced basketball mind in Thad Matta and kept assistant coach Kenya Hunter, who's crucial to recruiting, on the staff. Parker Stewart announced Wednesday he'd remain in Bloomington. Recruits Logan Duncomb and CJ Gunn both reaffirmed their commitments after speaking with Woodson.
"Ever since coach Woodson got hired, I felt like it's been new positive vibes," Jackson-Davis said. "We're just really excited to be out there, and just being part of the team and just getting to work."
And now with his return, Jackson-Davis is striving to be a part of something bigger. The word legacy is often thrown around at the end of one's career. But in his decision, Jackson-Davis made it clear that he didn't want to go out on a low point in Indiana basketball history.
"I want to get Indiana basketball back on track," Jackson-Davis said. "That why I came back. I believe in the tradition. I believe what we have here is something special, and I want to be one of the reasons why. I don't want to be someone who ran away when it was tough."
Sitting in front of the podium Friday, Jackson-Davis looked refreshed. He spoke with optimism about a fast-paced offense and hopes of his teammates returning from the transfer portal. He showed excitement to play in front of fans in Assembly Hall.
It seems he and Woodson have a similar vision to build something unprecedented in Indiana basketball's recent history.
"I feel like we have a chance to do something really big," Jackson-Davis said. "Something that hasn't been done here in a while."
Filed to: Trayce Jackson-Davis