Northwestern transfer Miller Kopp breaks down his three finalists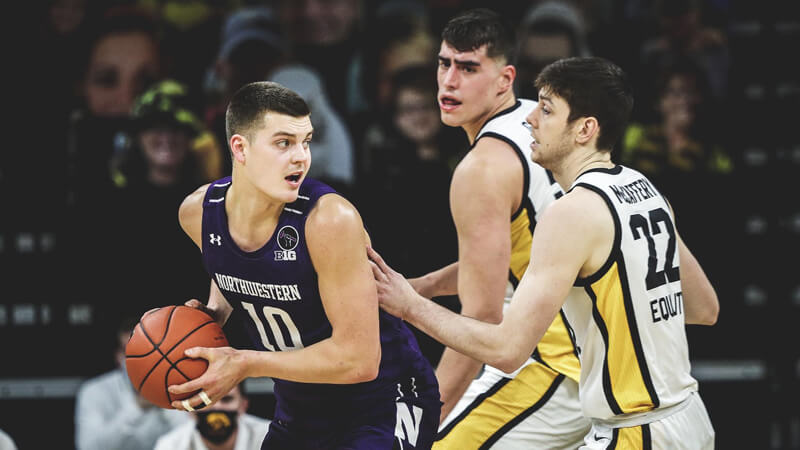 It didn't take long after his name appeared in the transfer portal for Miller Kopp to start receiving texts and phone calls.
Kopp, a 6-foot-7 forward who played his first three seasons at Northwestern, said Monday that once he gave approval for his name to enter the portal, schools were reaching out within 30 minutes.
"It was pretty wild," Kopp said. "It was like 8 o'clock at night and I had talked to compliance and I thought I was going in the portal in the morning. But like 30 minutes go by and I start to get some texts and calls. So it really caught me by surprise because I was expecting some stuff the next day and not that night."
The Houston native averaged 9.6 points on 40.2 percent shooting over three seasons under Chris Collins in Evanston, but decided following the season that he'd like to finish his eligibility elsewhere.
A career 36.3 percent 3-point shooter, Kopp had no shortage of interest. He said more than 20 schools reached out during the process but he will choose his new home from these three: Indiana, Oregon State and Utah.
"I think it's a good mix of what I'm looking for and they all have some positives and negatives and some differences and similarities that each school doesn't have," he explained. "I think it's a good mix. For me, I think I saw that all of the three schools were a bit different in good ways. So it just kind of clears things up for me going from here."
Kopp is very familiar with Indiana having played against the Hoosiers in the Big Ten for the last three years. But the Indiana program next season will look much different next season under Mike Woodson.
Woodson has already had a great deal of success on the recruiting trail with commitments from Pittsburgh transfer Xavier Johnson and top 60 class of 2021 recruit Tamar Bates. He also convinced four IU players to withdraw from the transfer portal in addition to getting Trayce Jackson-Davis to return for a third season.
Currently, the Hoosiers have one scholarship remaining open for next season.
"Obviously, it's pretty familiar in terms of the roster that's coming back because I played against Indiana for three years," Kopp said. "And a lot of those guys that are on the team right now, I played against for the last two years. It's a good group. It's a good core. And coach (Mike) Woodson has added a couple of pieces, really good pieces. It's interesting just to see the makeup of the team and how he's building the team how he sees fit. It's interesting to see where I would fall in that."
Oregon State is coming off of a 20-13 season under Wayne Tinkle that saw the Beavers advance to the Elite Eight. It was an improbable run, but it did catch Kopp's eye.
"They've got a lot of momentum coming back next year," Kopp said of the Beavers. "They're losing some guys, but they do have a core group of guys that I think are really solid and together. I feel like they've got a good culture that is kind of set in stone. They're just looking to add some pieces to build off of last year."
Like Indiana, Utah will enter next season with a new head coach. The Utes hired Craig Smith from Utah State and his experience coaching players who have some similarities to Kopp has Utah under strong consideration.
"Coach (Craig) Smith is a great guy. I think I have a good relationship with him," Kopp said. "They've had some guys with a similar skill set as me in terms of being able to shoot the ball that are pretty versatile under his helm before. So that's really interesting. And going to the PAC-12 would be something for me to watch as well."
Kopp said Monday that he plans to announce his decision via his Twitter and Instagram accounts "coming up here pretty soon."
After navigating the recruiting process as a high school player, Kopp said the second time through the process was much more straightforward.
"I think it was different because I know what it's like in college, I know what questions to ask," he said. "For me, this was a basketball decision more than any other. I got straight to the point. I wanted to see the plan a coach had, I wanted to watch film, I wanted to see style of play, I wanted to see roster, I wanted to see where I fit. So really, it was different in that I knew what to ask, I knew what I was looking for and the coaches understood that, too."
(Photo credit: Northwestern Athletics)
Filed to: Miller Kopp