2021-2022 Player Profile: Rob Phinisee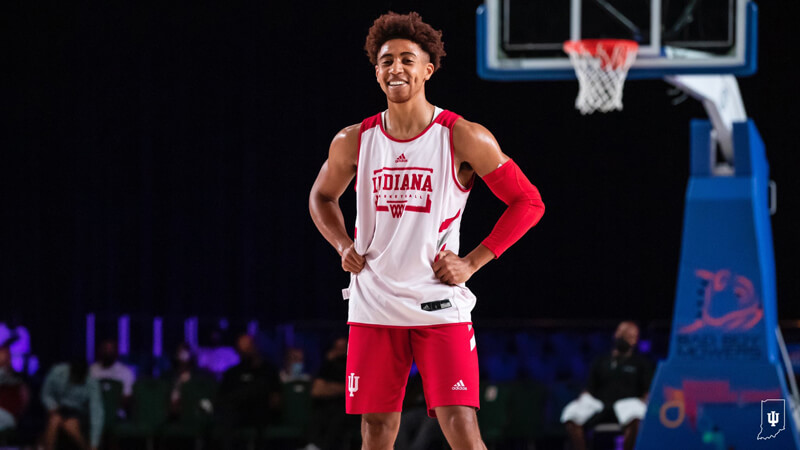 With the start of college basketball season on the horizon, we've transitioned from our look at other Big Ten programs to our player-by-player previews of the 2021-22 Indiana roster. Today, our player profiles continue with a look at senior Parker Stewart.
Previously: Logan Duncomb, Tamar Bates, Khristian Lander, Jordan Geronimo, Anthony Leal, Trey Galloway, Trayce Jackson-Davis, Michael Durr, Miller Kopp, Xavier Johnson, Parker Stewart
Rob Phinisee's Indiana career began with promise.
As a freshman, the McCutcheon product earned a spot in the starting lineup. Over Indiana's first 11 games in the 2018-19 season, Phinisee scored in double figures four times. He hit a ridiculous game-winning shot against Butler. And the Hoosiers began the season 9-2.
Phinisee's freshman season, however, was interrupted when he suffered a concussion in an 86-53 win over Central Arkansas in late December. He would only miss three games, but never regained the form he showed early in the season.
Injuries also interrupted his sophomore season. Phinisee missed five of the team's first nine games of the 2019-20 campaign. His assist rate and steal rate were solid in his second season, but his shooting numbers – 33.3 percent on 3s and 39.8 percent on 2s – were underwhelming.
Phinisee's confidence seemed to take a complete nosedive during his junior season, Archie Miller's last in Bloomington. He was able to stay healthy all season and appeared in all 27 of Indiana's games. But most of the statistical markers for progress showed regression. Phinisee shot just 63.8 percent from the free-throw line and 26 percent on 3s. His 2-point field goal percentage did inch up to 42.7 percent, but his offensive rating of 89.8 was a career-low.
His body language often showed a player who was unsure of himself and unsure of his role on the floor. A steady defender for the majority of his career, his lack of involvement offensively probably led him to be less engaged defensively last season. And the coaching staff did little to make it a priority to get him open looks or even opportunities to score.
As a senior, Phinisee is looking to reboot his career under a new coaching staff that realizes it needs to find a way to get more out of him.
"I don't think there's a better defender in the league than Rob Phinisee," assistant coach Dane Fife said last spring. "We've got to figure out how to get Rob Phinisee to get his groove back."
Part of the fuel behind helping Phinisee get his groove back will be helping him to rebuild his confidence and also putting him in better positions to be effective on offense.
Phinisee isn't going to be a high-usage option in Mike Woodson's offense, but his efficiency needs to take significant steps forward for him to be the best version of himself.
In high school and at times during his freshman season, Phinisee showed himself to be capable of knocking down shots in spot-up situations. Given the talent he'll be surrounded with this season and the fact that he'll likely log some minutes alongside Pitt transfer Xavier Johnson, Phinisee needs reinforcement that he has the green light to let shots fly when he's open.
One small adjustment that Phinisee should be able to take advantage of in his fourth season was identified last spring on film by Fife.
"I was surprised at how many shots Rob took when he was moving almost full speed laterally," Fife explained. "I'm thinking, gosh, those are tough shots… I think there's a simple fix that can really help him."
To Phinisee's credit, it seems he has embraced the opportunity for a fresh start even if his role might be coming off the bench after spending the majority of his first three seasons as a starter.
In the offseason, Woodson used words like "relaxed" and "comfortable" when describing the Lafayette native. Those were adjectives that would have never been used to describe Phinisee last winter.
"The coaching staff really just instilled the confidence in me," Phinisee said in August. "They just told me to continue being a leader and continue to get better each day."
Bottom Line: While Johnson might get the first crack at the starting point guard position, Phinisee will be an important part of Indiana's guard rotation. He's the most experienced Big Ten guard on the roster, he's arguably the team's best perimeter defender and he's shown in the past that he's capable of making big shots. Given how big of an issue consistent point guard play has been overall for the Hoosiers since Yogi Ferrell left campus, the trio of Johnson, Phinisee and Khristian Lander gives Woodson the opportunity to build that spot into a strength this winter.
Quotable: "I have the Calm app, I try to do that every day, like 10 minutes every day. Really I feel like there are certain things you can do in the morning to start your day off right that helps you with everything, keeps you focused. The book (the Intentional Mindset), it's really given me a lot of tips that can help me in life and not just with my game." – Phinisee at Indiana's media day on what he's been doing to work on his mindset entering the season.
Filed to: 2021-2022 player profiles, Robert Phinisee