6-Banner Sunday: Damezi Anderson announces intent to transfer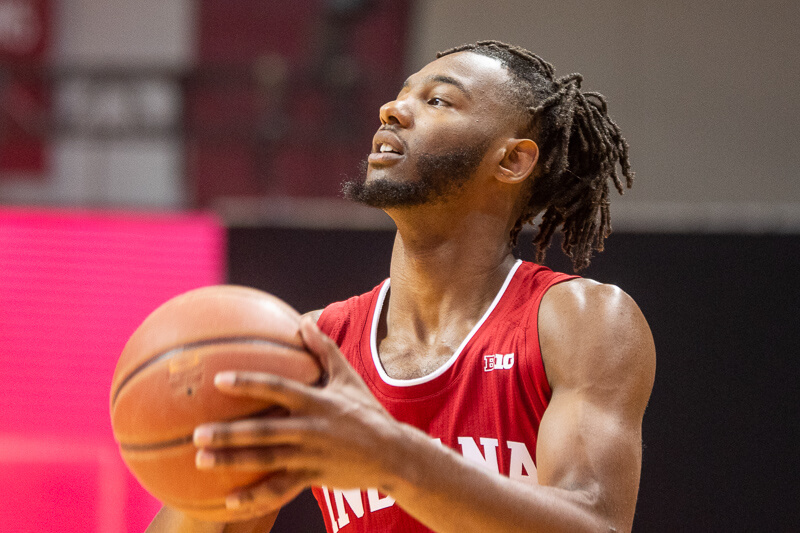 6-Banner Sunday is Inside the Hall's weekly newsletter in partnership with The Assembly Call. More than 7,000 Indiana fans receive the newsletter each week. In addition to appearing each week on the site, you can also opt to receive 6-Banner Sunday by email. A form to subscribe via email is available at the bottom of this week's 6-Banner Sunday.
Welcome to another edition of 6-Banner Sunday, a joint production between The Assembly Call and Inside the Hall where we highlight the five most essential IU basketball stories of the past week, plus take a look at how the other IU sports programs are doing.
Significant offseason news surfaced for Indiana basketball this week with the announcement of Damezi Anderson's upcoming transfer away from the program.
Anderson's choice to leave Bloomington after two seasons opens up an additional scholarship for Archie Miller and his staff to use this offseason, something that has created plenty of chatter for Indiana basketball fans and experts alike.
This news also made it a fitting time to take a look back at the recruiting class Anderson was part of at Indiana in 2018.
Elsewhere, interviews with potential future IU stars currently in the Class of 2021 and Class of 2022, as well as interviews with IU greats from years' past, filled in the rest of the noteworthy news in an eventful week for the Indiana program.
• Damezi Anderson announces intent to transfer from IU
• Looking back at Indiana's 2018 recruiting class
• Recruiting check-in with potential future Hoosiers
• Q&As with former IU players Robert Johnson and Cody Zeller
• Indiana basketball helps in fight against COVID-19
• Hoosier Sports Roundup
Banner #1
Damezi Anderson announces intent to transfer from IU
Sophomore wing Damezi Anderson will look elsewhere to finish his college career.
In an announcement made on his Instagram page Thursday afternoon, Anderson said he intends to enter his name into the NCAA's Transfer Portal. It's hardly a surprising decision from Anderson, who never cracked the starting lineup at IU and failed to secure significant playing time after a star high school career at Riley High School in South Bend, Indiana.
In particular, Anderson's playing time dwindled once Big Ten play began in both his freshman and sophomore seasons, and the most productive period of his IU career remains the first three games he played in the 2019-20 season, in which he scored 26 combined points against Western Illinois, North Alabama and Troy.
"My experience at Indiana was good," Anderson told Kevin Brockway of CNHI Sports Indiana. "I loved it there. It was a great school. I got in close with my teammates, and I got a lot of fans and stuff, and there's a lot of good people at Indiana. It's just the opportunity for me wasn't there for me all the way."
The resulting impact of Anderson's departure is significant, and was discussed in-depth on this week's edition of Assembly Call Radio. IU now has two open scholarships to use prior to the start of the 2020-21 season, although popular thought remains one of those scholarships will be given to guard Khristian Lander, assuming he is able to reclassify from the class of 2021 to the class of 2020.
Banner #2
Looking back at Indiana's 2018 recruiting class
Anderson's departure from the IU program means more than half of Indiana's 2018 recruiting class, a five-man group that marked the first influx of talent Archie Miller truly had control over at Indiana, is no longer at IU.
Romeo Langford left last offseason for the NBA Draft, while Jake Forrester transferred last offseason to Temple.
Anderson is now headed to a destination unknown, leaving Jerome Hunter and Rob Phinisee as the members of the 2018 recruiting class still with the Hoosiers.
I decided to dive a bit deeper into what that 2018 recruiting class looked like upon its arrival at Indiana (it was ranked 10th in the country by 247Sports) and what impact the five members of that recruiting class had on the IU program during their time in Bloomington, along with a look toward what the future may hold for Hunter and Phinisee.
Banner #3
Recruiting check-in with potential future Hoosiers
The offseason is always seen as a time to look at what the future of the IU program may hold, and this week was dedicated to a couple of in-depth pieces on current Indiana recruits.
I took a look at a pair of prolific Class of 2021 scorers on the East Coast in small forward Trey Patterson (New Jersey) and shooting guard Jordan Longino (Pennsylvania).
In the case of Patterson, he's known as one of the most sought after prospects in the Class of 2021 and is considered an intelligent and versatile player who averaged a double-double this past season.
"Whether he passes ahead or drives the length of the court, he's virtually unstoppable," Patterson's high school coach Matt Bloom told me.
Longino meanwhile is a two-sport star at Germantown Academy, as he's also the starting quarterback for the varsity football team. The same decision-making skills and vision Longino displays on the gridiron has come in handy on the hardwood, especially given the experience he has as both a point guard and a shooting guard for the Germantown Academy Patriots.
"He's very aware of what he needs to do to make the successful play," Longino's high school coach Matt Dolan told me.
Elsewhere, my Inside The Hall colleague Dylan Wallace took a look at a Class of 2022 prospect in five-star forward Jalen Washington from Gary West Side in Gary, Indiana. Beset by injuries early in his prep career, Washington is trying to use his persistent work ethic to emerge as a better basketball player once he recovers.
"It's pretty rare to coach a kid with this kind of talent and with this type of personality and work ethic," West Side coach Chris Buggs said.
Banner #4
Q&As with former IU players Robert Johnson and Cody Zeller
Former Indiana basketball stars Robert Johnson and Cody Zeller both had their respective professional seasons interrupted in the United States and Russia due to the COVID-19 pandemic, and both men have tried to adjust as best they can to the new normal for professional athletes.
Inside The Hall's Alex Bozich spoke with both Johnson and Zeller over the phone to learn more about their current daily lives, as well as what's next for them in their basketball careers.
For Zeller, he's alternated spending time at home in Indiana and in Charlotte, North Carolina, where he adjusted to a new role off the bench this season with the Charlotte Hornets. It was a new role for the NBA veteran to adjust to, but Zeller took the opportunity playing with a younger roster to refine his game.
"I've tried to expand my game into other areas and work on some things that maybe I wouldn't necessarily do if we were trying to win every night, or were in close games every night," Zeller told Inside The Hall.
For Johnson, his basketball journey took him to Russia with a new team, Parma Basket Perm, after he played the first part of the European season in Poland. Now back in the United States, Johnson is patiently awaiting the next step in his playing career.
"My agent and I had a plan for this summer and going into next season, and I don't think anything has changed all that much," Johnson said.
Banner #5
Indiana basketball helps in fight against COVID-19
As the global fight against the COVID-19 pandemic continues, this week brought news of contributions made by those connected with the IU men's basketball program to help make a difference in the current time of uncertainty.
First, on Monday the Big Ten announced it would create a new task force designed "to provide counsel and sound medical advice to ensure the health, safety and wellness of the Big Ten's students, coaches, administrators and fans." Each Big Ten school will have a representative on the task force, and Indiana's representative is Dr. Larry Rink, clinical professor of medicine and team physician for the IU men's basketball team.
Elsewhere, former Hoosier and current Utah Jazz player Juwan Morgan returned to his hometown of Waynesville, Missouri, recently and bought groceries for about 50 families in the Waynesville area who were struggling for food.
And Morgan's former IU teammate, current Boston Celtics player Romeo Langford, has also made an impact during this time, donating meals to feed healthcare workers at a hospital in Boston.
Banner #6
Hoosier Sports Roundup
The offseason finally had major news for IU Football with the NFL draft. A Hoosier was selected for the seventh consecutive year and another was signed as a free agent shortly after. Some other minor features and tidbits occurred as well.
• Simon Stepaniak joined recent fellow IU offensive lineman Jason Spriggs (Spriggs has since moved on to the Bears) in being drafted by the Packers in the sixth round. Also, although he did not have his name called during the draft, former WR Nick Westbrook inked a deal with the Tennessee Titans shortly after. Elsewhere in IU Football the athletic department announced some changes to season ticket policies and Tom Allen spoke with the media remotely.
• Women's Basketball will air some classic games.
• Women's Golf saw Priscilla Schmid honored.
• IU Diving grad Jessica Parratto signed a contract with Malibu C.
• Rowing's Nicole Conway was invited to a U23 Selection Camp.
• This week's Q and A feature with IU athletes was done with Rowing's Victoria Vicory, Baseball's Jeremy Houston, Water Polo's Robyn Greenslade, Wrestler's Brock Hudkins, Women's Tennis' Jelly Bozovic, Men's Golf's Harry Reynolds and Women's Swimming and Diving's Josie Grote.
Thanks for your continued support for The Assembly Call. We'll be back next weekend with a new roundup.
Now go enjoy yourself a 6-banner Sunday.
Filed to: