6-Banner Sunday: Indiana's heralded freshman class comes into focus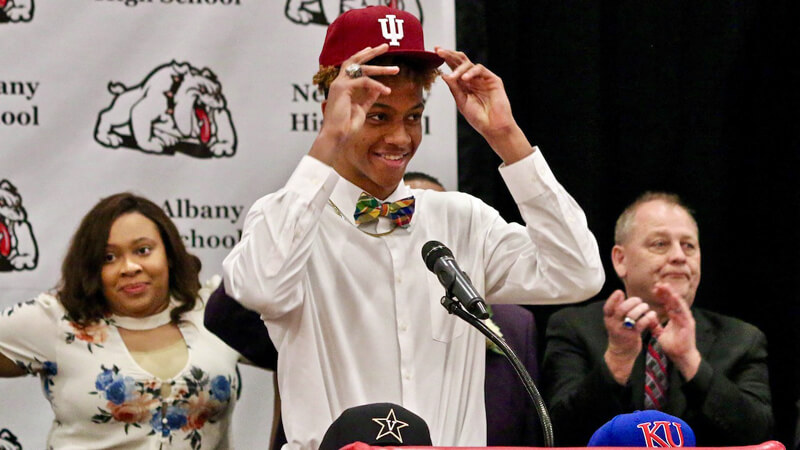 6-Banner Sunday is Inside the Hall's weekly newsletter in partnership with The Assembly Call. More than 5,800 Indiana fans receive the newsletter each week. In addition to appearing each week on the site, you can also opt to receive 6-Banner Sunday by email. A form to subscribe via email is available at the bottom of this week's 6-Banner Sunday.
Welcome to another edition of 6-Banner Sunday, a joint production between The Assembly Call and Inside the Hall where we highlight the six most essential IU basketball stories of the past week.
This week, Inside the Hall published its annual Freshmen Focus series, which includes a deep dive on each of the five freshmen in Indiana's heralded 2018 recruiting class. We also have updates on the 2019 and 2020 recruiting classes with the July evaluation period now over. And, of course, more fun social media videos.
In this week's edition:
· Indiana's five new freshmen come into focus
· What should we expect from Evan Fitzner this season?
· The latest on Indiana's top prospects in the Class of 2019
· A slew of new offers go out to class of 2020 prospects
· The "groundbreaking" IU Excellence Academy opens
· Hoosiers post more peeks behind the curtain on social media
Banner #1
Indiana's five new freshmen come into focus
Archie Miller's first recruiting class at Indiana appears poised to achieve two goals that most recruiting classes can't pull off simultaneously: be immediately transformative because of an elite talent like Romeo Langford, and also be foundation-setting because the rest of the players all seem like good bets to have, at a minimum, solid 3-4 year tenures at IU.
This week, Inside the Hall published its annual Freshmen Focus series, which gives us insight into each player from people (often coaches) who know him best.
Links and excerpts for each piece:
Freshman Focus: Jake Forrester
According to Berger, Forrester is already very familiar with the packline.

"About five games into the year last year, we switched to a packline and really tried to copy what coach Miller and his brother (Sean) do," Berger explained. "So Jake should know all of those principles right away. Being that rim protector, being able to dig and help and recover are things that he's already been doing."
Freshman Focus: Damezi Anderson
"I think the biggest thing was one of the first things I asked him, which was 'what do you want me to know about you?' And he told me that he cared about people. And that he cared about his teammates. And he cares about the community. He really wanted to bring a state championship to South Bend. We fell a little short. But he wanted to compete, he wanted to get coached and he wanted to get better. He was very coachable, overall."
Freshman Focus: Robert Phinisee
"He just kind of has this quiet confidence. He's not a scream at you kind of kid," Fox said. "He's just got this quiet confidence that everybody wants to play hard for him. It was pretty obvious early on that this was Rob's team. Probably more so than any other team we've had in a long time. That was Rob's team. Those were Rob's guys."
In a recently published list of the Big Ten's top 15 freshman by a national college basketball reporter, Hunter was strangely omitted.

As a kid who doesn't seek out attention, it's unlikely that Hunter even saw the list. But there's a strong chance that if it is updated at season's end, Hunter will be on it.

"I think he continues to get better. He continues to evolve his overall skills," James said. "I think IU fans may be surprised at how versatile he is on the defensive side of the ball. I think he will be able to guard a variety of positions. I think he's going to take a lot of pride in his ability to defend."
Freshman Focus: Romeo Langford
"He's pretty detail oriented. He wants to get better and try new things. I've seen him come up with a couple of things on his own where he will come in and start working on it and gets very good at it. I think he watches a lot of NBA. Those guys seem to always be inventing something. It's fascinating how skilled guys are getting in terms of handling the ball and getting their shots off. I think he watches that and tries to emulate those things."
And, since it's easy to forget that he was originally a member of the Class of 2019 before reclassifying, here is a conversation from last offseason with Race Thompson.
Wyandotte Safety Solutions is your one-stop shop for safety training and safety products. WSS offers CPR & First Aid training, fall protection, and lift training. We also sell PPE, AEDs, and First Aid supplies.
We are an Indiana company serving Indiana and all of North America. Check out our website for more information: ptsarcflash.com.
Banner #2
What should we expect from Evan Fitzner this season?
Shooting and interior depth were major deficiencies on last year's Indiana roster. Grad transfer Evan Fitzner appears poised to fill both of those gaps during his one season as a Hoosier.
On this week's edition of Assembly Call Radio, we went deep into the numbers to discuss Fitzner's strengths and weaknesses, and then assessed how those will fit with the collection of players Archie Miller has assembled for the 2018-19 season.
Listen here: How Evan Fitzner's Strengths (and Weaknesses) Will Fit on This IU Roster
Banner #3
The latest on Indiana's top prospects in the Class of 2019
While no commitments came in for the Class of 2019, several of Indiana's top prospects in the class did make important announcements:
· Keion Brooks will be transferring from Fort Wayne North Side to La Lumiere for his senior season.
· 4-star guard Armaan Franklin announced his final 3 schools: IU, Purdue, and Xavier. He then talked with Matt Denison on The Hoosier Report.
· Trayce Jackson-Davis announced that his top 6 will be coming soon (it is expected to be sometime today). It's widely expected that Indiana will be among the six schools. (In fact, it's widely assumed that Indiana is the clear leader in Trayce's recruitment.)
· 4-star guard James Bouknight is a new name on the 2019 radar, but his recruitment is picking up steam — with Indiana seeming to be in one of the top spots.
For more recruiting conversation, be sure to listen to this week's Podcast on the Brink, in which Alex Bozich talks with national analyst Corey Evans about how summer recruiting may change moving forward, and what he thinks about Indiana's recruiting so far under Archie Miller.
Banner #4
A slew of new offers go out to Class of 2020 prospects
Indiana has no commitments in the Class of 2020 either, and before this week hadn't even extended many offers yet. That is starting to change, as a number of offers went out to top-50 players in the class after the July evaluation period.
New offers included:
· Caleb Love (#36) – St. Louis, MO – 6'3 PG
· Andre Jackson (#40) — Albany, NY — 6'6 SG
· Nimari Burnett (#48) — Prolific Prep in CA — 6'3 SG
Ethan Morton of Pennsylvania and Zach Loveday of Ohio, both top-100 prospects, already had offers.
Interestingly, neither of the top in-state prospects, Anthony Leal and Trey Galloway, have offers from Indiana yet, though Indiana is clearly tracking each one closely. Galloway does have two other Big Ten offers, from Michigan State and Iowa.
Looking even further into the future, Indiana offered class of 2021 wing Terrence Clarke, who is currently rated No. 1 in the class. Khristian Lander from Evansville is the No. 14 player in the class of 2021. He does not yet have an Indiana offer, but did pick one up from Illinois over the past week.
Banner #5
The "groundbreaking" IU Excellence Academy opens
This was a big week for all Indiana athletes, as the IU Excellence Academy opened by serving a meal in the Tobias Nutrition Center to the women's soccer team.
As Zach Osterman wrote in the Indianapolis Star, the opening of the Excellence Academy is the culmination of a long-term vision by Fred Glass to bring Indiana's athletic facilities up to speed.
"In a lot of ways, I really have to pinch myself, because I think this is the culmination of what we've really been trying to do to catch up, if you will, from an athletics facilities perspective," Glass told IndyStar after a guided tour of the Excellence Academy. "Here's one where I think we're not only catching up but leading the way. No other school in the Big Ten or I think elsewhere has a facility dedicated to the personal development of student-athletes."
The debut of the Excellence Academy was this week's Banner Moment on The Assembly Call. As I explained during that segment, it represents yet another major facilities addition that Archie Miller and his staff will be able to sell to recruits, and it will also help to develop and maintain players' bodies and minds while they are at IU.
Banner #6
Hoosiers post more peeks behind the curtain on social media
In case you missed any of this week's social media videos, here is a rundown:
· If you missed it last week, the behind-the-scenes video from Photo Day was quite fun.
· Wednesday was Lake Day
· On Friday, a quick video was posted in which Juwan Morgan and Al Durham show the young guys how it's done.
Also, here is a fun little social media tip: if you follow IU's players on Instagram, be on the lookout for Juwan Morgan's comments. They are almost always hilarious — with him needling one of his teammates in some way or another. This article from back in February by Eddie Cotton — Juwan Morgan: The Big Ten's Instagrammer of the Year — provides a nice taste.
Suffice it to say, Juwan's Instagram hijinks have continued.
Before you go:
Unfortunately, Christian Watford's team lost in the finals of The Basketball Tournament. Overseas Elite won for the fourth year in a row. The story of their dominance is pretty interesting.
And speaking of IU legends …
Here is a story from the Indianapolis Star about one the best, and most underrated, players in not just IU history, but in the history of college basketball, Don Schlundt. There are many IU fans who consider him the best Hoosier of them all.
And with that, the joy of hanging Banner #6 is now one week closer.
Thanks for your continued support for The Assembly Call and Inside the Hall. We'll be back next weekend with a new roundup.
Now go enjoy yourself a 6-banner Sunday. If you'd like to receive this newsletter in your inbox each Sunday, please enter your email address below:
Filed to: