Freshman Focus: Jerome Hunter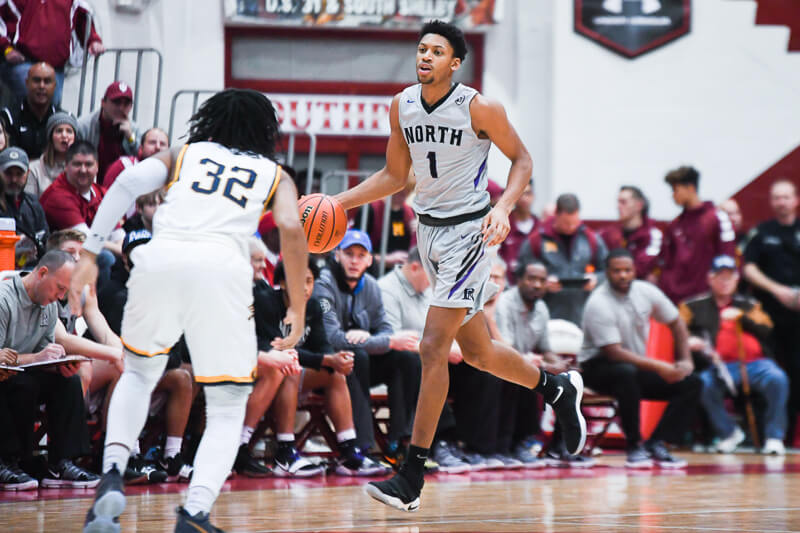 "Freshman Focus" is an Inside the Hall series on each of Indiana's incoming freshmen. Over the next couple of days, we will take an in-depth look at each newcomer. Today: Jerome Hunter.
Andreas James knew Jerome Hunter needed to be pushed.
James, the director of the Ohio NOVA Village AAU program, says Hunter thrives in situations where he's not the most talented player. But with his AAU program and at his high school, Pickerington North, Hunter was often the most gifted player in the gym.
So James looked for ways to get Hunter in environments more conducive to improvement.
"I was having to start find some other environments for him to get in where he wasn't the best player," James told Inside the Hall recently. "So he would work out with the overseas guys that come back to Columbus and a lot of the pros in the area."
The result, according to James, was validation of his theory that Hunter would thrive when challenged.
"I could immediately see him just taking another jump in improvement just being in an environment where he wasn't the best player," James explained. "He catches on quick and he's eager to learn."
That improvement is one reason for James sounds excited when he speaks about Hunter's future in Bloomington.
Hunter is now around older players who have been through the trials and tribulations of college basketball at the highest level like seniors Juwan Morgan and Evan Fitzner. And he's also surrounded by a talented cast of freshmen who will push him on a daily basis.
James said he's already heard from Hunter that he's studied who excels the most in particular drills over the summer and then aims to beat that individual in each drill.
"He came to me recently and told me, 'coach, I'm getting to the point where I'm making a lot of shots (in drills), but my goal is to beat this person," James said. "Jerome is a guy that measures himself by whoever he competes against or who he or others perceive is the best."
At one point in the 2018 recruiting cycle, it appeared that Hunter would be the prize of Indiana's recruiting class. However, the commitment of Romeo Langford in April changed that. A player with the wrong mindset might have looked at Langford's addition as an obstacle to minutes. Not Hunter. The first player to commit to the Hoosiers in the 2018 recruiting cycle, Hunter's excitement built as the IU staff assembled a class that finished in the top 10 nationally.
A top 50 player nationally out of Central Ohio, the 6-foot-7 Hunter committed to Indiana in July of 2017 after the first evaluation period.
He was being chased by several of the Big Ten's elite programs, including Michigan and Ohio State, but Bloomington felt like home when he took an unofficial visit last June for team camp.
James knew something was different with Indiana when Hunter, who is a quiet, reserved kid, told him in the car after the visit that 'this just feels like home.' Months later, James recalls Hunter just saying 'whoa' after Hoosier Hysteria when discussing how he was received by the fanbase.
A versatile forward who can play multiple positions, it wouldn't be a surprise to see Hunter fill multiple roles for the Hoosiers as a freshman. He's big enough to play the four and is working to improve his ball handling to the point where he can play the two.
In a recently published list of the Big Ten's top 15 freshman by a national college basketball reporter, Hunter was strangely omitted.
As a kid who doesn't seek out attention, it's unlikely that Hunter even saw the list. But there's a strong chance that if it is updated at season's end, Hunter will be on it.
"I think he continues to get better. He continues to evolve his overall skills," James said. "I think IU fans may be surprised at how versatile he is on the defensive side of the ball. I think he will be able to guard a variety of positions. I think he's going to take a lot of pride in his ability to defend."
Filed to: Freshman Focus, Jerome Hunter