Freshman Focus: Robert Phinisee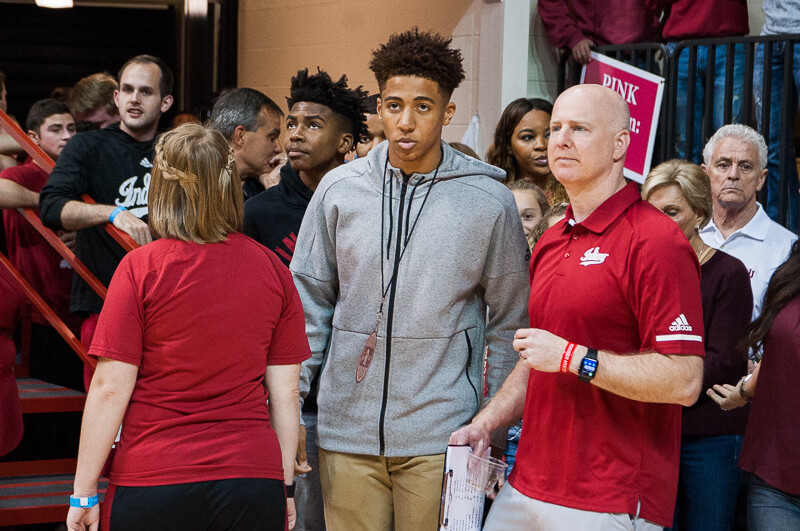 "Freshman Focus" is an Inside the Hall series on each of Indiana's incoming freshmen. Today: Robert Phinisee.
From the first time Indiana Elite coach Mike Fox saw Robert Phinisee play, he knew he was watching a special talent.
"(Phinisee) was a freshman in high school playing JV and I just saw how quick and athletic he was and how he could handle the ball," Fox told Inside the Hall. "I saw how he could be a really good defensive player. He anticipated plays defensively, that was really the biggest thing."
In the years since Fox first saw the point guard out of Lafayette, Indiana, Phinisee blossomed into one of the best high school players in Indiana. As a sophomore, Phinisee started on a McCutcheon team that advanced all the way to the 4A state title game, where the Mavericks fell to Romeo Langford's New Albany, 62-59.
At McCutcheon, Phinisee was a part of four 20-win teams and set numerous records, including the Tippecanoe County record for career points (2,023).
Although Phinisee could have transferred to a prep school, he never had any intention to do so. Phinisee is one of four brothers to suit up for the Mavericks. The youngest of the brothers, Joseph, is heading into his sophomore year with McCutcheon.
"He's a Maverick forever," Fox said of Rob Phinisee. "There was no way he was ever going to leave."
His best individual campaign came as a senior, where he averaged 29.4 points, 6.8 rebounds, 5.8 assists, and 3.7 steals per game. His final year at McCutcheon included several single-game offensive outbursts, with the most notable being a 50-point night against Harrison in December.
"(Phinisee) was (always) really a good on-ball defender," Fox said. "Kind of an old-mans point guard. Over time, he really became more of an aggressive, offensive threat when he needed to be."
It's not just Phinisee's talent that stands out, but his leadership as well. Playing on the AAU circuit for Indiana Elite, Fox saw first-hand the type of captain Phinisee could be.
"He just kind of has this quiet confidence. He's not a scream at you kind of kid," Fox said. "He's just got this quiet confidence that everybody wants to play hard for him. It was pretty obvious early on that this was Rob's team. Probably more so than any other team we've had in a long time. That was Rob's team. Those were Rob's guys."
In Sept. 2015, it was then-Indiana head coach Tom Crean who became the first Division I coach to offer Phinisee a scholarship.
When Archie Miller took over the job in March 2017, the IU staff worked hard to make sure Phinisee saw that he was still a priority.
"When Crean left, he was recruited hard by Ohio State, and (that staff) had recruited him when (Chris Holtmann) was at Butler," Fox said. "What made the difference for Rob, in the end, was being in-state and just being wanted by Archie. He felt like coach Miller really wanted him and he wasn't a value recruit, he was really wanted there. That's what really pushed him over the top."
The first scholarship player out of Tippecanoe County to play for the Hoosiers in nearly 70 years, Phinisee knew his decision to attend IU wouldn't be popular in his hometown.
"I don't hate Purdue. I'm a hometown kid. I just feel like IU is the best fit for me," Phinisee told WISH-TV in January. "It's not like 'I hate Purdue' now because I chose IU. I still have love for my hometown."
Part of a loaded recruiting class that ranks among the best in the nation and joining a team that is returning several key guards, Phinisee will have to earn every minute he gets as a freshman. What could set him apart, however, is his vision.
"As a freshman, he's going to be a really strong pass-first point guard, getting people the ball in the right places. He's always is able to get the ball to guys in a place that they can score," Fox said. "And he'll step up and make a shot when he needs to."
Once his IU career is behind him, Fox believes Phinisee could go down as one of the most accomplished point guards in school history.
"I hope that he has a chance to get in the (IU) record books in assists and steals and be a four-year guy that hopefully starts for two or three years," Fox said. "I'm not saying he's going to (be atop the record books) but it'd be nice if he could get in the top 10 in those categories. He'll be a guy that will be really missed when he's done playing there in four years."
Filed to: Freshman Focus, Robert Phinisee