Q & A: Catching up with former IU guard Robert Johnson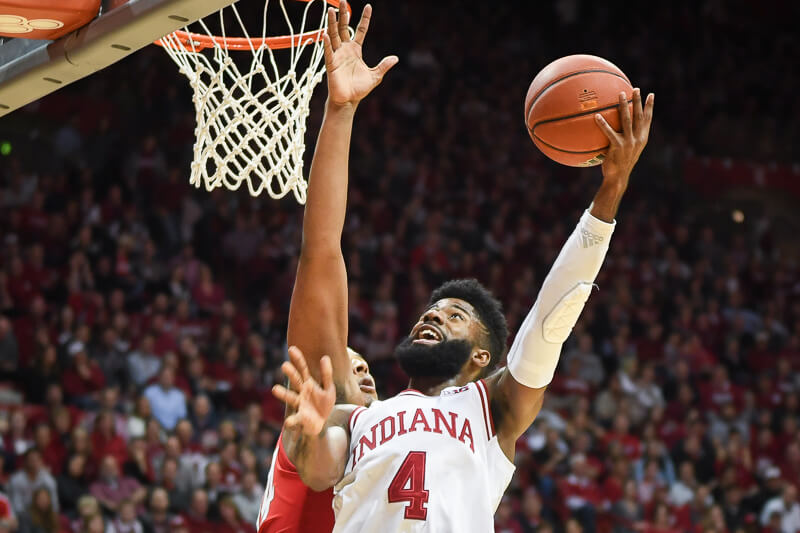 Former Indiana guard Robert Johnson was just six games into his time with Parma Basket Perm in the VTB United League (Russia) when the COVID-19 pandemic halted sports around the world.
Johnson, who played at Indiana from 2014 to 2018, has also played professionally in the NBA G-League and in Poland since graduation.
Inside the Hall caught up with Johnson, who is now back in the United States, to get an update on his professional career and much more. Our full Q & A is available below:
Inside the Hall: What was the process for getting back to the United States when your league stopped over in Russia? When did play stop over there?
Robert Johnson: In Russia, what was being reported there, it was a little slower there as far as the spread (of the virus). I think the league was trying to see how long they could prolong it to see if we could possibly finish the season. Once it happened, it happened fast. Once we knew the season wouldn't be continued, they had us on a flight the next day. Everything went smooth. They did a real good job of getting us back. We didn't have any problems with anything. It was a real smooth process for us.
ITH: How different was the coverage in Russia in terms of what was being said about the virus as opposed to the United States?
Johnson: It was a little slower in Russia, so like I said, I didn't really know how it was spreading more slowly (in Russia). I was a little bit concerned as to why our league was the only one that was still trying to continue. I still had Internet access so I could still read things from a couple of different sources to try to get more information, so I felt like I was still informed for the most part.
ITH: When did you get back to the United States?
RJ: I actually got back on March 26.
ITH: Now that you're back, what are you doing in terms of basketball?
RJ: I was in Indianapolis for a few weeks. I just got back to Richmond probably three or four days ago. So I've just been spending time with family as of now. I got a workout in yesterday and I'm going to continue to keep my daily regimen. Just continue to try to work.
ITH: How were things going in terms of your season? What was behind the decision to leave Poland for Russia?
RJ: It was a better deal. I had a buyout in my contract (in Poland) and I had played really well to start the first half of the season and a team came with a deal that really intrigued me. I think it was a great move for me.
ITH: What was the adjustment like going from the US to Poland and then to Russia?
RJ: One of the main things I noticed was that people walk different places. There's not as much driving. and in Russia, of course, it is snowing all of the time. Nobody really spoke English there. In Poland, people spoke English a little more. It was easier for us to adjust in different ways. But going to the grocery store and different things in Russia with the language being different and nobody speaking English, it was a little tougher there.
ITH: What did you do to get through the language barrier there (in Russia)?
RJ: In Poland, since most people spoke English, it wasn't as hard because if I had questions, I didn't have to go far to ask someone. In Russia, I had a driver who spoke English who would help me with things.
ITH: How much have you stayed in touch with your former teammates at IU and how closely have you followed the program since you graduated?
RJ: I pretty much keep up with everyone. I try to make sure I check in every so often with everybody. All of the former teammates, I've talked to within the last couple of months or so.
ITH: Were you at all surprised at all with how the 2018-19 season went for IU?
RJ: Yeah, I was at surprised but at the same time, knowing how competitive the Big Ten is and how college basketball can go, I understood some of the things that happened. I was just hopeful they would have a really good season and they had flashes at times of being a great team, but I just think the consistency part and in college basketball, it is so important to build that consistency to compete and get those wins as the season goes along and that's the part that they had some problems with.
ITH: You were one of the few guys that played for Tom Crean and Archie Miller. What was the adjustment like going from Crean to Miller?
RJ: To be honest, it wasn't that difficult, really. I think Archie did a good job of making the transition easier, especially for the older guys. The system was pretty simple. To coach Crean's credit, he prepared us … even now, playing professionally with the schemes and systems, anything that coaches have me do is really easy just because of everything we did to prepare for these situations. So that transition was smooth for me.
ITH: In terms of playing for Archie, he appears to be intense at all times. Is that the same thing you saw as a player or are there times where he is more relaxed?
RJ: Once we stepped on that court for practice or a game, it was definitely all business and not a lot of joking around. In between practices and workouts, he was more relaxed and would crack a joke here and there. We saw that side of him, too.
ITH: You played with both De'Ron (Davis) and Devonte (Green). They were likely going to make the NCAA tournament this past season. Have you talked to either of them since the season ended and what was your reaction to their season ending the way it did?
RJ: I was disappointed for them. That was one of the things I was excited about, especially for those two, they never went to the tournament and they had a really good chance. They were probably going to go to the tournament. That was one thing I was definitely disappointed about for those two. Devonte was really starting to play well, I feel like, and I think he would have played well in the tournament as well.
ITH: When you look back on your career at IU, what is your fondest memory?
RJ: I would definitely say just being in the locker room after that Kentucky win to go to the Sweet Sixteen win. That's probably the fondest memory because it was a big moment for us. It was an exciting time in our college careers.
ITH: What's next for you in terms of basketball?
RJ: My agent and I had a plan for this summer and going into next season and I don't think anything has changed all that much. At this point, it's just a waiting game to see what opens up and when. I just really have to take it day by day and go from there.
ITH: What do you think the world can learn from this situation? Can this ultimately make the world a better place?
RJ: Honestly for me, I feel like it is God trying to turn people back towards him. Spiritually, that's something I have been focused on is trying to strengthen my relationship with the most high. I hope other people do the same in their own way.
Filed to: Robert Johnson