West Side's Jalen Washington humbled by Indiana offer, has tireless work ethic to get better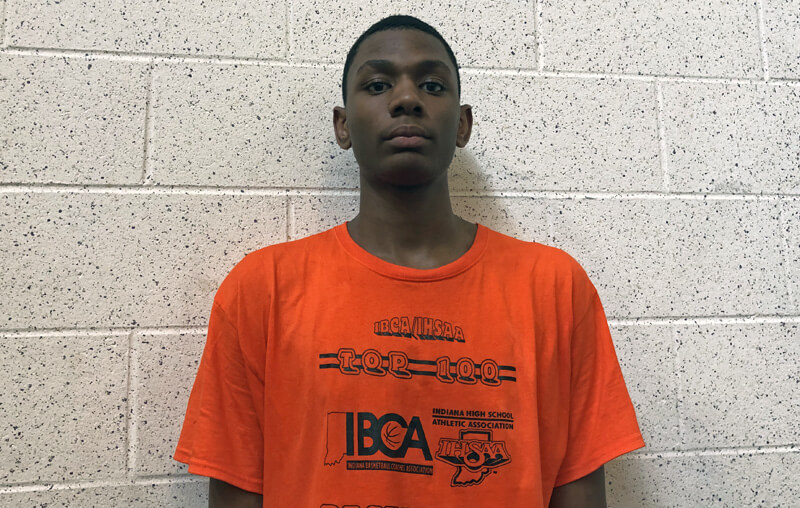 Gary West Side basketball coach Chris Buggs can't tell Jalen Washington has an offer from Indiana.
Usually when you're a 6-foot-8, five-star forward, ranked No. 15 nationally and playing in the state where basketball is cherished, an offer from the Indiana program accompanies a lot of fame and spotlight.
But for Washington, he has remained humble and grounded since Archie Miller and company first called him up.
Indiana was Washington's first offer. He was 15 years old at the time the Hoosiers first reached out.
"That was great," Washington said. "It was exciting, you know, it was my first offer, so just really seeing my hard work pay off by having a school notice me like that. That was great."
Since then, Washington, a class of 2022 recruit, has received offers from other Big Ten programs such as Purdue, Iowa and Illinois. He's also received offers from the Big East's DePaul and Xavier.
But still he has remained humble, focusing on improving his game each and every day.
He started to gain attention with his performances at USA camps and Nike EYBL circuits. As far as his prep career though, injuries have been a concern so far. In two years, he has only competed in seven games.
Washington fractured his right shoulder during his freshman year, causing him to miss most of the season before he game back for the final six games. This past November before his sophomore year, he tore is right ACL in practice.
"I was actually kind of numb to it," Washington said on the injury. "I wasn't too upset. I just kind of took it how it was."
He had surgery on Nov. 20, and he said he's supposed to be fully recovered in late July. Even with COVID-19 pushing back his doctor appointments, Washington has been able to talk with trainers and do workouts at home to keep his recovery schedule on track.
Buggs, his high school coach, said Washington's tough mentality and work ethic comes from his parents.
"He's got really good parents as far as work ethic. His work ethic has always been unbelievable," Buggs said. "He's been working so hard since he was younger that now his skills, a lot of things he does on the court, are pretty advanced, so his shooting, post moves, things like that. He's got a good, well-rounded skill set."
Washington admitted himself he thinks his shooting is a strong part of his game, and he said he was getting comfortable in the post prior to his injury. He also takes pride in his length on defense, which allows him to get steals and blocks to energize his team. Buggs called him a "new-age forward" that can do a lot of different things on the court.
One thing Washington wants to improve on with his game is efficiency. Buggs wants to see Washington become more confident.
"His confidence is what he needs to work on as far as being able to shoot a lot of shots and not being worried about missing," Buggs said. "You know, he's a guy who likes perfection and doesn't like missing a lot, so just trying to help him play with more confidence. I think that'll really help him moving forward."
As far as the relationship he has built with Miller and his staff, Washington said they've talked a few times on the phone, and Miller has told him how he thinks he'll fit into the system.
Washington has been on Indiana's campus once, and it was for a team camp this past summer. In recent years, it has been rare for players in Northwest Indiana, known as "The Region," to get offers from IU's basketball program.
The last player from The Region to commit to Indiana was Grant Gelon from Crown Point in 2016, and he played at Indiana for Tom Crean's final season, then transferred when Miller took over the program. Purdue's Sasha Stefanovic, also from Crown Point, was never recruited by Indiana. Brandon Newman, from Valparaiso, was recruited by Indiana and took an official visit, but ultimately chose Purdue and redshirted there last season.
Buggs, who played at West Side in the early 2000's and was a part of the team that won the state title in 2002, knows how special it is to be recruited by Indiana. Buggs has been to one game in Assembly Hall, and it was in 2013 when No. 1 Michigan took on the No. 3 Hoosiers.
That game featured the likes of Trey Burke and Tim Hardaway Jr., along with The Region's Glenn Robinson III (Lake Central), Mitch McGary (Chesteron) and Spike Albrecht (Crown Point), taking on the Hoosiers' loaded roster of Victor Oladipo, Cody Zeller, Christian Watford, Jordan Hulls and Yogi Ferrell.
"Man, that was a good game to go to," Buggs recalled, Indiana won 81-73. "Assembly Hall has a great atmosphere."
Even though of all The Region's players were on the opposing team, Buggs said it was still cool to see players from that area thrive on a big stage. It's a big reason why he is proud of Washington for how hard he has worked to get to where he is as a player and to receive attention from big-time schools like Indiana.
"Well I'm definitely humbled. This experience of being able to coach a young man who's a really good kid. He's a better kid than he is a basketball player," Buggs said. "It's pretty rare to coach a kid with this kind of talent and with this type of personality and work ethic. He's got a 4.0 GPA. He's just a really well-rounded kid, who really represents his community well."
Filed to: Jalen Washington