Looking back at Archie Miller's 2018 recruiting class at Indiana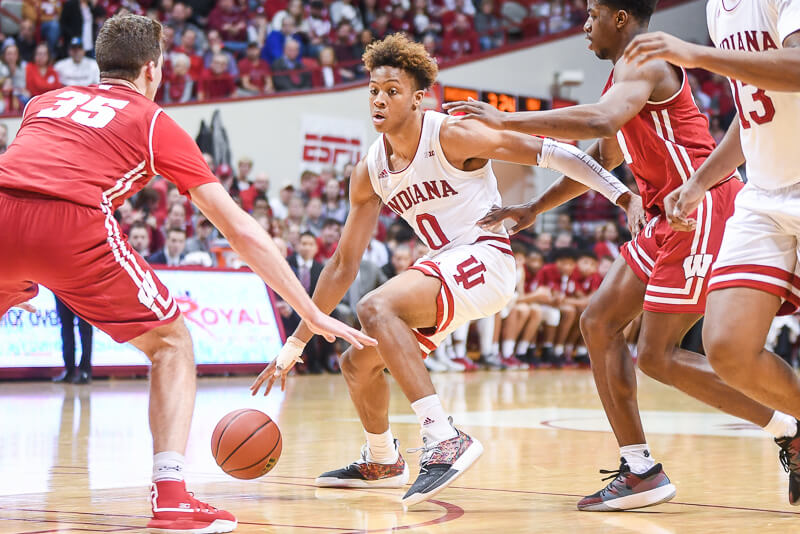 When Archie Miller was hired as IU's 29th men's basketball coach in late March 2017, that year's recruiting class was largely set in stone.
Offers had been distributed by former coach Tom Crean and his staff, scholarships accepted by incoming recruits. Miller's job was relegated to convincing the players with those offers to stay with the Hoosiers, something he was successful at as all three 2017 incoming signees (Al Durham, Clifton Moore and Justin Smith) re-confirmed their commitments to Indiana.
Race Thompson also joined that 2017 recruiting class after choosing to reclassify from the 2018 class.
But those in the 2018 recruiting class represented the first true assessment of the talent Miller could bring to Bloomington once he firmly settled into the job.
The 2018 class was comprised of five players, and was ranked as the 10th-best recruiting class in college basketball that season by 247Sports. Three of those players are no longer in Bloomington following Damezi Anderson's announcement that he will enter the transfer portal.
As such, it's a good time to look back at that 2018 recruiting class and see where those players are now, and what their impact has been at Indiana.
Damezi Anderson
The aforementioned Anderson is the latest member of this class to leave Bloomington, announcing via Instagram on Thursday that he would enter the NCAA's transfer portal, citing a lack of playing time as a reason why.
He came to Indiana after a decorated high school career at South Bend Riley, where he set a school and St. Joseph County record with 2,210 points. He was the No. 3-ranked recruit in Indiana in the 2018 class by 247Sports.
But that prolific scoring ability never translated to Indiana, where Anderson appeared in 39 games over the course of two seasons, averaging 2.1 points and 1.6 rebounds.
He never made a start for the Hoosiers and the high-water mark of his time at IU came at the start of nonconference play last season, when he scored 26 points across three games including a career-high 14 in a home win over Troy.
As was also the case during his freshman season, Anderson's playing time and shooting confidence dwindled as Big Ten play arrived.
In 2018-19, Anderson played more than 10 minutes in a game just three times after the calendar turned to January, and in 2019-20 he failed to score in his final eight appearances of the season.
Jake Forrester
Forrester spent one season at Indiana during the 2018-19 campaign before entering the transfer portal last offseason, joining Temple prior to the start of the 2019-20 season and playing 26 games last season for the Owls.
Rated as a 3-star player and the third-best recruit from the state of Pennsylvania by 247Sports in the 2018 class, Forrester was billed as a versatile, rebounding-first player ahead of his arrival at Indiana.
He was referred to during his time at Indiana as a "live wire" by Archie Miller, but he had precious few opportunities to display that kind of instant energy.
In a season which featured a logjam in the frontcourt with the likes of Forrester, Justin Smith, Juwan Morgan, De'Ron Davis, Clifton Moore, Race Thompson and Evan Fitzner all angling for playing time, Forrester often received the short end of the stick.
He played in just 13 games and for 56 total minutes at Indiana, averaging 2.1 points and 1.3 rebounds per game. The season-high nine minutes he played during IU's win at Michigan State, a game which saw Morgan leave injured during the first half, was perhaps the best indication of the kind of energy and hustle Forrester possessed.
This ability was on display last season for Temple, as Forrester made 16 starts and averaged 7.5 points, 3.8 rebounds and 17.3 minutes per game, scoring double figures on 10 occasions.
Jerome Hunter
Hunter is still in Bloomington, and arrived at Indiana with plenty of praise.
A 4-star recruit who was ranked by 247Sports as the second-best prospect from Ohio in the 2018 class, Hunter's Hoosier debut was delayed through medical uncertainty.
He underwent leg surgery in November 2018 and didn't play a game for Indiana that season, taking a medical redshirt instead.
Practice and other team activities were also off the table for Hunter, so his second season with the program in 2019-20 was often referred to by Archie Miller as Hunter's "true freshman season."
Hunter's in-game confidence and rhythm was a bit sporadic last season, but there were moments of certain growth at both ends of the court. He finished last season with 30 game appearances, averaging 3.8 points and 2.1 rebounds per game, while shooting 35 percent from the floor and 30.2 percent from behind the 3-point line.
The consensus about Hunter is that his best basketball is yet to come, but even in the infant stages of his college career and in the midst of his return to the sport of basketball, he showed no hesitation in taking quality shots, sometimes lifting the Hoosiers out from an offensive slump in the process.
Romeo Langford
Langford's lone season in Bloomington showed enough to make him a top-15 pick in the 2019 NBA draft, and while it didn't lead to meaningful postseason success with Indiana, the individual production was there.
The 5-star shooting guard and New Albany, Indiana, native was heralded as a potential program savior when he picked IU over Kansas and Vanderbilt in a high-profile signing ceremony, when began a trend of Indiana Mr. Basketball's choosing to come to Indiana.
Langford finished the 2018-19 season as the Big Ten's leading freshman scorer and IU's overall leading scorer at 16.5 points per game. His athleticism also came through in the terms of rebounds and blocks, as he was second on the Hoosiers with 5.4 rebounds per game and 26 blocks for the season.
This was all done with a torn ligament in his right thumb (on his shooting hand), an injury which didn't fully come to light until after Langford's time as a college player was done.
He likely sacrificed his NBA draft stock, as well as endured plenty of pain, to make sure he meaningfully played for the Hoosiers, something Archie Miller reflected on last season.
"Romeo had as good of a freshman season as a lot of freshmen have ever had coming through here," Miller said in February. "It seems like all they wanted to talk about was what went wrong. Poor kid is 18 years old and is playing against the Lakers on TV, and he's pretty good."
Rob Phinisee
Phinisee, along with Hunter, are the two members of the 2018 recruiting class still at Indiana.
Rated as a 4-star recruit and the fourth-best player in Indiana by 247Sports out of McCutcheon High School in Lafayette, Indiana, Phinisee became IU's first scholarship recruit from the city since 1948. Phinisee was a perennial winner in high school, scoring 2,023 points and winning 93 games over his four-year career with the Mavericks.
His role has been as a facilitator rather than a scorer at Indiana, but it's only a role he can fulfill when not injured.
His freshman season in 2018-19 saw Phinisee become an immediate starter at point guard after Devonte Green suffered a preseason injury, hitting a high note with an eight-assist performance in a home win over Marquette. He supplied more memorable moments with a game-winning 3-pointer against Butler and late-game defense to secure the home win over Michigan State, but a concussion suffered in late December affected his on-court flow.
Still, averages of 6.9 points, 2.9 assists and 1.1 steals per game as a freshman were more than sufficient.
Those numbers became 7.3 points, 3.4 assists and 1 steal per game for Phinisee last season, along with a modest increase in his 3-point shooting (31 percent to 33.3 percent). But injuries again affected Phinisee, who had a lower abdominal injury to begin the season, before later dealing with an ankle injury.
Once the ailments went away, Phinisee returned to form, showing himself to be the team's most capable option to run the offense and a pesky presence on defense.
Perhaps Nebraska coach Fred Hoiberg summed it up best after Phinisee scored seven overtime points to help the Hoosiers to a win over the Cornhuskers last December.
"As long as he's running the show, there's bright days ahead," Hoiberg said.
Filed to: Archie Miller, Damezi Anderson, Jake Forrester, Jerome Hunter, Robert Phinisee, Romeo Langford