Top moments from the 2019-20 Indiana men's basketball season: Moments 5-1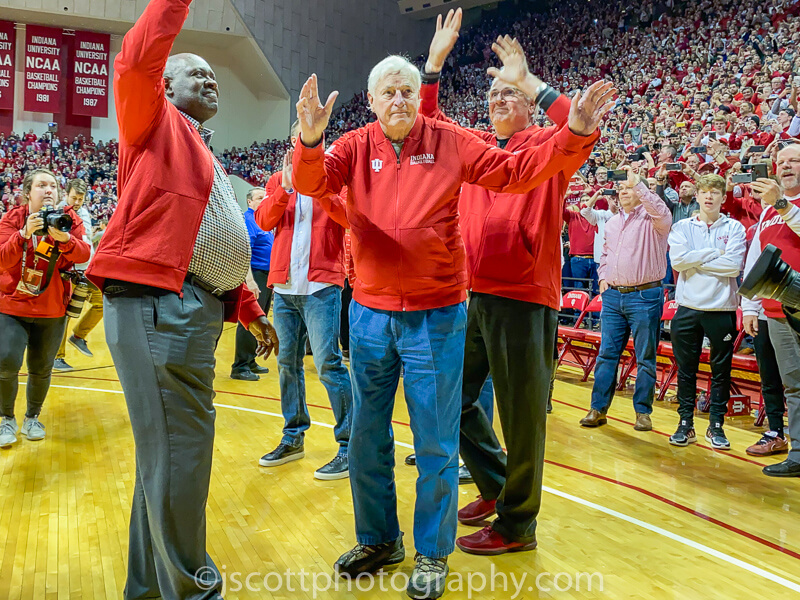 With the 2019-20 NCAA men's college basketball season officially over due to the COVID-19 pandemic, plenty of time has been spent reflecting on what was an eventful campaign for the Indiana Hoosiers.
Archie Miller's third season in Bloomington was likely going to result in an NCAA tournament berth prior to the cancelation of the event, and plenty of highlights defined a 20-12 season for the Hoosiers, including the emergence of star freshman Trayce Jackson-Davis and the return of former coach Bob Knight to Simon Skjodt Assembly Hall.
One last bit of housekeeping business to take care of is compiling a defining list of top moments from the 2019-20 Indiana men's basketball season, and Inside The Hall writers Cameron Drummond and Dylan Wallace did just that. Yesterday were moments 10-6, and today is 5-1:
5 – Armaan Franklin's performance against Notre Dame in Crossroads Classic
For those who remember the 2018 Crossroads Classic, happy memories will filter in about the buzzer-beating 3-pointer from Indiana's freshman guard at the time, Rob Phinisee.
This past season in the 2019 Crossroads Classic against Notre Dame in Indianapolis, another Indiana freshman guard stepped up and hit clutch shots.
Armaan Franklin, who played high school ball at Cathedral, came into the game and scored a career-high 17 points in 14 minutes to help lift the Hoosiers to a 62-60 victory over the Fighting Irish. Franklin made 4-of-5 shots from beyond the arc, including a three in the corner with 15 seconds left to put Indiana up two.
Before this game, Franklin was an abysmal 4-of-27 from downtown, and then he made that many in one game as he did in the prior 11. It was a shining moment for Franklin in Bankers Life Fieldhouse, and it showed flashes of what he can be for this Indiana team in the years to come.
4 – Indiana defeats Michigan State at home for the second straight year
If any positive moments came from the 2018-19 Big Ten season for Indiana, it was the Hoosiers' two victories over Michigan State – one on the road in overtime, and one at home where Rob Phinisee played great defense on Cassius Winston at the end to give Indiana a one-point victory.
So when the Spartans came to Bloomington this past season ranked No. 11, it brought out one of the most electric crowds to fill Assembly Hall this year.
The Hoosiers got out to a hot start, storming out to an 18-4 lead. The Spartans would crawl back to within four at the end of the first half, and then Al Durham hit a huge three at the buzzer to send the Hoosiers into halftime with a 7-point advantage.
MSU would take a lead during the second half, and then tied at 60 with under two minutes to go, Durham hit a huge 3-pointer to put the Hoosiers up three. The game then found itself in a similar position it did the year prior, with the ball in Winston's hands with a chance to win/tie and Phinisee defending.
For the first time all game, Indiana elected to switch the ball screen, so Trayce Jackson-Davis was out guarding Winston, who drove by him and tried to lob it to Xavier Tillman, but Jackson-Davis tipped it, which made the shot harder for Tillam as it rolled off the rim. Jerome Hunter knocked in two free throws with one second left, and Indiana won 67-63.
It was big a win for Indiana this season and continues the streak of Archie Miller and company having Tom Izzo and the Spartans' number.
3 – Trayce Jackson-Davis scores 27 points and 16 rebounds in road win at Minnesota
With Indiana's season teetering toward a downfall and a 24-point loss to Michigan fresh on the mind, the Hoosiers needed a big response going to Minnesota on Feb. 19.
Specifically, they needed a big response from Trayce Jackson-Davis, who scored just five points in three shot attempts against the Wolverines.
The star freshman answered the bell, having a career game in 'The Barn' with 27 points and 16 rebounds. He went up against and outperformed Gopher big man Daniel Oturu, who will most likely be a first-round pick in this year's NBA draft.
It was one of Jackson-Davis' many dominant performances of the season, but this one may have been the most important in terms of timeliness and situation. The Hoosiers' 68-56 victory gave them a rare and much-needed road win, as well as momentum that allowed them to beat No. 9 Penn State at home in the next game.
2 – Devonte Green scores 30 vs. Florida State
The first marquee-matchup to come to Assembly Hall each season always provides one of better environments all year.
After seven "guarantee" games to start the season, Indiana finally welcomed in a formidable opponent in No. 17 Florida State as part of the Big Ten/ACC Challenge.
Assembly Hall was rocking, and Indiana senior guard Devonte Green put on a memorable performance, electrifying the crowd with each bucket. Green came off the bench and scored a career-high 30 points on 10-of-15 shooting and 5-of-7 from three.
He helped lead Indiana to a rout of the Seminoles 80-64. It was a win that looked good on Indiana's resume for the rest of the season as Florida State got up to top-five in the AP poll and ended up becoming regular season ACC champions.
Green put on a few more highlight performances for the rest of the season, but none as explosive as this one. When reflecting on his time at Indiana, he always points to this game as his all-time favorite moment.
1 – Bob Knight returns to Assembly Hall
It's not often the top moment from the season comes off the court or doesn't necessarily have to do with the current team, but this one warranted it.
After nearly 20 years away from arena he helped hang three banners in, Bob Knight finally returned to Assembly Hall.
It was a moment that Hoosier fans had long-awaited. When Knight showed up to a baseball game in the spring of 2019, rumors swirled for the upcoming basketball season about a potential return after being fired in 2000. Then he reportedly bought a home in Bloomington. People speculated about the Troy game Nov. 16, but it never happened. They thought for sure the Ohio State game on Jan. 11, but it never happened.
But then finally halftime of the Purdue game came on Feb. 8, and the magical moment was here. Knight came out to an astounding ovation from the 17,222 soldout Hoosier fans. He joined members from the 1980 Big Ten title team on the court, as well as players from the '70's and '90's who came to be a part of the reunion.
There were cheers, tears and chants of "defense" Knight orchestrated the students to scream. Even though Indiana went on to lose the game, the festivities at halftime are all anyone will really remember.
It was such an important moment for the program, and it will forever be an iconic moment not just for the 2019-20 season, but for Indiana basketball history.
Filed to: Armaan Franklin, Bob Knight, Devonte Green, Michigan State Sparatans, Trayce Jackson-Davis