Bob Knight's Assembly Hall return brings tears, closure following decades-long saga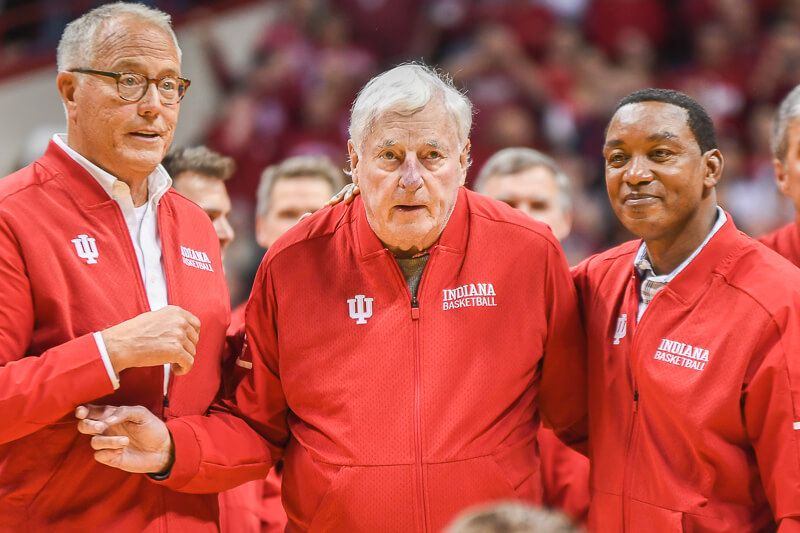 For all the cacophony of noise, good and bad, that built up the anticipation to Bob Knight's return to Assembly Hall, the first moments of his homecoming were muted.
Knight slowly shuffled through the southeast tunnel of Assembly Hall, assisted by former players Quinn Buckner and Steve Green and Knight's son Pat, all of it projected onto the videoboard hanging over Branch McCracken Court.
The crowd knew what was coming.
There was no secretive aspect to the impending moment, the one everyone could see was about to take place.
Nearly 20 years of confusion, frustration and distrust were about to fade away at halftime of Saturday's game between Indiana and Purdue.
Bob Knight's first steps when he emerged from the southeast tunnel, the one's taken in front of a sellout crowd of 17,222, were met initially with subdued cheering.
His shiny, stark white hair was visible from every seat in the building.
For a moment it seemed as if everyone appreciated Knight's return for just that: A moment in time that couldn't be replicated, without a textbook way to react.
It was one that was months in the making, eliminating years of emotional toil on both sides.
But if the crowd was at first unsure of how to act, the litany of former Knight players who lined the court did.
Faces beamed toward Knight, those belonging to the stars of the 1970s like Tom Abernathy and Scott May, the idols from Knight's title teams of the 1980s such as Isiah Thomas and Keith Smart, along with players like A.J. Guyton and Alan Henderson, the most recent reminders of Knight's Indiana connections from the 1990s.
No hesitation existed on their parts.
"The inclusion of Coach Knight meant a lot to those guys," Archie Miller said postgame. "For us to be able to host them and have Coach Knight officially come through the doors was a big thing. Hopefully, that makes some things go in a different direction moving forward, continuing to tie things together."
Saturday served as a cathartic moment for the Indiana program. Fans embraced each other in the stands as Knight strode to the Indiana logo at midcourt.
Chants of "Bobby" and "Thank you coach" rang around the arena, often started by those in the Indiana student section, some of whom weren't born the last time Knight coached a game for the Hoosiers.
Indiana players also fall into this category. Trayce Jackson-Davis was born with seven months left in Knight's time as Indiana coach.
A pregame meeting between Knight and the Indiana team offered a chance for generations past and present of Hoosier basketball to briefly meet.
"He came in, talked to us, told us to play hard," Jackson-Davis said of Knight. "He's a legend. He's the reason why people talk about IU basketball, really."
That was the main reason tears were shed Saturday. For better or worse, Bob Knight represented the introduction to basketball for so many in Indiana, be it those who played for him and embraced him on the court, or those who watched from afar, first on television then in the Assembly Hall stands.
This drove the steady applause, one that revved back up again as Knight stood at midcourt and looked around.
"We came here because of him," former Indiana player Randy Wittman, who worked behind the scenes to secure Knight's return to Assembly Hall, said. "It wasn't because of the weather and as I told coach, as much as the academics were a big part, it wasn't because of the academics. We came here to play for coach."
For Wittman, who was in the IU locker room to hear the pregame talk, it was as if Knight had never left.
"I was standing there, and he was Coach Knight," Wittman said. "The words that he gave to those players before they went out on the floor, it was fabulous."
These sentiments were echoed by Mike Woodson, another Knight alum who was back to celebrate the coach's return.
"He made all his marks right here at Indiana University," Woodson said. "So for him to come back…we were just happy as hell knowing that he was going to come today.
"We didn't put a lot of work into it. This is something that he decided he wanted to do."
So often in this saga it has been that — the willpower of Knight — which has controlled the narrative surrounding his public absence from Assembly Hall.
His choice to move back to Bloomington last summer showed steps toward acceptance and forgiveness. His choices earlier this year to be around basketball in the state — attending practices at Indiana State and games at Marian University and Bloomington High School South — were tinged with the pettiness that two decades of disdain can form.
It still persists, even after his return, as Wittman and Woodson acknowledged that it's up to Knight if he wants to consistently make Assembly Hall visits in the future.
"I don't know if we'll see something like this again in college basketball, that he came back," Wittman said. "I told him…'You're back here for a reason, because this is where you belong.' I said, 'You need to come back with us.'"
Most returns to Bloomington don't necessitate tweets from the likes of Mark Cuban and Calbert Cheaney, or official statements released by athletic director Fred Glass and even Indiana University at large.
Bob Knight's did.
The scope of the moment wasn't lost on anyone, not even Knight himself, who went off-script during the ceremony and walked toward the Indiana student section, and started a brief "Defense" chant before sharing a greeting with longtime friend and ESPN announcer Dick Vitale.
The end result of Saturday's game — Purdue's sixth-straight win over Indiana — will coexist alongside the spectacle of the halftime ceremony which interrupted it.
If a weight was lifted from the Indiana program Saturday, it will be realized in the coming months and years and not the immediate days.
Bob Knight took his first public steps in nearly two decades Saturday on the Assembly Hall floor.
Some people knew how to react, while others didn't.
Wittman was part of the former.
"I'll go to my grave with this memory of today," he said.
Filed to: Archie Miller, Bob Knight, Mike Woodson, Randy Wittman, Trayce Jackson-Davis