'It gets miserable when you're losing': Indiana clings to future opportunities after home loss to Purdue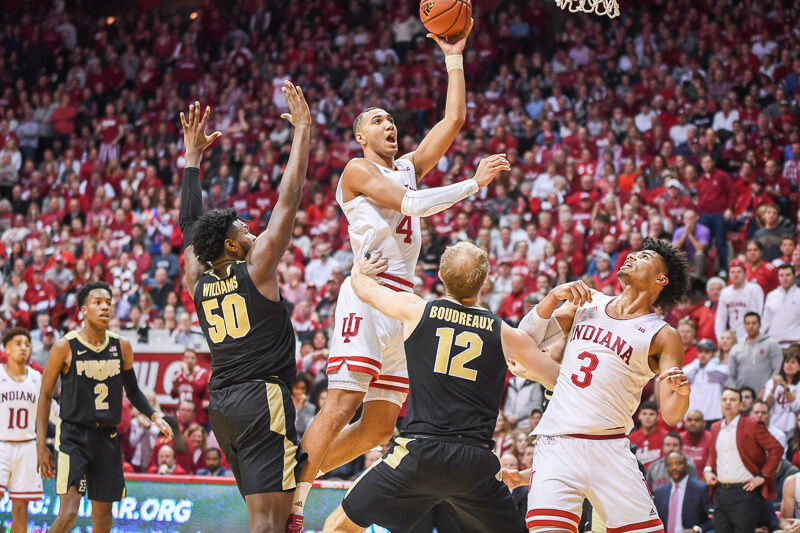 Archie Miller speaks of opportunities.
During his postgame media sessions he often points to the chances for significant wins provided by playing in the Big Ten Conference.
Saturday afternoon was no different.
But in the wake of a 74-62 home loss to Purdue, Indiana's sixth-straight defeat to its arch-rival and fourth-straight loss overall, the opportunities referenced by Miller seemed as far away as ever before.
A day that showcased Indiana basketball's past ended with a stark reminder of its present: A team devoid of answers on offense and at times painfully soft on defense.
"The Big Ten is so difficult, every night is an opportunity for a great win," Miller said Saturday. "I think that's what it's got to become about here in the next few weeks. It's not about the doom and gloom. Yeah, it stinks and you're really disappointed and it makes you sick, but the doom and the gloom's got to go away as soon as possible because the next one is coming right down the line."
Even with a week in between games dating back to last Saturday's loss at Ohio State, a turnover-prone Indiana offense reappeared against Purdue.
Five of Indiana's 14 turnovers in the game came before the under-12 timeout in the first half.
Lackadaisical passes and moments of mental mistakes, things referenced by Jerome Hunter and Trayce Jackson-Davis postgame as issues of comfort and composure, remain an issue for Indiana as the conference schedule hits its home stretch.
"Clearly (the turnovers) played a huge role in the confidence level of how the first half finished," Miller said, referencing a 12-0 scoring run that Purdue used to end the first half up nine.
Eight different Hoosiers finished the game with a turnover, led by Al Durham and Justin Smith, who each had three.
"The turnovers continue to be a problem. And it's not like you're not talking about them, but you've got to continue to work through it and get better," Miller explained.
As Miller was quick to point out though, opportunities still presented themselves to the Hoosiers as the game progressed.
A Purdue lead that was as large as 16 points was reduced to six with 9:03 to go. Preceding this was a rare scoring sequence for the Hoosiers, featuring a 3-pointer from Rob Phinisee (IU was 7-21 from behind the arc), two made free throws from Jackson-Davis (IU was 11-14 from the foul line) and a layup from Smith (IU's upperclassmen were a combined 12-27 from the field for 27 points Saturday).
Then the scoring drought hit.
As has been customary this season, the Hoosiers went through a period Saturday when they couldn't score. Not from distance nor up close, not on the fastbreak or within the halfcourt offense.
With the game within six points, Indiana went 5:23 without scoring, allowing Purdue to grow the lead back to a healthy 15 points and effectively kill any hopes of a Hoosier comeback.
"Our offense, in particular, in the second half, when we needed it to be more efficient, wasn't," Miller said.
Indiana was also out-hustled by Purdue at key junctures in each half, despite an at-times deafening Assembly Hall crowd buoyed by the big-game atmosphere and the halftime ceremony featuring the return of former coach Bob Knight.
The Boilermakers finished the game with a 29-28 rebounding advantage over the Hoosiers, the fifth time this season Indiana has been out-rebounded in a game. While the rebounding margin was slim, it was the players who failed to rebound for Indiana that told the story.
Joey Brunk had only three boards, in limited minutes De'Ron Davis and Race Thompson (who returned from injury after a three-game absence) only had one each and loose balls were frequently corralled by those wearing black and gold, notably Evan Boudreaux and Sasha Stefanovic.
"We're not rebounding at all right now. Offensive rebounding (the Hoosiers had eight Saturday) is nonexistent. Then tough ones down the stretch…it just kills you, man," Miller said. "At one point it was a strength of ours. Right now it's not."
Simple basketball principles like rebounding and not turning the ball over remain at the core of Indiana's on-court problems, but it would be short-sighted to not also acknowledge the off-court pressures and the weight of recent history bearing down on the program.
Saturday's loss means Archie Miller is now 0-4 at IU against Purdue, and as a whole the Hoosiers are 1-9 against the Boilermakers since 2013.
Miller's quest to lead Indiana back to the NCAA tournament has also hit a snag, with this four-game losing skid coming at an inopportune time.
It's a fact reflected as much in the Big Ten standings as it is in the minds of observers, so many of them still keenly aware of the massive thud that conference play brought upon the Hoosiers last season.
A game filled with potential rallying points, and more than enough home-court atmosphere to be used as an advantage, ended with a 12-point loss.
What's left is the next opportunity, which comes Thursday night at home against Iowa.
It's one of the few things Miller has left to cling to.
"It gets miserable when you're losing," Miller said. "Got to find another way to get right up off that mat and respond. We need some guys to respond on Thursday."
Filed to: Archie Miller, Bob Knight, Jerome Hunter, Purdue Boilermakers, Trayce Jackson-Davis