Analyzing Indiana's recent field goal scoring droughts on offense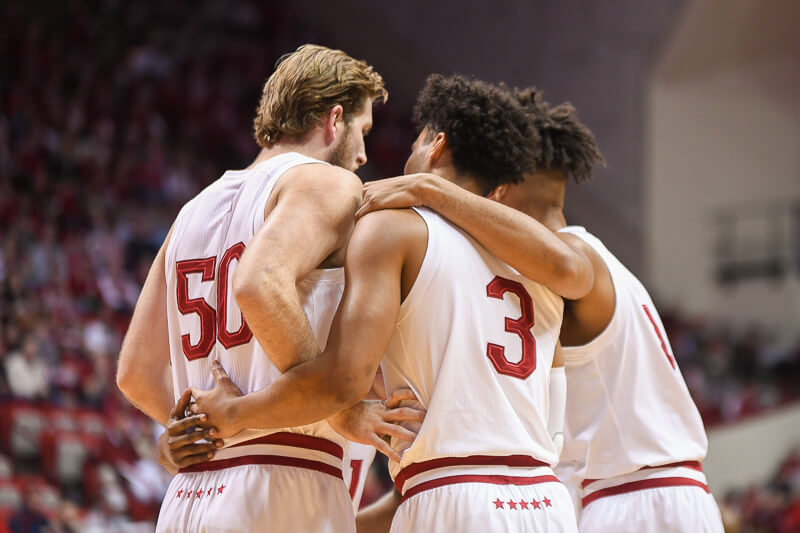 Lost in the shuffle of Saturday's win over Ohio State, stuck somewhere in between Rob Phinisee's return to the starting lineup and Joey Brunk's strong defensive showing, was the continuation of a trend for Indiana.
The Hoosiers are prone to scoring droughts offensively, and lengthy ones at that.
These passages haven't kept Archie Miller's team off the scoreboard entirely thanks to the rate at which Indiana gets to the free throw line, but a concerning habit has nonetheless developed involving the Hoosiers being unable to make field goals.
Periods without a made field goal have been frequent during Indiana's last eight games (dating back to the loss at Wisconsin on Dec. 7) and have led to significant scoring runs for opponents.
Some, like the 12-0 run Notre Dame went on in the second half in late December, allowed opponents to crawl back into games and turn them into competitive battles down the stretch.
Others, like the 13-1 scoring run Maryland enjoyed in the second half in early January, brought clear separation between Indiana and the opposition which helped decide the outcome of the game.
The commonality between these occurrences is Indiana's inability to score for long periods, aside from drawing fouls and making free throws.
A complete list of the most notable field goal droughts on offense during the last eight games can be found here, but rather than isolating each of the 20 stretches listed, let's look at the overarching trends that have defined these periods.
To begin, Indiana's distance shooting has unquestionably played a part in both the droughts themselves and the times at which they've occurred.
Indiana has shot 27.2 percent from 3-point range over the last eight games (24 percent if you exclude Saturday's 6-12 showing from behind the arc against Ohio State.)
Of the 20 droughts analyzed, only four occurred during the first 10 minutes of games.
This tells us a couple things. The first is that Indiana's droughts usually begin once substitutions have been made.
The second is that the poor 3-point shooting over this span has affected primary scoring options like Devonte Green (13-42 from three in this stretch) as well as bench players like Jerome Hunter (1-10 from three in this stretch) and Damezi Anderson (1-12 from three in this stretch).
There are other ways that players like Anderson and Hunter have contributed, but making field goals has not been one.
Given this, opponents have been more than happy to sag in the lane against Indiana. It's easy to not be scared of your opponent making a 3-pointer when they have a clear and repeated history of failing to do so.
Stacking bodies near the rim has become a common tactic against Indiana. With a freshman in Trayce Jackson-Davis who is still learning on the fly and less mobile options down low in Brunk and De'Ron Davis, opponents are able to produce a pretty good answer for the low-post offensive threats Indiana has.
Another cause of the droughts is poor shot selection. The field goal droughts in the Arkansas, Maryland and Northwestern games were notable for rushed shots and for players shooting shots they shouldn't be.
Long distance jumpers from Justin Smith, contested 3-point attempts from Green and shots hoisted up after just a single pass in the halfcourt offense are some of the examples that come to mind.
It was just that, a missed 3-pointer from Armaan Franklin that was taken early in the shot clock and after just one pass against Ohio State, which led to Franklin's immediate substitution midway through the first half.
He would only play 83 more seconds in the game.
Additionally, driving to the rim is something Indiana hasn't done enough of when trying to end or prevent the scoring droughts.
When shots from distance aren't falling and opponents have intentionally made it hard to get quality looks in the post, driving to the basket is the best option for a team with the guards capable of doing so and without consistent mid-range shooting to fall back on.
A prime example came when Al Durham made seven free throws in the final 10 minutes of the Northwestern win.
But this part of the equation is also reliant on Indiana making its foul shots.
As of Monday morning, the Hoosiers are fifth in the country in total free throws attempted (437).
But Indiana is 230th in the nation when it comes to the percentage of free throws made (68.2 percent).
Jackson-Davis (a 70.7 percent foul shooter) and Brunk (a 55.6 percent foul shooter) have struggled at the line of late, somewhat nullifying the concept of throwing the ball inside and manufacturing points from their trips to the charity stripe.
Durham and Phinisee both rank among the four best foul shooters on the team, so it would make the most sense for those two to force the issue when it comes to driving into the lane.
Of course, other variables at play have kept Indiana from scoring during open play for such long stretches.
Defensive intensity has tended to wane after missed shots, and fastbreak opportunities have declined as a result.
A lack of confidence has also manifested itself. It's human nature for players to become less trustworthy of the plays they practice when those plays fail to produce points.
There's also the simple factor of talent. All eight games studied were against power conference teams, most of whom have the athletes to match up with Indiana.
To put it concisely, there is not one central reason or fix for Indiana's lengthy field goal scoring droughts.
Solutions, be it force-feeding the ball inside and relying on Indiana's forwards to get better from the foul line or hoping the distance shooting becomes a consistent strength, can be debated and discussed.
What remains paramount for Indiana is reversing a dangerous trend that the Hoosiers have gotten away with so far (Indiana has gone 5-3 in its last eight games), but won't continue to.
Filed to: