Five takeaways from Indiana's loss to Ohio State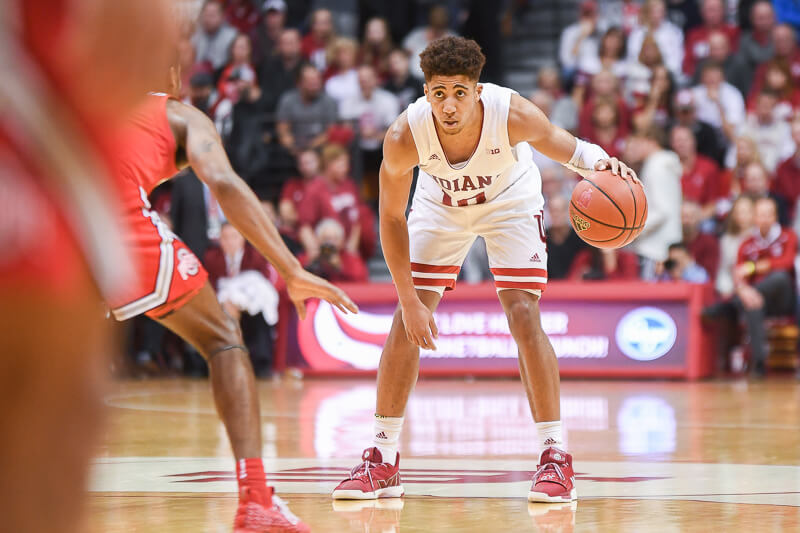 COLUMBUS, Ohio — Indiana's road woes continued Saturday afternoon after losing to Ohio State 68-59, falling under .500 in the Big Ten at 5-6.
The Hoosiers (15-7 overall) got off to a slow start, enduring their patented scoring droughts and turning the ball over nine times en route to a nine-point deficit at the half. In addition to the offensive struggles that just won't disappear, the defense was a concern on Saturday as well.
Here are five takeaways from the loss to the Buckeyes:
· Indiana lacks physicality in the paint, resulting in Ohio State domination on the offense boards: When it came to defensive rebounding, the Hoosiers and Buckeyes were even at 20 apiece. But on the offensive glass, Ohio State held an 11-4 advantage.
Archie Miller said after the game that his team has lacked physicality over the last three games, and it showed on Saturday.
At one point, Ohio State had nine offensive rebounds to Indiana's one, and it helped the Buckeyes build the lead and prevented Indiana from mounting a legit comeback.
"Rebounding has been a staple for this team," Miller said. "Our physicality and just the energy level of getting after balls just isn't there right now."
It wasn't just that Ohio State was beating Indiana to the spots on the floor, but the Hoosiers failed to corral numerous boards, fumbling the ball out of bounds from being unable to grab it with two hands.
Indiana has only been outrebounded four times this season, losing two of those games. Crashing the glass is a huge advantage for this team, and Saturday they let Ohio State outwork them for boards, finishing with zero second-chance points.
· Trayce Jackson-Davis isn't getting enough post touches: There was a play in the first half, with just under six minutes to go, where Trayce Jackson-Davis had an incredible block on E.J. Lidell and then ran the floor and dunked the ball.
It was a sequence that could have created energy for this IU team, who was trailing by 10 after the Jackson-Davis flush. But Jackson-Davis didn't attempt a shot for another two minutes after that, and then not a single other one for the remainder of the half.
It's obvious opponents are scouting Jackson-Davis now and will probably bring a double, hence lowering his shot attempts because he'll pass out of it, but Indiana is rarely feeding him the ball in the post.
Instead, the Hoosiers elect to give the ball to Joey Brunk or De'Ron Davis in the paint, and right now both of them are missing easy layups at the rim.
Jackson-Davis finished with seven points and seven rebounds on 2-for-6 shooting. Six shot attempts aren't enough for a player of his caliber. Take Kaleb Wesson for example, who attempted 12 shots and finished with 15 points.
Even if Jackson-Davis (shooting 60 percent from the field this season) doesn't quite have Wesson's offensive skillset yet, there needs to be more of an emphasis to get your best player the ball.
· The defense finally didn't make up for the offensive lulls: Indiana's scoring droughts at this point are almost guaranteed, but usually the defense keeps them in games.
But on Saturday, Ohio State carved Indiana up any way they wanted. Right from the start, Wesson would catch the bigs off guard by slipping screens and getting easy two points.
As the game progressed, Wesson would get the ball in the post, Indiana would bring a double and he'd kick it out for open 3-pointers.
Even the Hoosiers' on-ball defense was poor. The guards would get beat off the dribble, the defense would cover help side, and then poor rotations and lazy closeouts ensued. Ohio State made 10 3-pointers on the day, each one diminishing any chance for a Hoosier comeback.
"Really I feel like it's on me," Rob Phinisee said after the game. "I got to guard the ball a little bit better. They were getting in the paint and then easy kick outs, so really just ball pressure on the outside, and I feel like that would eliminate a lot more things."
· Jerome Hunter continues to provide offensive spark in homecoming: The last two weeks have featured some inspiring offensive play from Jerome Hunter, and that continued on Saturday against Ohio State.
Hunter came off the bench and provided the Hoosiers with nine points, including two 3-pointers in critical moments to keep Indiana within striking distance.
Hunter's final three points came when he took Kyle Young off the dribble and muscled in an and-one. His offense has been one dimensional up until this point but taking slower bigs off the dribble and posting up smaller guards were positive glimpses in the Saturday's loss.
"I like shooting the ball a lot," Hunter said, which caused a slight smile from Phinisee. "Shooting the ball I feel like is my bread and butter, so I'm just going to keep shooting it and hope it keep going in."
Saturday was also Hunter's first game back home. Hunter is from Pickerington, Ohio, and he said he had "everybody," in regards to family and friends, at the game watching him play.
· Chris Holtmann gives tremendous insight on mental health: One of Ohio State's most talented players, freshman guard DJ Carton, announced Friday he was temporarily stepping away from the team in order to take time and try and strengthen his mental health.
"There's no more important issue in collegiate sports, in particular as we deal with college basketball with our players every day, than the mental side of it, and mental health," Archie Miller said on Friday before the game. "It's a very serious note from our staff, obviously our thoughts go out to DJ and hopefully he's doing well. Hopefully he continues to do well and gets back as soon as he can for himself."
Saturday was Ohio State's first game without Carton, and his teammates and coaches were very supportive of him after the game.
"There is nothing, nothing more important in our program than our players physical, mental health and overall growth," Holtmann said. "And that will always be the case. There's not a game. Nothing."
Holtmann was very appreciative of his program's fan base for their support and made sure to point out that all the naysayers on Twitter should take their negativity elsewhere.
It's something that Holtmann believes is becoming more common for student-athletes in this day and age, and he's proud of all the positive steps that are being taken around the world to provide outlets for today's youth to help them get through anything they are dealing with.
Filed to: Archie Miller, Chris Holtmann, Jerome Hunter, Ohio State Buckeyes, Trayce Jackson-Davis