6-Banner Sunday: Hoosiers go winless in three games this week, Oladipo returns to the court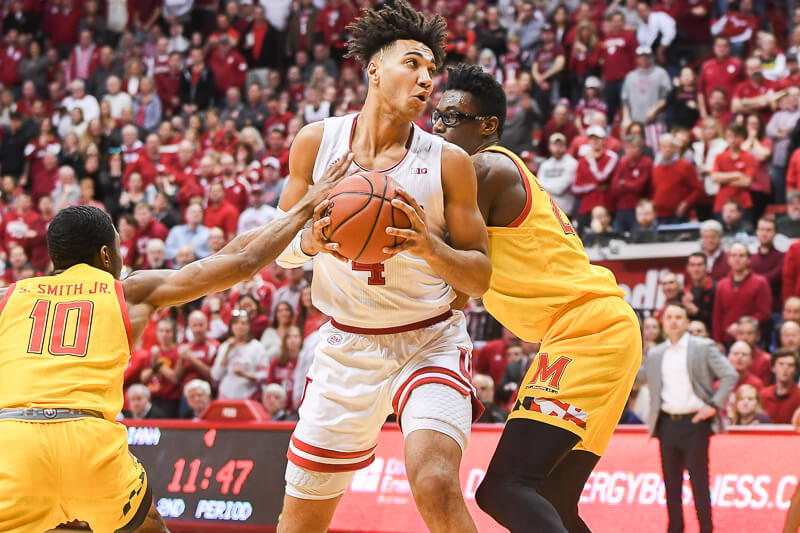 6-Banner Sunday is Inside the Hall's weekly newsletter in partnership with The Assembly Call. More than 7,000 Indiana fans receive the newsletter each week. In addition to appearing each week on the site, you can also opt to receive 6-Banner Sunday by email. A form to subscribe via email is available at the bottom of this week's 6-Banner Sunday.
Welcome to another edition of 6-Banner Sunday, a joint production between The Assembly Call and Inside the Hall where we highlight the five most essential IU basketball stories of the past week, plus take a look at how the other IU sports programs are doing.
In a week full of Indiana basketball activity, it was the off-court news and notes that provided more interest than the games themselves.
Indiana went 0-3 against Maryland, Penn State and Ohio State in the past week, clouding the Hoosiers' chances of a stress-free trip back to the NCAA Tournament.
Elsewhere, new Big Ten commissioner Kevin Warren visited Bloomington to discuss his plans for the future of the conference, while NBA star and Indiana basketball alumni Victor Oladipo returned to the court for the Indiana Pacers.
It all took place during a trying week for the sport of basketball following the tragic death of Kobe Bryant.
In this week's edition:
• Indiana goes 0-3 in jam-packed week of games
• New Big Ten commissioner Kevin Warren visits Bloomington
• Victor Oladipo returns to NBA action
• Big Ten proposal to allow athletes to transfer without sitting out
• Basketball world celebrates life and legacy of Kobe Bryant
• Hoosier Sports Roundup
Banner #1
Indiana goes 0-3 in jam-packed week of games
Indiana's first three-game losing streak of the season came following perhaps its most impressive win of the campaign.
After topping a highly ranked Michigan State team at home, the Hoosiers dropped consecutive games to Maryland (via a late-game collapse), Penn State (via an uninspired second-half effort) and Ohio State (via a soft performance on the glass).
Now sitting at 15-7 overall and 5-6 overall in the Big Ten, Indiana gets a much-needed week off before a rivalry match-up with the Purdue Boilermakers next Saturday afternoon.
Until then, several questions remain for Archie Miller's team.
Unknowns include when will Race Thompson return to full health and be able to play again? Will Joey Brunk return to his past consistent form? Can Miller help restore the physicality that was once such an asset for this Indiana team this season?
Banner #2
New Big Ten commissioner Kevin Warren visits Bloomington
The Big Ten Conference's newest commissioner, Kevin Warren, has ambitious plans for his first full year in charge of the conference.
Chief among these plans is his desire to visit all 14 Big Ten campuses and watch all 350 Big Ten varsity teams compete in 2020.
While he will knock out many of these visits as part of conference tournaments during this calendar year, Warren took the first step in this journey last week, when he visited the Indiana University campus in Bloomington.
Warren took in a pair of basketball games (the men's contest against Maryland and a women's game against Minnesota) inside Assembly Hall as part of his two-day stop in Bloomington, which also featured a nearly hour-long session speaking to the media.
Among the topics discussed by Warren, who was formerly the chief operating officer of the NFL's Minnesota Vikings, were "Pay for Play" in collegiate athletics, the possible realignment of divisions in Big Ten football and the state of officiating for Big Ten men's basketball, as well as his plans to keep the conference at an "elite" level.
Banner #3
Victor Oladipo returns to NBA action
After being out injured with a ruptured quad tendon in his right knee for nearly 375 days, Indiana basketball alumni Victor Oladipo made his much-anticipated return to an NBA court this past week, suiting up for the Indiana Pacers and immediately helping them to a comeback win.
Oladipo rose to superstar status upon his return to Indiana, after being traded to the Pacers from the Oklahoma City Thunder in July 2017. But a gruesome injury suffered in January 2019 temporarily halted his progress and left fans in the Hoosier state eagerly awaiting his return.
The comeback was completed last Wednesday night, as Oladipo played 21 minutes and scored nine points in a home overtime win over the Bulls.
He also hit the biggest shot of the game, knocking down a 3-pointer from the left wing with 10.3 seconds left in regulation to force overtime.
By playing in the game, Oladipo became the ninth different IU basketball alumni to play in an NBA game this season, marking the most IU alums in the league in one season since the 1981-82 season.
"At the end of the day, can't nothing steal my joy," Oladipo said about his return to the court in front of the Hoosier faithful. "My body feels phenomenal right now… I just have to keep getting better."
Oladipo scored seven points on 2-14 shooting in his second game back, a 92-85 loss to the Knicks.
Banner #4
Big Ten proposal to allow athletes to transfer without sitting out
An under-the-radar legislative proposal by the Big Ten last October could have a big impact on what college athletics looks like in the near future.
A proposal by the Big Ten's athletic directors would allow players in every sport to be able to transfer once in their careers, without the penalty of having to sit out a year at their new school. This year, known as an "academic year-in residence" at a new school, has been in place since 1951.
In essence, this would create a one-time free agency period for all college athletes looking for a new school to play at. As part of the proposal, the Big Ten included that the transfer would take place within a five-year eligibility window.
Only five NCAA sports: men's basketball, women's basketball, baseball, hockey and football, require athletes to sit out for a season when transferring. As of now, only graduates are allowed to transfer with immediate eligibility to conclude their college careers.
Speaking to CBS Sports, the outlet which broke the news of the proposal last week, Michigan athletic director Warde Manuel said "I think it's the right thing to do…We need to give all young people flexibility to transfer once. If they transfer a second time, there is no waiver."
The proposal from the Big Ten went unpublished by the NCAA during the October 2019 legislative cycle and at the start of November the NCAA Board of Directors put a moratorium on "transfer-related" proposals for the rest of the 2019-20 legislative calendar.
Given this, the soonest this piece of Big Ten legislation could be adopted is 2021.
News of this proposal is particularly relevant to the Big Ten this week, as Wisconsin sophomore guard Kobe King announced he would leave the Wisconsin men's basketball program and seek a new school to finish his career at.
Banner #5
Basketball world celebrates life and legacy of Kobe Bryant
As Indiana's game last Sunday afternoon against Maryland progressed deep into the second half, tragic news made its way around Assembly Hall.
Former NBA icon Kobe Bryant, his 13-year old daughter Gianna and seven others passed away last Sunday in a helicopter crash in California.
The tragedy brought the basketball world together in mourning this past week and the Indiana men's basketball team took part in several tributes to Bryant.
First in the immediate aftermath of his death, Archie Miller and Rob Phinisee spoke about the impact Bryant had on the game of basketball and its current players, a topic they both addressed shortly after Indiana's loss to Maryland. Dylan Wallace of Inside The Hall wrote about the surreal scene, and the specific connection that Miller had to Bryant, dating all the way back to Miller's high school career.
Gregg Doyel of The Indianapolis Star also recounted Miller's memories of his run-ins with Bryant.
Later in the week, Indiana and Penn State honored Bryant with a pregame video montage and a moment of silence at the Bryce Jordan Center in University Park, Pennsylvania.
Around the Internet, plenty was written about Bryant's contributions to the game of basketball and what the sport will be like with Bryant no longer alive. Few pieces encapsulated these sentiments better than one written by former Inside The Hall and Assembly Call intern Ben Ladner, who wrote this for FanSided about Bryant's lasting legacy on the NBA.
Banner #6
Hoosier Sports Roundup
This content was contributed by Aaron Shifron.
Winter Sports continued this week with lots of teams in competition. That was not all though as several stories took place off the field as well.
• Women's Basketball bounced back this week with wins over Minnesota and Wisconsin.
• Swimming and Diving split with Louisville with the men winning and the women losing. The teams also earned Scholar All-American Honors.
• Track and Field competed at the Indiana Relays. Also five athletes achieved academic success.
• Wrestling edged Maryland for their first win of the season. They then lost to a highly ranked Wisconsin.
• Men's Tennis fell to Vanderbilt but picked up a win over in-state rival Notre Dame.
• Women's Tennis was defeated by Kentucky.
Water polo picked up two wins to close the Michigan Invitational.
• Baseball announced the start times for all home games this year.
Volleyball assistant coach Krista Vansant was named to the U.S. Junior National Team coaching staff.
• Field Hockey added an assistant coach and a transfer.
Thanks for your continued support for The Assembly Call. We'll be back next weekend with a new roundup.
Now go enjoy yourself a 6-banner Sunday.
Filed to: