Five takeaways from Indiana's loss to Penn State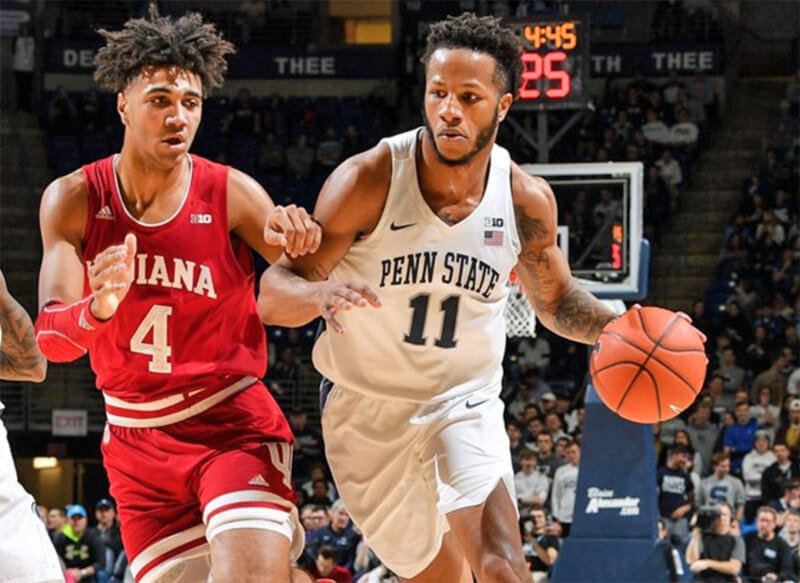 UNIVERSITY PARK, Pa. — Indiana fell to 1-4 in true road games this season, and 5-5 in Big Ten Conference games, with a 64-49 loss at No. 24 Penn State on Wednesday night.
The Hoosiers struggled in the second half inside the Bryce Jordan Center, scoring just 21 points as the backcourt struggled for offensive production while Trayce Jackson-Davis remained the lone Indiana offensive threat for most of the contest.
Here are five takeaways from the loss to the Nittany Lions:
· Indiana collapses in the second half en route to its second straight loss: It was an utter collapse from the Hoosiers in the second half last night.
Committing 12 second-half turnovers will put any team in a hole, and when coupled with getting to the foul line for only two free throws, making just one 3-pointer and being out-rebounded in the second period, it spelled doom for an Indiana team that needs at least one of those elements to go its way during the crunch time of games.
Post touches weren't frequent enough for Jackson-Davis, given that he was the most effective Hoosier on offense (14 points and 5-9 from the field), and the backcourt scoring completely disappeared. Playing three games in the span of one week also seemed to take its toll on Archie Miller's Hoosiers, as Penn State enjoyed the ability to run and used its quickness to beat the Hoosiers in transition and force 15 steals in the game.
"Biggest thing that happened in the second half was probably turning the ball over," Jackson-Davis said postgame. "We have three or four live-ball turnovers in a row and that breaks the game right open."
· Indiana's backcourt, especially the veterans, failed to show up against Penn State: The statistical output from Indiana's four scholarship guards – Al Durham, Armaan Franklin, Devonte Green and Rob Phinisee – does not make for pretty reading.
The quartet combined for 10 total points, 3-for-26 shooting and an assist to turnover ratio barely above one in 94 combined minutes.
The outside shooting (1-8 from 3-point range) further reflected just how bad the guard play was at that end of the court. Turnovers by Green were met by exasperated looks from Miller, and Indiana's guards also failed to take control when things began to spiral out of control in the second half.
Indiana had two stretches spanning nearly five minutes each in the second half where the Hoosiers didn't make a field goal. Part of this can be attributed to the guards forcing shots, but they also must bear responsibility for failing to get the ball inside to Jackson-Davis and De'Ron Davis, a duo that combined for 16 first-half points but had just four points (all from Jackson-Davis) in the second half.
"You're going to have a hard time, and we had a real hard time functioning, getting anything generated offensively," Archie Miller said postgame. "Over the course of the game their halfcourt defense sort of took away things and made us make some plays and we had a really hard time scoring the ball from the perimeter tonight."
· Curtis Jones Jr. steps up for Penn State in his first game against former school: Penn State senior guard Curtis Jones Jr. transferred from Indiana during the winter of 2017, and after a brief stop at Oklahoma State, he returned to the Big Ten for his final season of collegiate basketball.
In his first game against the Hoosiers since transferring midway through Archie Miller's first season as coach, Jones put his distance shooting on display.
Jones was second on the Penn State team with 12 points, and also made two 3-pointers while gathering two rebounds and dishing out two assists in the Nittany Lion win. It was an effective all-around night from the former Hoosier when similar performances were few and far between for both teams.
"That was a long time ago," Jones said about his choice to leave Indiana, which came more than two years ago. "I guess I was ready for a change, and now I feel great … Now I feel real good."
When it came to facing his former team and coach, Jones said the game didn't feel any different, but nonetheless Penn State coach Pat Chambers was happy to see that Jones wasn't affected by the occasion.
"Proud of Curtis, obviously former team…that always can go one of two ways, right?" Chambers explained. "We needed his production in the first half (Jones led the Nittany Lions with 10 first-half points).
"This is what seniors are supposed to do, they're supposed to rise to the occasion."
· Indiana was limited to a 9-man rotation during the Penn State loss: Injury and illness have popped up at inopportune times for the Hoosiers this season, and Wednesday was no exception.
Race Thompson missed his second straight game following a fall on his lower back that came during the win against Michigan State last week, and despite being on the bench and participating in warmups, Jerome Hunter was held out of the Penn State game.
The Big Ten Network broadcast of the game said Hunter became ill after pregame warmups, but in any case it left Archie Miller with just nine scholarship players to use in University Park.
A noticeable result of these absences was an increase in playing time for sophomore Damezi Anderson, who played 15 minutes and often looked out of sorts offensively playing at the three.
Anderson has now missed his last 15 3-point attempts, and the "Three-and-D" skillset he brought to Bloomington from his high school career seems to have truly stalled as his second college season progresses.
Thompson's absence meant De'Ron Davis played his most minutes (18) of the season, while Joey Brunk (14) played his second-lowest amount of the campaign.
· Both teams took time before the game to honor Kobe Bryant: Along with the rest of the basketball world, Indiana and Penn State took time before Wednesday night's game to honor the life and legacy of Kobe Bryant, who tragically passed away last Sunday along with one of his daughters and seven others.
During pregame warmups at the Bryce Jordan Center, a photo montage of Bryant and his family and teammates was displayed on the scoreboard, and Penn State took the court wearing special shooting shirts with the number "24" on them.
Pregame, an emotional video featuring an interview with Bryant was played and a moment of silence was observed in the arena.
Archie Miller spoke about Bryant's passing during his postgame remarks after Indiana's loss to Maryland last Sunday, while Penn State coach Pat Chambers offered his thoughts on the tragedy earlier this week.
"I talk to my players about making a positive impact on their teammates, community, this university, and their life when they leave here," Chambers said. "What can you learn from Kobe? You learn from a guy who was so determined to be the best and sacrificed a lot."
Photo credit: Penn State Athletics
Filed to: Archie Miller, Damezi Anderson, Pat Chambers, Penn State Nittany Lions, Trayce Jackson-Davis