Indiana's frontcourt, once reliant on Trayce Jackson-Davis, flourishes in Michigan State win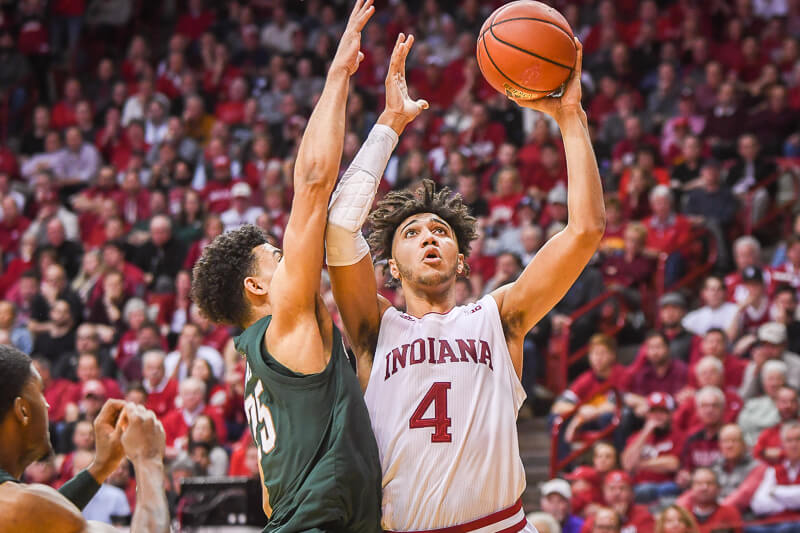 There are many quotes from ancient Chinese general and military strategist Sun Tzu related to effective ways to prepare for and win wars.
Many of these are found within the 13 chapters of "The Art of War," an ancient Chinese military text attributed to Sun Tzu.
Some of his quotes are longer than others, and some are more applicable to basketball than the rest.
One of most-cited quotes is as follows: "Attack him where he is unprepared, appear where you are not expected."
Indiana's 67-63 win over No. 11 Michigan State on Thursday left little opportunity for this.
Each team had played 18 games overall and seven in conference play entering the meeting. Both teams' veteran coaches knew what to expect from the opponent.
The contrasting styles of play were also well-known, with Indiana preferring an inside-out offense with Trayce Jackson-Davis as the centerpiece, while Michigan State relies on senior guard Cassius Winston to orchestrate the Spartan offense.
In the case of Jackson-Davis, he's often had to carry the burden of scoring and rebounding for the Hoosiers, taking contributions from teammates as they come.
But those days are now behind Archie Miller's team.
Michigan State dealt with Jackson-Davis well enough, limiting him to 12 points and four rebounds, both below his season averages. Tom Izzo's team was prepared for him, making it a priority to double-team and provide help defense on Jackson-Davis in the post.
When Jackson-Davis had the ball, all five Spartans on the court turned their heads. They expected his presence and were prepared to deal with it.
So, the Hoosiers adapted.
Indiana's damage came not via their five-star freshman, but rather through the frontcourt options surrounding him.
Joey Brunk was the statistical star for the Hoosiers, leading the team with 14 points and six rebounds, including two of the team's final three field goals in crunch time. Combined with the heart and hustle that have become his trademark qualities, it was a performance that signified all that the Butler transfer brings on a daily basis.
"I can't really put it in weight, but it's not measurable what Joe's meant to us," Miller said postgame. "His everyday approach is something, as a coach, you marvel at, the work ethic. There's no fake work ethic…He's at it every day.
"To have that type of size, his ability level, he can score the ball. He moved tonight on ball screens as well as he has all year, but to say he hasn't impacted our team immensely would be an understatement."
De'Ron Davis is now on a three-game streak of not committing a foul. For a player who was ineffective earlier this season largely because of the fact he couldn't be on the court without fouling, this is a positive step. The on-court production may only be a sliver of what Davis used to provide, but he's no longer a liability.
For Race Thompson, Miller described it as "his best game as a collegiate player" before he left late in the first half with a lower back injury.
Thompson clattered against the ground after competing for a lobbed pass with 47 seconds left before halftime. It was a moment which brought a raucous Assembly Hall to a silent standstill and caused Thompson to have a stiff back, ruling him out for the second half.
Before the fall Thompson provided a defensive effort reminiscent of when he shut down Wisconsin All-American Ethan Happ last season.
A pair of blocks and steals, along with three defensive rebounds, were all part of Thompson's performance, one that, combined with those of Brunk and Davis, continues to provide cover for Jackson-Davis in the frontcourt.
"I thought Race Thompson was unbelievably good in the game," Miller said. "He played his tail off on both ends of the floor."
Even when the Hoosiers needed Jackson-Davis, he was deployed in ways which caught the Spartans off guard.
The game's key defensive stand, which came with nine seconds left and Indiana up two points, saw Jackson-Davis switch a ball screen on Winston, and stay in front of Winston on his drive to the rim before Jackson-Davis deflected an attempted lob pass to Xavier Tillman.
"Trayce can really move," Miller said. "When he motors…and he knows what he's doing in terms of being engaged on things, you won't see a big guy cover more ground or move like him. It's one of his great gifts."
For all the unexpected ways the Hoosiers took advantage of their size against the Spartans, it was all still reflected through rebounding, a bread-and-butter cornerstone of Indiana's success this season.
The Hoosiers allowed just five offensive rebounds and four second-chance points over the 40 minutes, one of the best examples this season of how a big, talented frontcourt can dictate the flow of a game.
"This team has to rebound," Miller said. "With our size and to be successful…rebounding is essential."
Another quote commonly attributed to Sun Tzu is as much about military strategy as it is about life itself.
"Opportunities multiply as they are seized."
Indiana, specifically its frontcourt, seized its biggest opportunity of the season Thursday.
Because of that, another one awaits Sunday.
Filed to: Archie Miller, Deron Davis, Joey Brunk, Race Thompson, Trayce Jackson-Davis