Indiana falters down the stretch, unable to capitalize on late lead against Maryland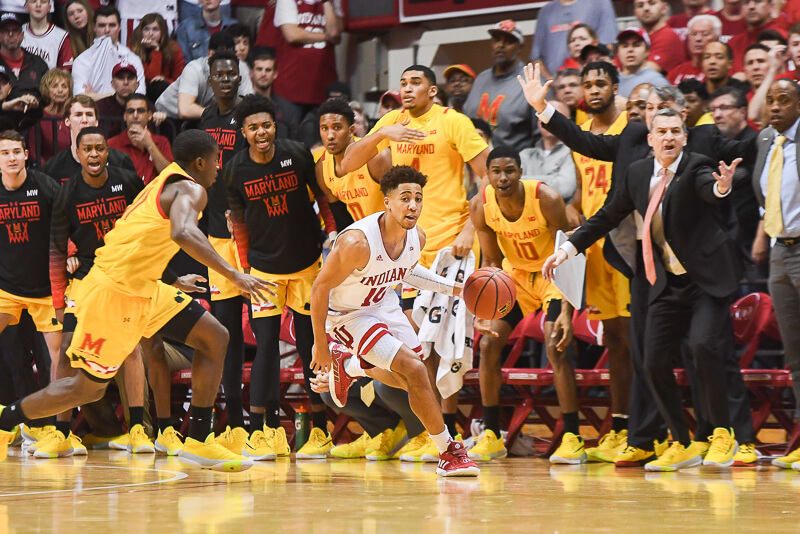 Archie Miller described it best postgame, saying Indiana did enough to win but also enough to lose.
Momentum swayed in every minute against No. 17 Maryland Sunday afternoon, but in the final minute, it swayed away from the Hoosiers.
After falling down by as much as 14 points in the first half thanks to nine made Maryland 3-pointers, Indiana stormed back to start the second half with a 7-0 run and cut the deficit to two.
With 11:44 left in the game, the Hoosiers went up eight points. It was one of five times Indiana went up eight from that point on, each time giving the Hoosiers the opening to put the nail the coffin.
At that 11:44 mark, the Hoosiers gave up a layup 20 seconds later to Jalen Smith, two of his easier 29 points on the evening.
Indiana retook an eight-point lead with 9:20 to go, just to have Smith answer in 20 seconds again. No eight-point advantage Indiana had lasted more than 30 seconds.
"I thought that they kept coming back and either getting fouled to the foul line or timely shot," Miller said.
There was one key play down the stretch that stood out in Miller's mind, and it was when Al Durham missed a 3-pointer with 3:49 to go and Maryland's Darryl Morsell connected on an and-one 10 seconds later. The three would have pushed the lead to 10, but instead the Terrapins cut it to four.
"I think Al had a right wing shot, which would have blown the top off the arena, and it was a good look," Miller said. "Our inability to be up about seven or eight, maybe he makes it or maybe he doesn't, but to get an and one to cut it from seven or eight to five or four, two-possession game, that was a big play going down to the other end."
The Hoosiers' offense wasn't necessarily horrid in the final 11 minutes of the game, but they just couldn't get that one more stop or one more score to really put the game out of reach for Maryland.
The Terrapins were playing at a quick pace, and Anthony Cowan and Smith had their way with the Hoosiers all game. Cowan seemingly got whatever he wanted by using his quickness to penetrate and kick, while Smith's ability to stretch the floor at his stature provided the Hoosiers with a mismatch they hadn't really seen all season.
When the Hoosiers took their first eight-point lead, Cowan and Smith went on to score 15 of Maryland's final 25 points.
"There was a lot of big plays. I thought we made some. I thought they clearly made some really good ones," Miller said. "But I thought that Cowan and Smith were the difference probably in a lot of those situations. Their two guys really played well."
Indiana led by six with 1:25 to go. Smith hit a quick layup to cut it to four, then Jerome Hunter, who had probably his best collegiate game with three 3-pointers and 12 points, threw an errant pass that got picked off while Maryland was pressing. The Terps capitalized with a made three from Aaron Wiggins, and all of a sudden, the IU lead was just one.
The ensuing possession was a missed midrange jump shot from Devonte Green, who led the team in scoring with 16 points, but in the flow of the offense, that wasn't the best look IU could have gotten.
Smith got a layup with 14 seconds to go to give Maryland its first lead since the 14:42 mark. Indiana's last possession was designed for Phinisee to run a pick-and-roll with Trayce Jackson-Davis, but it resulted in Jackson-Davis taking Smith one-on-one and getting a decent left-handed floater out of it that just missed.
"I asked, just thinking back on it, did he get a good enough look? Was it a clean look? Would you even feel good if he got that shot again?" Miller said. "I think everybody said he had a decent look at it. It was a pretty point blank good look."
It was a last-second loss that felt like it was going to be an Indiana win for most of the second half. The win would have surely put the Hoosiers in the top 25 and capped off an impressive week, but they faltered down the stretch, which isn't something that has happened much this season.
This is the first loss this year in a game decided by five or fewer points or that went to overtime. Indiana was 5-0 prior to Sunday in that regard.
The Hoosiers had their highest assists total on Sunday with 22 and with that came just six turnovers. Indiana made nine 3-pointers and shot 52.6 percent from the field. With those numbers on the stat sheet, it's hard to imagine IU losing that game at home, but the team knows they can't reflect on it as the Big Ten gauntlet continues at State College Wednesday.
"Move on to the next game. Just focus on the next game when we play Penn State," Phinisee said. "We can't get too happy after winning, and we can't get too down on ourselves after a loss. We have to move forward and get back after it in practice tomorrow."
Filed to: Maryland Terrapins