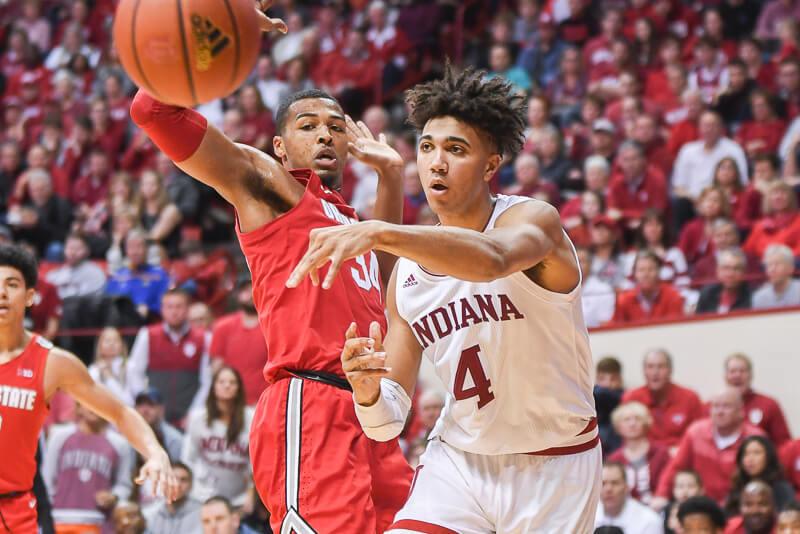 Thoughts on a 68-59 loss to the Buckeyes:
It's been a rough week for Indiana.
The Hoosiers just weren't able to find anything easy, anything to hang their hats on over the last two road contests — losses to Penn State and Ohio State. Too many missed lay-ups have seemed to crush their offensive confidence. The turnovers have been too frequent. Joey Brunk scored 10 total points over the two contests.
Today against Ohio State, there were other facets of the game that went south. The Hoosiers had the clear rebounding advantage in this one, but they failed to find bodies to block out more than usual, allowing the Buckeyes to feast on the offensive boards. At one point, the Buckeyes were rebounding over 40 percent of their misses, before settling at 35 percent for the contest. This allowed an 8-0 advantage in second-chance points. That's right: Indiana had no second-chance points in this one. The Hoosiers made things difficult for Kaleb Wesson in Bloomington. But that wasn't the case today in Columbus. Wesson had a game-high 15 points on 7-of-12 shooting to go along with 11 rebounds, five of those coming on the offensive end.
When Wesson wasn't scoring himself, the sheer presence he provided on the court — and Indiana throwing extra defenders at him for most of the contest — meant his teammates were the beneficiaries of good looks. Sometimes that meant 3-pointers, where the Buckeyes ended up excelling this afternoon. They hit 10-of-27 (37 percent) from distance for the game, which included a 50 percent mark (7-of-14) in the second half. Shots from distance accounted for 44.1 percent of their points this afternoon. Ohio State's 3-point shooting is a strength and the Hoosiers weren't able to limit it today.
Still, this was not a colossal disaster for the Hoosiers. Consider this: Indiana hit 58.3 percent (7-of-12) from 3-point range. And after getting to the line just six times in the first half — and making only three of those looks — they were able to get back to the line more on par with what Archie Miller is looking for in the second half. The Hoosiers ended up 11-of-12 from the line in the second half for a strong total of 14-of-18 (77.8 percent) for the contest. Indiana also shot 50 percent from the floor in the second half (11-of-22). After scoring just .71 points per possession in the first half, the Hoosiers rose that number up significantly based on their performance over the final 20 minutes, ending the contest at an even 1.0 points per possession.
But Indiana failed to rebound, were a bit too lackadaisical at times and let Ohio State get too comfortable on the offensive end. It was enough for the Buckeyes to never really feel threatened in the second half, pushing their lead out to as much as 19 before settling for a nine-point victory.
"In every season, the story's never written until the end, but we're going to have to change paths here, and change how we're playing," Archie Miller said after the contest.
The Hoosiers get a week to regroup and lick their wounds before a home game against Purdue next weekend on Saturday. If Indiana continues to mostly take care of business at Assembly Hall, these road losses just are what they are. But if more slip-ups happen at home, just where this season ends up could be far more dicey.
Filed to: Ohio State Buckeyes