The Minute After: Penn State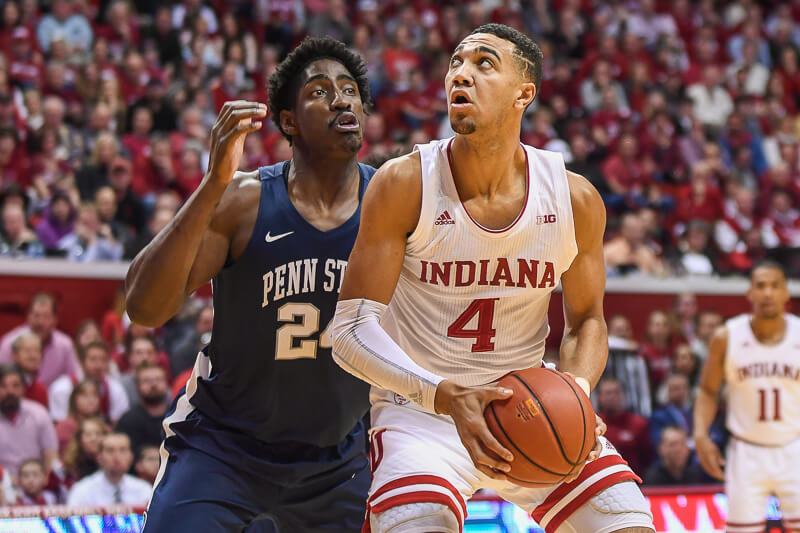 Thoughts on a 68-60 win against the Nittany Lions:
Penn State isn't a traditional Big Ten powerhouse, but make no mistake: The Nittany Lions are playing like one this year. To rip off eight straight wins (four of those coming on the road) before their slip up at home against Illinois on Tuesday was impressive, as is their No. 9 ranking in the Top 25.
So despite Indiana's huge first half lead, based on some porous defense and turnovers from Penn State coupled with hot shooting from IU, the Nittany Lions wouldn't let the Hoosiers win this one without throwing a run at them. Out of halftime, Myles Dread started to find his stroke from distance. Lamar Stevens kept coming and putting in the points. Indiana's offense slipped and all of a sudden the Hoosiers had lost grip of the game. What was once a 16-point lead for Indiana became a six-point deficit as the Nittany Lions put up a ridiculous 30-5 run to take the lead.
But despite how things looked, the Hoosiers once the aggressor, now taking body blow after body blow and falling back on their heels, the Nittany Lions failed to land the knockout punch. And Indiana refused to quit, refused to die. This would not be another head-scratching loss where we wondered why Indiana failed to show grit, mental toughness and resolve as things got tough. Nope. Not today. After that 30-5 run, Indiana posted the next 13 points of the contest, reestablishing its advantage for good en route to the eight-point victory.
The heroes of today's fight? Race Thompson, Justin Smith and Trayce Jackson-Davis. As Indiana mounted its comeback and sustained the lead in the second half, Thompson played his signature defense (while Stevens was simply unstoppable at times, he needed 27 shots to score 29 points), rebounded and brought high energy. The Minnesota product scored four straight points to help Indiana snatch the lead back, erasing a three-point deficit into a one-point lead. Smith was all over the floor grabbing key rebounds in critical moments. And on an afternoon the Hoosiers were shaky from the line (17-of-27), he made all four of his attempts in the final two minutes of the game. Jackson-Davis struggled with his shot today (6-of-17), but posted yet another double-double (13 points, 10 rebounds) and threw down a huge dunk to ignite the crowd and keep Penn State at arm's length with 7:24 to go.
Al Durham (14 points) and Devonte Green (10 points) deserve a mention for getting the scoring party started in the first half, helping Indiana race out to its big lead. Rob Phinisee continues to be a bit of a ghost in the scoring department (0-of-2), but made 7-of-8 from the line. Penn State's turnover percentage of 23 allowed the Hoosiers to feast in transition, as they scored 21 points off turnovers.
In the end, this was a huge victory. It marks Indiana's sixth quadrant one victory of the season and fifth against a ranked opponent. The Hoosiers are now back at .500 in the conference at 8-8. Indiana isn't a lock for the NCAA tournament yet, but this afternoon's win gives them another step in the right direction. Keep it up over the final four games of the regular season? The Indiana faithful may just get a nice reward for sticking it out this season despite the waters getting rough on occasion.
Filed to: Penn State Nittany Lions