Five takeaways from Indiana's win over Michigan State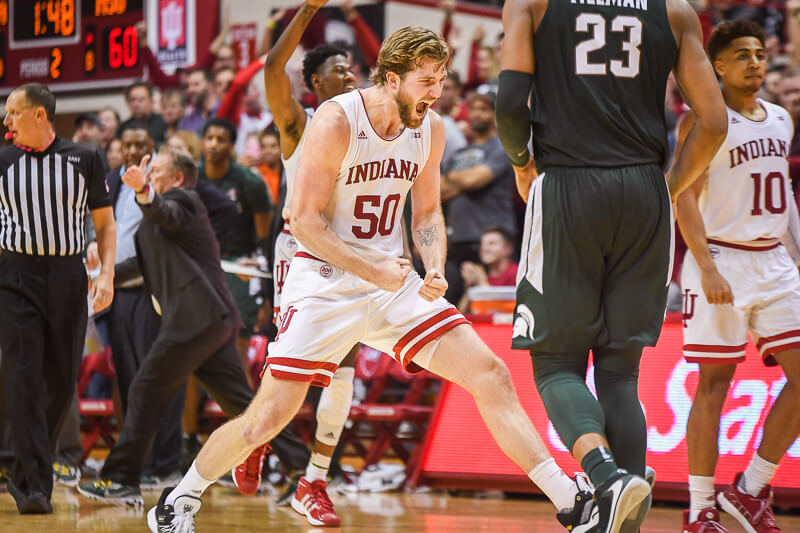 Indiana picked up its third quadrant one win on Thursday night, a 67-63 triumph over Michigan State at Simon Skjodt Assembly Hall. The victory improved the Hoosiers to 15-4 overall and 5-3 in the Big Ten.
Here are five takeaways from the win over the Spartans:
· Indiana dominates Michigan State in the paint: It's one thing to dominate teams like Nebraska and Northwestern in the paint.
It's another to dominate a perennial Big Ten power known for its rebounding, toughness and ability to score in paint like Michigan State.
But that's exactly what Indiana did on Thursday night at Simon Skjodt Assembly Hall. The Hoosiers scored 34 points in the paint in their 67-63 win over the Spartans. Michigan State managed just 18 points in the paint and only four second chance points.
Indiana's performance was a full team effort as Joey Brunk (14 points, six rebounds), Trayce Jackson-Davis (12 points, four rebounds), Justin Smith (six points, four rebounds) and Race Thompson (four points, four rebounds) all made contributions.
And while the Hoosiers struggled to make free throws, their persistence getting the ball into the paint led to 20 free throw attempts. Through eight league games, Indiana continues to lead the conference in free throw rate (FTA/FGA) at 43.5 percent.
· Hoosiers connect on timely perimeter shots: Indiana only made four 3-pointers in Thursday's win, but each one of them came at a critical point in the game.
After going the first 19:59 of the first half without a 3-pointer (0-for-4), Al Durham Jr. connected from the left wing at the buzzer to extend Indiana's lead to seven at the half. That shot gave the Hoosiers a much needed boost after nearly squandering a 15-point lead.
Indiana's second 3-pointer came from Rob Phinisee at the 17:21 mark of the second half. Michigan State had just cut the Hoosier lead to three on a Gabe Brown 3-pointer, but Phinisee pushed the lead back to six on the subsequent possession.
The 3-pointer that seemed to irk Tom Izzo the most came from Armaan Franklin after Michigan State had taken the lead for the first time. A Rocket Watts 3-pointer gave the Spartans the lead at 51-48 with 10:45 to play, but both teams would go scoreless for the next 2:22 until Franklin tied it back up.
And finally, Al Durham Jr. gave Indiana the lead for good at 63-60 when he was able to separate himself from the defense and knocked in a triple from the right wing.
Indiana has struggled with its perimeter shooting all season, but on Thursday, the Hoosiers made the timely 3s they needed to make to knock off a marquee opponent.
· Indiana only turns it over eight times: In our game preview, we emphasized the importance of taking care of the ball against Michigan State. The Spartans thrive in transition offense, but were unable to get going in that facet against Indiana.
The Hoosiers posted a season-low turnover percentage in Thursday's win of 12.5. Indiana only turned it over eight times in the game and three of them were by Devonte Green in the first half.
As a result of Indiana's ability to take care of the ball, Michigan State didn't get many easy buckets as the Spartans managed just four fast break points and only six points off of turnovers.
Michigan State, meanwhile, turned it over 13 times, which turned into 17 points for Indiana.
· Brunk become a consistent force in the paint: Trayce Jackson-Davis has garnered most of the attention as the focal point in Indiana's frontcourt this season, but redshirt Joey Brunk continued his stellar production in Big Ten play in Thursday's win.
Brunk scored in double figures for the third straight game and in eight Big Ten games, he's now averaging 8.9 points and 7.4 rebounds in 24.9 minutes per game. Brunk is shooting 57.1 percent on 2s in league play, which is 14th best in the conference.
"If you look at October and November, early December to late December and now January to late January, I mean he has absolutely brought us production that it just means the world," Archie Miller said. "To have that type of size, his ability level, he can score the ball."
Brunk also gives Indiana a veteran presence on the floor who consistently provides energy and has a knack for making timely buckets. In Thursday's win, Brunk gave Indiana the lead with a layup at the 3:10 mark of the second half and then scored the team's final field goal to extend the lead to three with one minute to go.
· Miller continues to deliver on defensive promise: When Archie Miller was hired in the spring of 2017, he preached defense as the pillar he would build his teams on.
Miller has transformed Indiana's defense into one of the league's best in a short period of time. The Hoosiers were 65th in adjusted defensive efficiency in Miller's first season, 32nd nationally last season and through Thursday's game, are 31st nationally this season.
Much of it begins on the glass for this Indiana team as the Hoosiers are currently the league's best defensive rebounding team. Indiana currently ranks 12th nationally in defensive rebounding percentage, according to KenPom.
It's also clear that this team is beginning to hit its stride defensively at the right time. After allowing more than a point per possession in losses to Arkansas and Maryland, Indiana has now held five straight Big Ten opponents to under a point per possession.
Filed to: Archie Miller, Joey Brunk, Michigan State Spartans