What to expect: Michigan State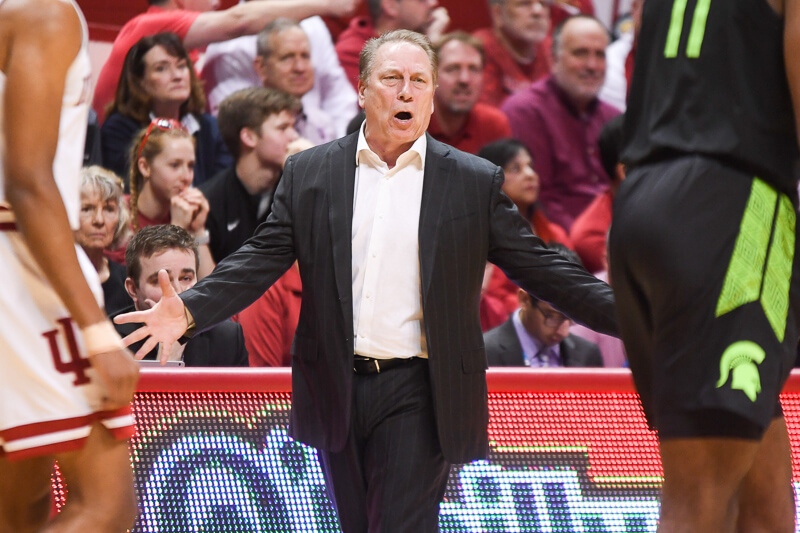 Indiana begins a two-game homestand on Thursday night as it hosts No. 11 Michigan State at Simon Skjodt Assembly Hall. The Spartans are 14-4 overall and 6-1 in the Big Ten.
Thursday's game will tip at 8:30 p.m. ET on FS1 with Gus Johnson and Bill Raftery on the call:
Indiana finally broke through on the road on Saturday night with an 82-74 win against Nebraska in Lincoln, but the Hoosiers have a big week ahead as a pair of ranked teams come to Bloomington.
First up is preseason Big Ten favorite Michigan State, which currently sits atop the Big Ten standings. The Spartans are 9-1 over their last 10 games and most recently toppled Wisconsin 67-55 on Jan. 17 at the Breslin Center.
Indiana swept Michigan State last season with a thrilling 79-75 overtime win in East Lansing and a 63-62 win in Bloomington. This season, the programs will meet just once as Indiana has an opportunity to pick up its fourth Big Ten home win and a quadrant one victory on Branch McCracken Court.
MEET THE SPARTANS
There's no better one-two punch in the league than Michigan State's Cassius Winston and Xavier Tillman.
A near consensus pick in the preseason for national player of the year, Winston is the best point guard in the country and has fought through a tremendous amount of adversity this season as his younger brother, Zachary, tragically passed away in early November.
When Winston is on the floor, the ball is going to be in his hands running the show for the Spartans. In Big Ten play, he has the second highest usage rate of anyone in the league at 33 percent and the second highest assist rate at 42 percent. A career 41.6 percent 3-point shooter, Winston has struggled a bit from the perimeter (35.4 percent) and is 0-for-8 from distance in Michigan State's last two games.
His 18.1 points and 6.1 assists per game both lead the Spartans and he's an excellent free throw shooter at 86.7 percent. The 6-foot-1 point guard can shred defenses apart in ball screen situations as he's a legitimate threat to take 3s off of ball screens, get into the lane or also create for others. There might not be a better player in college basketball at reading these situations than Winston.
Winston is also the player responsible for leading Michigan State's transition offense. The Spartans are getting 20 percent of their offensive possessions in transition and are scoring close to a point per possession in transition. Whether off of a turnover or a made basket, Michigan State looks to push the ball at every opportunity, which constantly puts pressure on opposing defenses to get back or get burned.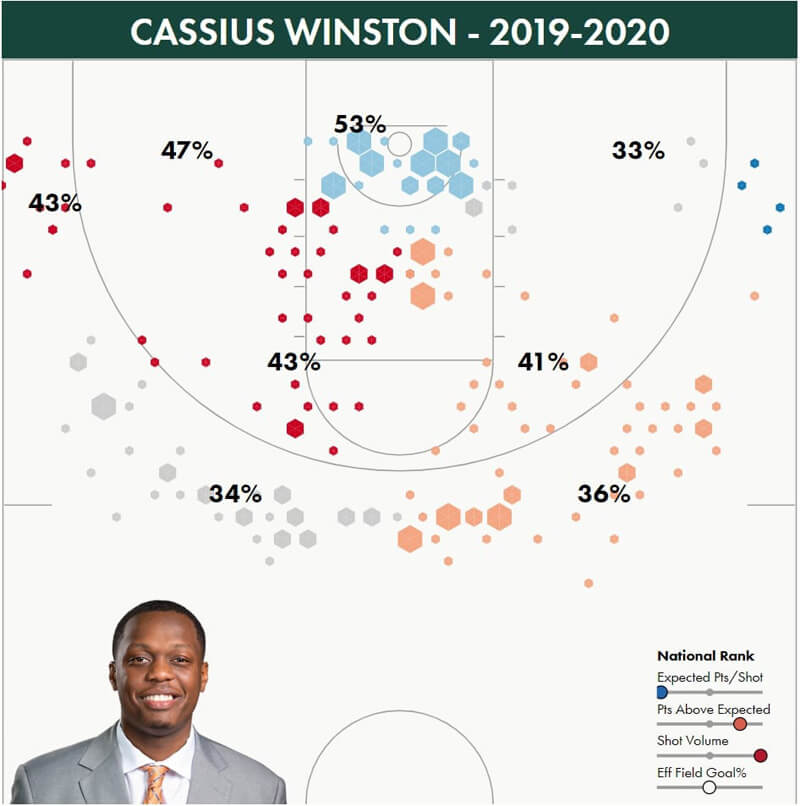 Tillman, a four-star recruit in the class of 2017, developed into Michigan State's second most important player last season and made Nick Ward's decision to leave early much easier to overcome.
Tillman is a great defensive rebounder – fourth in the league in conference play – and shot blocker – also fourth in the league in conference games – and a very good finisher at the rim. The 6-foot-9 forward is making 59.1 percent of his 2s against Big Ten opponents. He's much more than a back to the basket post player as he's scored 78 of his 246 points this season on cuts, according to Synergy Sports.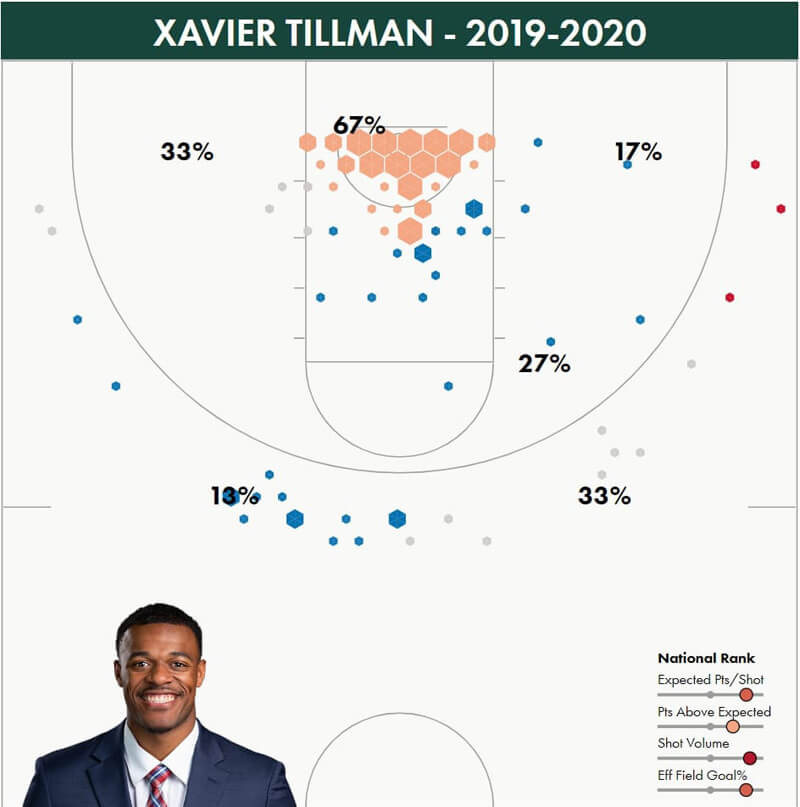 Michigan State's third leading scorer is sophomore wing Aaron Henry, who entered the season with major expectations following a solid NCAA tournament run as a freshman. Henry, a Ben Davis product, is struggling in Big Ten play. He's shooting just 36.6 percent on 2s and 23.8 percent on 3s. Henry hasn't made a 3-pointer since the Michigan game and has 10 turnovers over Michigan State's last four games.
Another sophomore, 6-foot-7 Gabe Brown, has stepped in to fill some of the production of Joshua Langford, who is out for the season with a foot injury. Brown is sixth in the league in 3-point shooting percentage (42.3) and had 13 points in 33 minutes in Michigan State's win against Wisconsin last week.
Sophomore Marcus Bingham starts alongside Tillman in the frontcourt and is an adequate shot blocker, but not much of an offensive threat. Bingham is just 7-for-22 from the field in league play and 10 of those attempts have been 3s. He's connected on just one.
Three other underclassmen that will figure in heavily on Thursday are freshmen Malik Hall and Rocket Watts along with sophomore Foster Loyer.
A top 50 recruit in the class of 2019, Watts missed four games earlier in the season with a leg injury, but appears to be hitting his stride at the right time for the Spartans. Watts is averaging 7.6 points over the team's last six games and shooting 38.5 percent from deep in league play.
Hall, a top 75 recruit in the 2019 class, is shooting 57.4 percent on 2s and 38.5 percent on 3s and is the team's sixth leading scorer at 4.8 points per game.
Loyer could also see some time off the bench when Winston needs a break and the 6-foot point guard is 14-of-25 on 3s this season.
TEMPO-FREE PREVIEW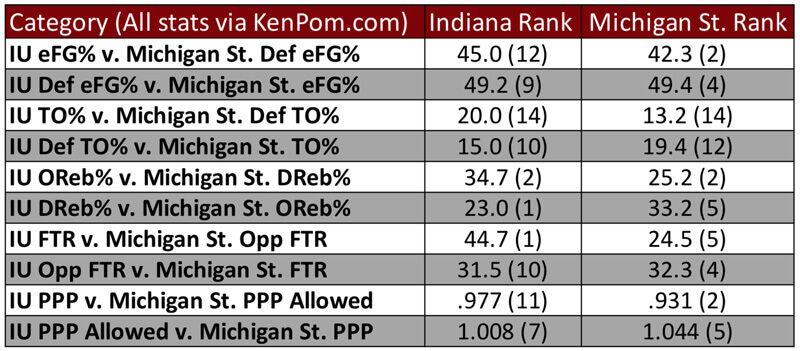 Defense and turnovers both stand out when comparing these two teams. Both are among the worst in the conference in taking care of the ball and forcing turnovers. Given Michigan State's prowess as a team that excels in transition, Indiana's ability to take care of the ball will play a major role in the outcome.
Michigan State has always been one of the league's best rebounding teams, but Indiana has actually been better on the glass this season. The Hoosiers are second in the league in offensive rebounding percentage and first in defensive rebounding percentage. Michigan State is fifth in offensive rebounding percentage and second in defensive rebounding percentage.
In his weekly press conference, Michigan State coach Tom Izzo also acknowledged that keeping Indiana off of the foul line will be a key.
WHAT IT COMES DOWN TO
The KenPom projection is Michigan State by two and the Sagarin ratings also like the Spartans by two.
Last year's sweep by Indiana will be on Michigan State's mind and Izzo has titled this week "separation week" for the Spartans, who travel to Minnesota on Sunday. If Michigan State can go 2-0 in this stretch, there's a decent chance the Spartans will be two games up in the loss column in the league standings.
Al Durham Jr. and Devonte Green both played well against Michigan State last season, but both have turned in inconsistent performances for the Hoosiers in recent weeks. Put simply, Indiana needs better guard play from that duo and sophomore Rob Phinisee this week against two of the nation's premier floor generals in Winston and Maryland's Anthony Cowan.
Thursday's game may ultimately come down to how well the Hoosiers are able to defend Michigan State's complementary players. Winston and Tillman are likely to get theirs, but will the Spartans get enough from its young supporting class to pick up a huge road win?
Filed to: Michigan State Spartans