The Minute After: Michigan State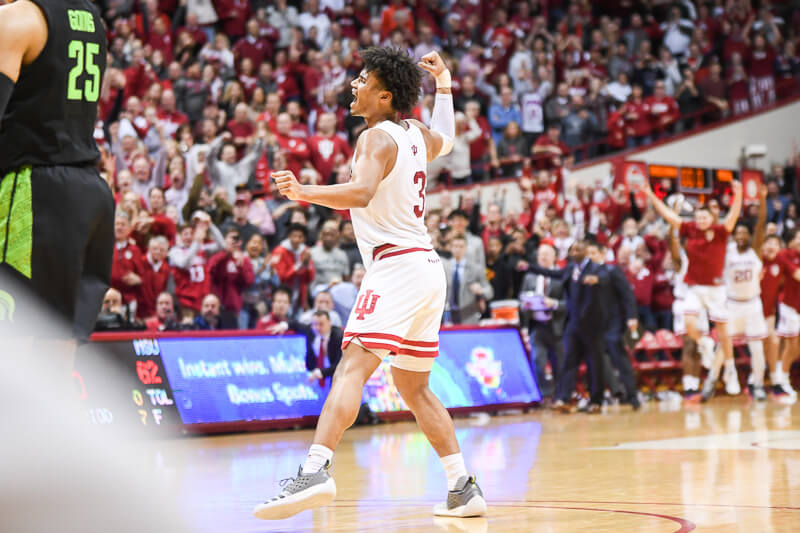 Thoughts on a 63-62 win against the Spartans:
Cassius Winston played maestro on Branch McCracken Court, orchestrating the Michigan State offense with an almost unstoppable mastery. With the ball in his hands, he kept it cool, calm and easy, carving up Indiana's ball screen defense time and again with the utmost efficiency. In 38 minutes of action, Winston scored 20 points on 8-of-12 shooting, and assisted his teammates on scores 11 times, many of those on timely 3-point makes to keep the Hoosiers at distance when it felt like the game was tipping in their favor.
But when it mattered most, Robert Phinisee made sure Winston wouldn't lead his team to victory in this hard fought battle. After Juwan Morgan, who struggled to get anything going in this one, hit an impossible shot to tie the game and made the ensuing free throw to give Indiana its first lead since the beginning of the game at 63-62 with 1:46 to go, Phinisee went to work. The freshman worked his way over the top of three straight ball screens for Winston, not letting him gain an advantage. As Winston went left and turned back to throw it to Matt McQuaid on the right wing, his body moving the opposite way of the pass, Winston missed McQuaid and the ball went out of bounds. Possession Indiana, one of Winston's three turnovers on the afternoon.
After the Hoosiers battled on their next possession, ending in a Devonte Green fallaway in the paint that was a good look and missed short, Winston had another chance to play spoiler. Phinisee didn't let him get anything going until less than 10 seconds remained on the shot clock. But on his drive from the left wing to the baseline and the basket, Phinisee poked in from behind and fouled the junior before he got to the paint. The Hoosiers had a foul to give. It was a smart play and meant Michigan State and Tom Izzo would have one chance left to set up a game winner. Out of the timeout with just 8.5 seconds left in the game, the Detroit native received the ball on the left wing. Kenny Goins slipped a screen for Winston at the top of the key and faded out to the left wing. Winston kept driving right, but Phinisee pushed him out to the corner, not letting him get an angle to the basket. All Winston could do was toss up a contested fadeaway. It fell short. The ball bounced around and the buzzer sounded and IU had won the game.
This time around the Hoosiers didn't need a hero shot from Romeo Langford to win. It needed its defense to stand tall. And the defense did. It was a tremendous individual effort from the freshman against an all-Big Ten player and after the game Archie Miller praised the performance.
"The key to this win clearly was our defense," Miller said on the court as Indiana students streamed onto center court.
When asked what was missing to close other close games out of late, Miller offered this: "Just confidence. At the end of the day everyone wants to worry about shooting. You get confidence a lot of different ways. This teams believes in our defense again. Which is a good sign."
But Indiana got just enough shooting in this one, too. While Green missed that attempt in the lane late, he hit 3-of-5 from deep on his way to 13 points, a couple of them big hits in the second half. Overall, Indiana shot a very solid 9-of-24 from distance (37.5 percent) to help keep pace. And it also turned defense into offense on possessions where it frustrated the Spartans into turnovers, scoring 15 points off Michigan State's miscues.
And then there was Justin Smith.
Smith, yes Smith, carried Indiana in the first half offensively when no other Hoosiers could get anything to fall. Smith had 16 of Indiana's 28 at the break. He finished the contest with a career-high 24 points on 9-of-19 shooting. He splashed in 3-pointers (3-of-6). He played to his strengths, finishing in transition, finishing on the move in the halfcourt and also getting quick tip-ins on the offensive boards. But most importantly, Smith looked like a different player putting the ball on the deck and driving to the rim. So often Smith has telegraphed his maneuvers this season. He stays high, often leading to wild shots or offensive fouls. But Smith ducked and stayed a little lower today, allowing him to draw proper contact and get to the line and play with more control.
It's probably a little much to expect Smith to keep up the hot shooting from distance. But if he can play more under control on the drive going forward, it's a nice new wrinkle for Indiana's offense in a season where Smith has struggled mightily at times as a playmaker with the ball in his hands.
Indiana keeps bringing strong effort despite its struggles this Big Ten season and has just picked up two straight great wins against ranked opponents. Suddenly these two games to close out the season against Illinois and Rutgers don't seem like a loss will be a foregone conclusion. There's still work to be done, to be sure, but don't count these Hoosiers out of the tournament just yet.
You may have given up on the season. But they haven't.
Filed to: Michigan State Sparatans