The Minute After: Nebraska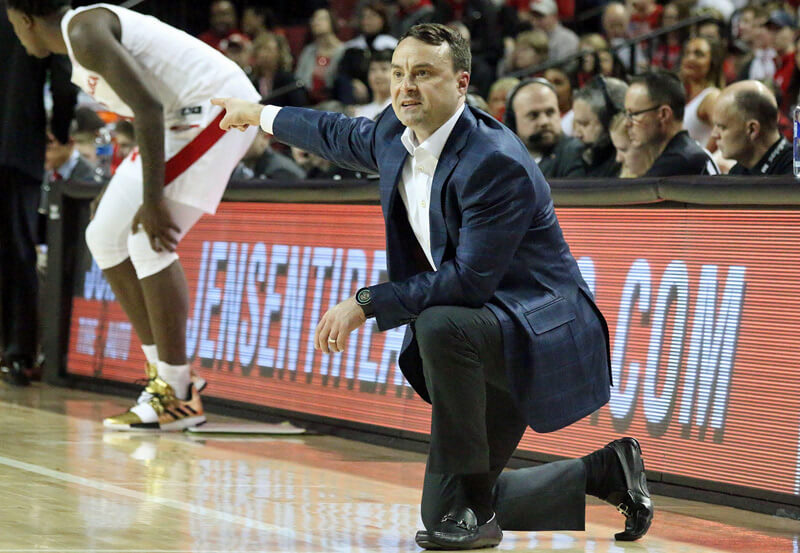 Thoughts on an 82-74 win against the Cornhuskers:
Oh, what a difference made baskets make.
Wednesday evening's loss at Rutgers saw the Hoosiers shoot just 4-of-36 on shots that weren't layups. Against Nebraska in Lincoln tonight, De'Ron Davis and Joey Brunk were splashing jumpers. And Indiana's offense in the first half, though still defended with a focus to take away the inside and dare the Hoosiers to shoot, dictated the terms better. Indiana just kept moving the ball, looking for space, trying to play inside-out as best it could. The Hoosiers were rewarded for their efforts. Their 3-point shots, ones taken in rhythm with confidence and a lack of thinking, kept falling. The Hoosiers made 6-of-16 (37.5 percent) in the first half. Those made triples coupled with some stronger defense helped Indiana erase a nine-point deficit (23-14) at the 12:18 mark and turn it into a five-point lead at the break (46-41), though turnovers were a concern.
The Hoosiers just kept marching in the second half. They kept better control of the ball and continued to pour in the points. Indiana's defense also did a better job of containing Nebraska's dribble penetration, not allowing the Cornhuskers as easy of looks. All of a sudden, the Hoosiers had amassed a 19-point lead. On the road. In the Big Ten. Yes, it was against Nebraska. But when you consider how dominant the league's home teams have been so far in conference play — and you consider how poorly Indiana has performed in its three previous road Big Ten games — it was a strong achievement.
But, of course, it would not last. The Hoosiers, as they often do this season, careened into another one of their patented scoring droughts. Indiana didn't make a field goal for 8:07 of game clock after going up by 19 for a second time. The missed shots — Indiana would only shoot 20 percent (2-of-10) from 3-point range in the second half after its hot start — allowed Nebraska to grab rebounds and race up the court for quick scores. The Hoosiers got a little shaky against Nebraska's full-court pressure late in the contest and only shot 57.1 percent form the line over the final 20 minutes. It allowed things to get a little close down the stretch as Nebraska was able to cut the the lead to six with 37 seconds to play. (Though, it should certainly be noted that this wasn't the best officiated game and a couple of calls that went Nebraska's way down the stretch shouldn't have.)
Joey Brunk continues to be a steady presence inside for these Hoosiers. Since he looked a step slow and out of sorts in the first half against UConn, Brunk has been about as consistent a player as Indiana has. He brings it every night and he plays hard. Brunk scored 16 points tonight on 7-of-8 shooting to go along with five rebounds and two assists. Indiana didn't always have success finding Trayce Jackson-Davis down low, but the freshman still made his presence felt with an efficient 6-of-7 shooting mark to lead the team with 18 points. Jackson-Davis also snagged 13 rebounds in the game to post another double-double against the Cornhuskers. Indiana rebounded 35 percent of its misses against a poor rebounding team in Nebraska, which helped them along to 15 second-chance points.
The Hoosiers held Nebraska to under a point per possession (.98) when it was all said and done, while scoring over a point per possession themselves (1.09).
This was the last road game of the Big Ten season the Hoosiers were favored in and they took care of business. It's an important win, as it was the last "bad" loss the Hoosiers could pick up this season because the league is that good. We'll see what happens the rest of the way out against the Big Ten's best. But cheers to IU this evening. The Hoosiers got the W and avoided a late-game calamity.
Filed to: Nebraska Cornhuskers