The Minute After: Michigan State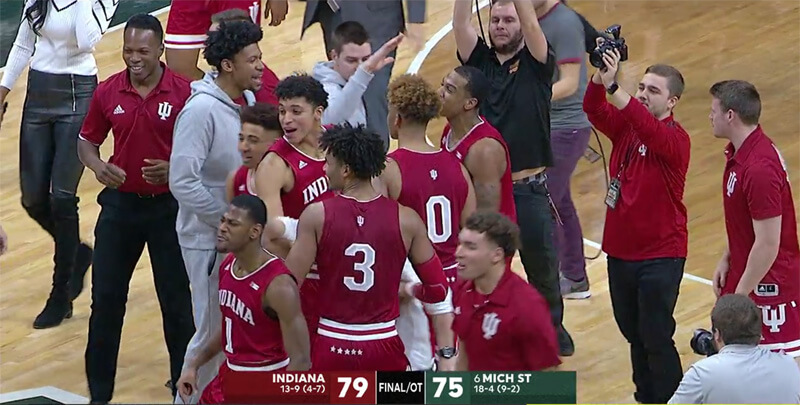 Thoughts on a 79-75 win against the Spartans:
Wow.
After all the missed 3s, the dispirited defense, the lack of mental toughness, the complaining and arguing and moaning from the Indiana faithful as this season has seemingly sputtered away, Indiana goes out tonight and grabs an incredible, incredulous victory in overtime against the No. 6 Spartans at the Breslin Center, just its second win in its last 23 tries in East Lansing.
This was a gritty, hard-fought W and a welcomed breath of fresh air in a season suffocating in staleness, as it felt like Indiana's losing streak was never going to end. With De'Ron Davis and Devonte Green back in the lineup in this one, the offense had a different dynamic. Davis, who played a lot more minutes than he was likely bargaining for (25), made his presence felt on the post and commanded MSU's defensive attention. The junior shot 4-of-8 from the field for 12 points and hit some monster free throws in overtime to help seal the victory.
Green had a turnover late in overtime off a full-court press that was a backbreaker and helped Michigan State crawl back into it, but he had some bounce in his step in the first half, knocking down a 3-pointer after he created space for himself. Green hit 3-of-4 from distance overall and scored 11 points, as he helped raise the collective offensive confidence of this team. As the second half wore on into overtime, a number of Hoosiers hit from deep and you could sense this was a night the 3-ball would be a friend, not a foe. They hit 7-of-10 from 3-point range over the final 25 minutes and 10-of-20 (50 percent) for the contest. It was a huge reason the Hoosiers were able to emerge victorious.
It also helped that Michigan State was downright dreadful from the line (8-of-22, 36.3 percent) and seemed to maybe take this Indiana squad a little less serious than it should have.
Several deserve praise in this space. Justin Smith, though still struggling to operate around an opponent in the paint, posted a double-double with 13 points and 10 rebounds. Smith gave great effort all night and was absolutely essential on defense, as two of his three blocks came at crucial junctures late in the contest. Indiana's defense also didn't let Michigan State go on a huge run, keeping it in enough check to always be in this game.
Al Durham continues to emerge as a key player on this team and a guy the other team needs to give attention. Durham hit 3-of-5 from distance and 4-of-8 overall for 13 points. And an injury to his hand that looked somewhat troubling ended up not keeping him off the court. Evan Fitzner finally hit a 3-pointer. Jake Forrester fouled out, but gave good energy in his minutes.
And then there was Romeo. While he was just 6-of-18 against a Michigan State team paying him a ton of attention — what's new? — his do-it-all possession late in the second half where he hit an insane contested runner on the right side put the Hoosiers up one and helped extend the game to the extra period. He made an important 3-pointer not long before that and splashed another triple in the overtime period as well on his way to a team-high 19 points. Langford was a little more chatty than usual during the contest and seemed to really want the win.
This all happened without the steady presence of Juwan Morgan, as a left shoulder injury kept him out of the contest from the 6:04 mark of the first half onwards.
Who knows if Indiana can keep this sort of inspired play for the back half of the Big Ten season. Who knows if Morgan will be back for Thursday's bout with Iowa (or even beyond that).
But for a night, Indiana finally put it together and broke out of its slump in a win that's going to look excellent to the NCAA tournament selection committee.
In a season that once felt dead, tonight's victory was a rebirth.
Filed to: Michigan State Spartans