Top moments from the 2019-20 Indiana men's basketball season: Moments 10-6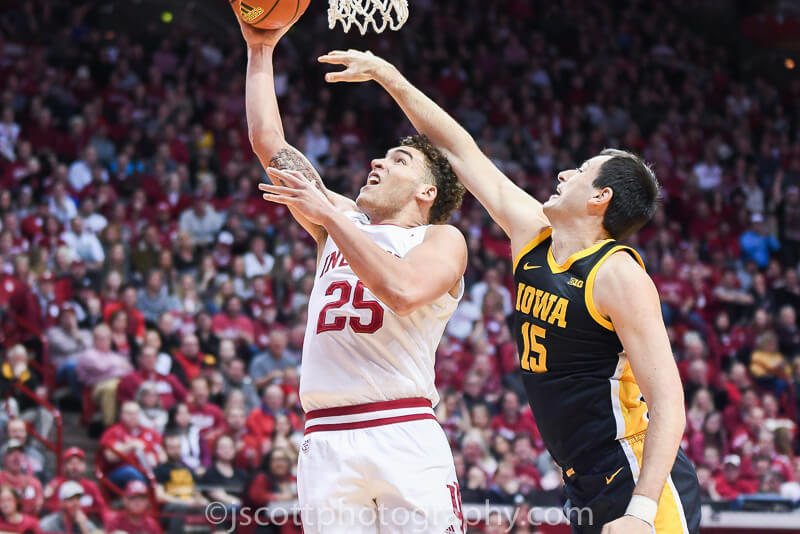 With the 2019-20 NCAA men's college basketball season officially over due to the COVID-19 pandemic, plenty of time has been spent reflecting on what was an eventful campaign for the Indiana Hoosiers.
Archie Miller's third season in Bloomington was likely going to result in an NCAA tournament berth prior to the cancelation of the event, and plenty of highlights defined a 20-12 season for the Hoosiers, including the emergence of star freshman Trayce Jackson-Davis and the return of former coach Bob Knight to Simon Skjodt Assembly Hall.
One last bit of housekeeping business to take care of is compiling a defining list of top moments from the 2019-20 Indiana men's basketball season, and Inside The Hall writers Cameron Drummond and Dylan Wallace did just that:
10 – Jerome Hunter makes his IU basketball debut
Indiana's season-opening win over Western Illinois in early November was fairly pedestrian, but it marked Jerome Hunter's return to college basketball.
Hunter had the 2018-19 season stolen from him due to a surgery he required in November 2018, and he ended up only being able to participate in that season's Hoosier Hysteria. No practices. No games.
He gave fans a glimpse yet again during this season's Hoosier Hysteria, but Hunter's first real on-court time with the Hoosiers came during this win over the Leathernecks. He played 16 minutes and scored seven points in the game, and Archie Miller remarked postgame that Hunter could use it as a platform to continue to build his college career.
Hunter finished the season with a 3.8 points per game average across 30 games played, but his journey is far from over.
9 – Joey Brunk lifts Indiana to victory inside Madison Square Garden
Indiana's 57-54 victory over UConn in December in New York City was a rough-and-tumble affair. UConn coach Dan Hurley said it was "not a game for young players" due to the physicality from both teams, something that could in part be attributed to Indiana looking to respond after a 20-point blowout loss at Wisconsin just days earlier.
Leading that response was Joey Brunk, a player all too aware of the meaning behind the Jimmy V Classic, who came up with the kind of resilient performance Indiana needed.
In the face of team criticism, as well as individual criticism, following the Wisconsin loss, Brunk increased his level of play, leading the team with nine second-half points as Indiana secured a significant nonconference win.
8 – Archie Miller's "animated" demeanor throughout the season
Archie Miller's anger was a lot more noticeable this season.
He showed it in response to Joe Lunardi's bracketology. He showed it during sideline disagreements with assistant coach Bruiser Flint at Purdue. He showed it when asked about De'Ron Davis' "load management" and he showed it after Indiana missed a critical free throw during the home win over Penn State.
While the on-court results improved in year three under Miller, the persona of the Indiana coach certainly took on a grumpier tone with his fellow coaches, the media and his players. Perhaps it is indicative of Miller's comfort-level with the high profile job. Perhaps it reflects the pressure he faces in leading such a storied program.
Whatever the motivation is behind it, Miller's actions became a bigger part of the story this season.
7 – De'Ron Davis goes a perfect 9-of-9 from the field during game at Michigan
There wasn't much to remember about Indiana's trip to Ann Arbor, Michigan, this season, but what was worth storing in the mind was a rare occurrence in Hoosier hoops history.
Sparingly-used senior forward De'Ron Davis played a season-high 19 minutes and made each one of them count, finishing the game (a 24-point loss) a perfect 9-9 shooting from the field.
The career-high 18 points from Davis marked just the second time in IU history a player went 9-of-9 from the field, as Will Sheehey did the same during a 2013 game against Purdue. This remained the standout moment of the season from Davis, who like Devonte Green finished his IU career without an NCAA tournament appearance.
6 – Race Thompson displays importance during home win over Iowa
When Indiana's frontcourt play faltered as the regular season came to a close, Archie Miller settled on two players to carry the load: Trayce Jackson-Davis and Race Thompson.
In strikingly similar fashion to the 2018-19 season, Thompson played his most effective basketball at both ends of the court when the games mattered the most, and February's home win over a ranked Iowa team was evidence of this.
Thompson tied his career-high with 10 points and had four rebounds in the win, and it began a stretch of play in which his increasing offensive skillset, as well as his physicality and rebounding, was sorely needed by Indiana.
Thompson played 20 or more minutes in six of Indiana's final nine games this season, and Thompson figures to be an important part of the plan next season as well.
Stay tuned for tomorrow's release of the final five defining moments of the 2019-20 Indiana men's basketball season.
Filed to: Archie Miller, Deron Davis, Jerome Hunter, Joey Brunk, Race Thompson