2019-2020 ITH Season Preview: Ohio State Buckeyes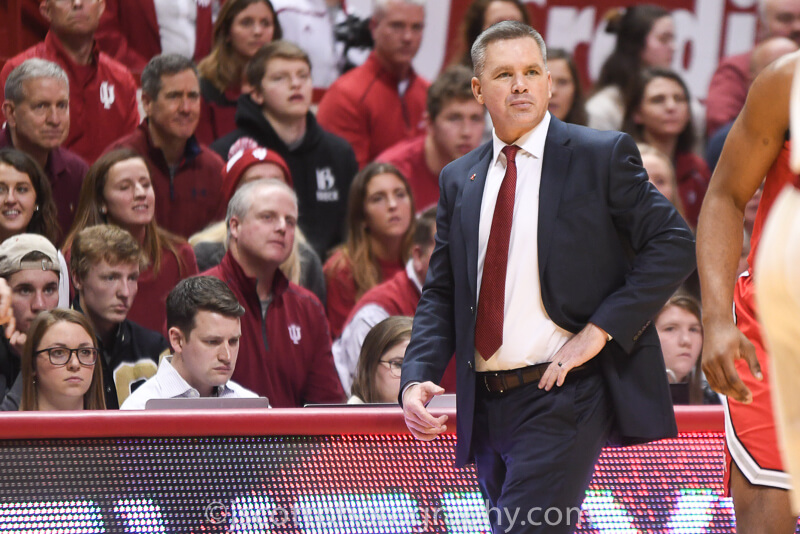 With the start of college basketball season on the horizon, we'll be taking a long look at the conference at large as well as Indiana's roster over the next month. Today, our Big Ten team previews continue with a look at Ohio State.
(Previously: Rutgers Scarlet Knights, Northwestern Wildcats, Minnesota Golden Gophers, Nebraska Cornhuskers, Iowa Hawkeyes, Michigan Wolverines, Wisconsin Badgers, Penn State Nittany Lions)
Preseason projections have been favorable for the Ohio State Buckeyes.
Three of the leading college basketball preview magazines — Lindy's Sports, Street and Smith's and Athlon Sports — all have the Buckeyes finishing in the top six of the Big Ten Conference.
Two of those — Lindy's and Athlon — both have Ohio State finishing third in the Big Ten and securing a trip to the NCAA tournament.
Should those projections pan out, it would continue a trend for the Ohio State program and third-year head coach Chris Holtmann.
The Buckeyes reached the NCAA tournament each of the last two seasons, falling in the Round of 32 on each occasion. Holtmann has been a part of the last five NCAA tournaments dating back to his three seasons as Butler's head coach.
His Ohio State team from last season finished 20-15 overall and 8-12 in conference play. It barely squeaked into the NCAA tournament, but likely did so thanks to a victory over Indiana in the second round of the Big Ten Tournament.
Holtmann returns 10 players from that team, most notably the Wesson brothers, who finished last season as two of the team's top three scorers.
Kaleb, a 6-9, 270 lb. junior forward, was an All-Big Ten honorable mention selection last season after leading Ohio State with 14.6 points per game, 21 total blocks, 6.9 rebounds per game and 156 field goals made.
His brother, Andre, is a 6-6, 220 lb. senior forward who started a team-high 34 games last season. Andre brought 8.6 points and 4.1 rebounds per game to the table last season.
Andre was one of two Buckeyes to average 30 or more minutes per game in 2018-19, but he's the only one returning to Columbus.
The graduation of guard C.J. Jackson presents the most obvious challenge to an NCAA Tournament return for Ohio State.
Jackson made the most of his opportunity after starting his collegiate career at Eastern Florida State College. The combo guard blossomed into a dependable ball handler and scoring option, something Indiana saw up close on Feb. 10 when he hit a deep 3-pointer and worked with the Wesson brothers to implement a slip screen against Justin Smith's hedge to set up a game-winning dunk for Ohio State.
Also gone from last year's team is Keyshawn Woods, a graduate transfer from Wake Forest who was one of four Buckeyes to play in all 35 games last season while also being the team's fourth-leading scorer (8.1 points per game).
With its two key backcourt cogs gone, Holtmann will look to sophomore Luther Muhammad, freshman D.J. Carton and redshirt junior CJ Walker to replace their production.
Carton was a major pickup on the recruiting trail for Ohio State. One of the nation's top point guards in the class of 2019, Carton chose the Buckeyes over Indiana and Michigan.
Muhammad was a regular starter for the Buckeyes last season, making 28 starts and 34 appearances. He excelled from behind the arc as he connected on 37.5 percent of his 3-point shots.
And Walker, an Indianapolis native, brings ACC experience to Columbus after playing significant minutes at Florida State during his first two collegiate seasons. Walker sat out last season, but averaged eight points and started 34 of 35 games for the Seminoles back in the 2017-18 season on an NCAA tournament team.
Sophomore guard Duane Washington Jr. is also back after averaging seven points per game last season. Bloomington native Musa Jallow could figure into the backcourt rotation once again after starting 13 of Ohio State's 35 games last season.
In the frontcourt, freshmen E.J. Liddell and Alonzo Gaffney – both top 50 recruits nationally – should figure into the rotation immediately.
Liddell, a 6-foot-6 forward, was a two-time Mr. Basketball in Illinois and the 6-foot-9 Gaffney, a Cleveland native, turned down the likes of Kansas and Michigan State in favor of his home state school. Kyle Young, a 6-foot-8 junior, is also back after starting 14 games last season and averaging six points and 4.4 rebounds per game.
Bottom Line: Amidst all the talk of of the size featured on this Ohio State roster (10 players are 6-5 or taller), there is also the question of experience. Only two players are listed as a senior or redshirt senior, and of those, only Andre Wesson will play significant minutes. Holtmann has quickly laid the foundation for future success for Ohio State. The Buckeyes should come through with a top-half conference finish this season, and it will likely serve as a precursor to some very good Ohio State teams in the coming years.
Quotable: "Focus on the day-to-day. We'll get what we earn, whatever that looks like … and the process of getting better and not putting too much thought into what's said good or bad about us, what's projected good or bad," — Holtmann, during Ohio State's media day this week.
Subscribe to Inside the Hall's YouTube channel and like our page over on Facebook.
Filed to: 2019-2020 Big Ten preview, Ohio State Buckeyes