2019-2020 ITH Season Preview: Penn State Nittany Lions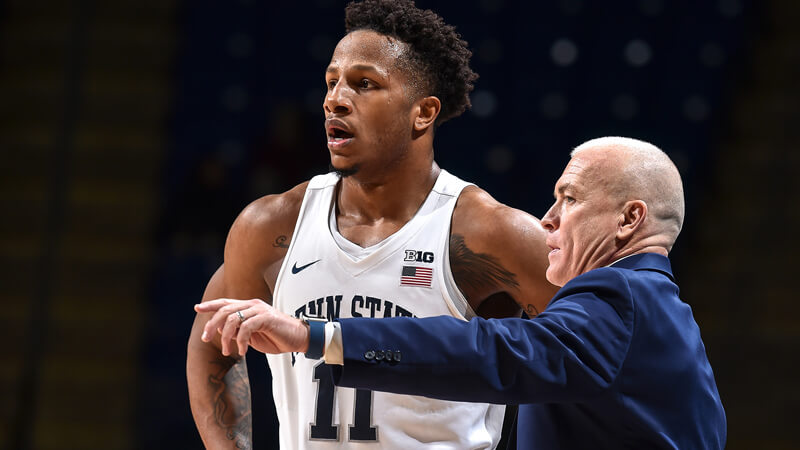 With the start of college basketball season on the horizon, we'll be taking a long look at the conference at large as well as Indiana's roster over the next month. Today, our Big Ten team previews continue with a look at Penn State.
(Previously: Rutgers Scarlet Knights, Northwestern Wildcats, Minnesota Golden Gophers, Nebraska Cornhuskers, Iowa Hawkeyes, Michigan Wolverines, Wisconsin Badgers)
The Pat Chambers experiment has reached season nine in State College.
Chambers is 0-8 in his quest to guide the Nittany Lions back to the NCAA tournament (Penn State last reached the Big Dance in 2011).
He does have one of Penn State's most significant modern-day basketball accomplishments to his name though. His 2017-18 Penn State team won the NIT after narrowly missing out on the NCAA tournament.
That 2018 run, along with a brief appearance in the 2014 CBI, remains Chambers' only postseason appearances with Penn State. His squad for the 2019-20 season returns 11 players from last season's team which went 14-18 overall and 7-13 in conference play.
The most significant departures came with the graduation of guard Josh Reaves (10.6 points per game, a team-high 94 assists, started all 32 games) and the transfer of freshman guard Rasir Bolton (11.6 points per game, 36.1 percent 3-point shooting, nine starts and 32 appearances).
Bolton is now at Iowa State, and was granted immediate eligibility by the NCAA on Tuesday.
Two of the three freshmen arrivals are 3-star freshmen forwards as ranked by 247Sports, Seth Lundy and Patrick Kelly. The other is a name familiar to Indiana fans, guard Curtis Jones.
He arrives at Penn State as a graduate transfer, having spent last season at Oklahoma State after playing 40 games in two seasons in Bloomington.
Jones burst onto the collegiate scene by scoring 15 points during his first game, Indiana's season-opening win against Kansas in 2016. He served in a sixth-man role for the Cowboys last season, and with the Nittany Lions looking to replace a starting guard and elite defender in Reaves and a key bench player in Bolton, it seems apparent Jones will be a factor this season.
The standout of this Penn State team, however, is senior forward Lamar Stevens.
Stevens led the Nittany Lions in points per game (19.9), rebounds (7.7), field goals (230), field goal attempts (545) and minutes per game (36.9) last season. A first-team All-Big Ten selection by the coaches last season, Stevens made himself eligible for the NBA draft this offseason before withdrawing his name to return for his final season.
He'll return to the Penn State frontcourt alongside another senior, center Mike Watkins, who'll look to expand on the 7.8 points and 7.4 rebounds he averaged across 27 games last season. Forward John Harrar also returns after starting 18 games last season and averaging 3.4 points and 3.6 rebounds per game.
Junior guard Jamari Wheeler brings a defensive-minded presence to Penn State and his 47 steals last season were second on the team behind Reaves.
The Penn State backcourt will also benefit from sophomore guard Myles Dread who returns 8.3 points per game. An interesting X-factor for the Nittany Lions this season will be sophomore guard Izaiah Brockington. He transferred to Penn State from St. Bonaventure and had to sit out the 2018-19 season. Chambers has described Brockington as a player who can score with a short shot clock and as "a dunking machine."
The return of Stevens means the pressure remains on him as Penn State's go-to scoring option. But changes in the backcourt mean the Nittany Lions need their guards to quickly gain experience facilitating the ball, scoring it and pestering opponents defensively.
Bottom Line: Aside from the track record of failing to make the NCAA tournament, there's a lot to like about this year's version of Penn State. Stevens is a bonafide star who is physical enough to score points and grab rebounds.
The supporting cast around him is solid enough, but must display chemistry in the wake of losing such a crucial piece like Reaves. Bolton's impact as a freshman was important, but the addition of Jones and the debut of Brockington seem to be enough to solidify that end of the court.
Chambers' best Penn State team won 26 games in that NIT-championship season. That may be a bit lofty for this year's squad to match, but in a down Big Ten Conference the Nittany Lions will have every opportunity to make their NCAA tournament return.
Quotable: "I'm not happy with how things went last year. Coming back with Coach Chambers and I being on the same page and with the rest of our teammates, I feel like we can really accomplish something this year," — Stevens, on a conference call in May after deciding to return to Penn State.
Subscribe to Inside the Hall's YouTube channel and like our page over on Facebook.
(Photo credit: GoPSUSports.com)
Filed to: 2019-2020 Big Ten preview, Penn State Nittany Lions