2019-2020 ITH Season Preview: Minnesota Golden Gophers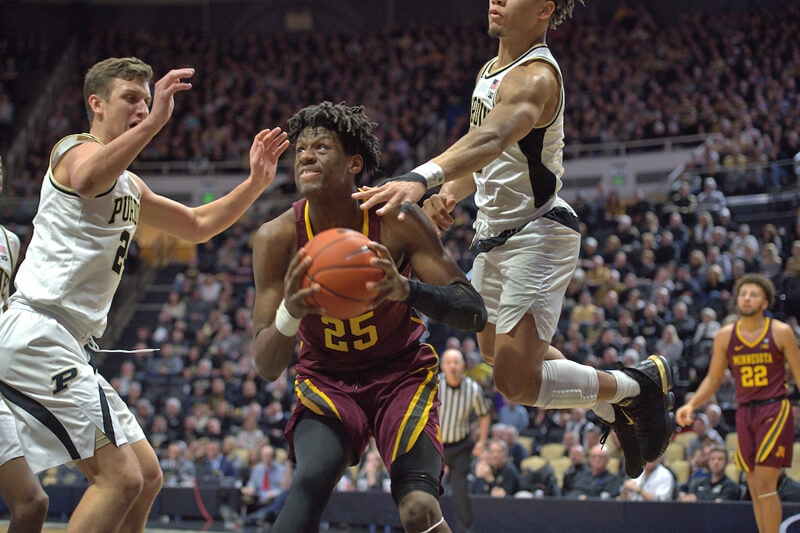 With the start of college basketball season on the horizon, we'll be taking a long look at the conference at large as well as Indiana's roster over the next month. Today, we preview Minnesota.
(Previously: 2019-20 ITH Season Preview: Northwestern Wildcats; 2019-20 ITH Season Preview: Rutgers Scarlet Knights)
Minnesota was picked to finish toward the back-half of the Big Ten last season, and although the Golden Gophers slightly overachieved that prediction, finishing seventh, they most certainly overachieved their postseason expectations.
Wins against Penn State and Purdue in the Big Ten tournament propelled Minnesota to a No. 10 seed in the NCAA tournament, where head coach Richard Pitino picked up his first tournament win in six seasons by defeating Louisville, earning Pitino a two-year contract extension.
They ran into the Final Four bound Michigan State Spartans in the round of 32, but Minnesota's 22-14 record advanced it further than the program has gone since 2012-13.
Yet preseason predictions for this year's team once again foresees the Gophers in the back-half of the Big Ten.
Those predictions aren't surprising considering they are losing their two leading scorers from last season in Jordan Murphy, who graduated and signed an Exhibit 10 contract with the Minnesota Timberwolves, and Amir Coffey, who declared for the draft and despite being undrafted, was signed by the Los Angeles Clippers on a two-way contract.
Murphy, 14.4 points and 11 rebounds per game last season, and Coffey, 16.6 points per game, led the team in percentage of possessions used at 26.1 percent and 25.1 percent respectively, according to KenPom.
The offensive responsibilities are going to fall on the shoulders of sophomores center Daniel Oturu and guard Gabe Kalscheur. Oturu averaged 10.8 points last season and Kalscheur wasn't far behind at 10 per game. Oturu had the best field goal percentage on the team at 55 percent, while Kalscheur had the best 3-point percentage at 41, including a 6-for-8 showing against Indiana last season.
Redshirt sophomore guard Marcus Carr, who sat out last season after transferring from Pittsburgh, and forward Eric Curry will also be looked at to fill important minutes and put points on the board. As a freshman at Pitt during the 2017-2018 season, Carr averaged 10 points per game and led the Panthers at four per game. Curry has been injury prone throughout his Minnesota career and shut things down last season in March following a foot injury.
Aside from those players, Minnesota's roster is filled with unproven Big Ten players. Pitino's 2019 recruiting class was a success as he inked the fourth-best class in the Big Ten according to 247Sports.
Highlights from that class include three-star guards Tre' Williams and Bryan Greenlee, and three-star center Sam Freeman. Perhaps the biggest get for Pitino was a four-star power forward from Germany, Isaiah Ihnen. Pitino recently called Inhen "immensely talented" and "the fastest guy on our team."
The Gophers are also still waiting to see how junior guard Payton Willis turns out since he had to sit out last season after transferring from Vanderbilt. The early signs are encouraging, however, as Pitino wrote that Willis was the team's "three-game" MVP following its offseason trip to Italy.
Bottom line: Without the motor of Murphy in the paint and isolation skillset of Coffey, the offensive production remains a mystery for Minnesota. The offense even struggled last season with those two. The young talent appears to have potential, but they've yet to step foot on the collegiate stage. Even the established players on the roster haven't shown the ability to become the focal point despite very good freshmen seasons from Oturu and Kalscheur. It's going to come down to how fast Pitino can integrate the new pieces and find new scoring threats. If that takes longer than the non-conference season, and Big Ten play hits, Minnesota might not overachieve its predictions this season.
Quotable: "Obviously Jordan Murphy — losing him — that's hard to replace. I think Daniel and Gabe — Daniel is going to be a really good player. He's put on a little bit of weight, you know, and he'll get there. But all these young guys, I feel like this program, you know, we've taken hits with injuries, and I hate using excuses, but we have. We can't let it derail us, you know, we gotta bounce back and get back in this thing (NCAA Tournament) next year. I think these guys got the character to do it," — Pitino, following Minnesota's NCAA Tournament loss to Michigan State last season.
Subscribe to Inside the Hall's YouTube channel and like our page over on Facebook.
(Photo credit: GopherSports.com)
Filed to: 2019-2020 Big Ten preview, Minnesota Golden Gophers