2019-2020 ITH Season Preview: Rutgers Scarlet Knights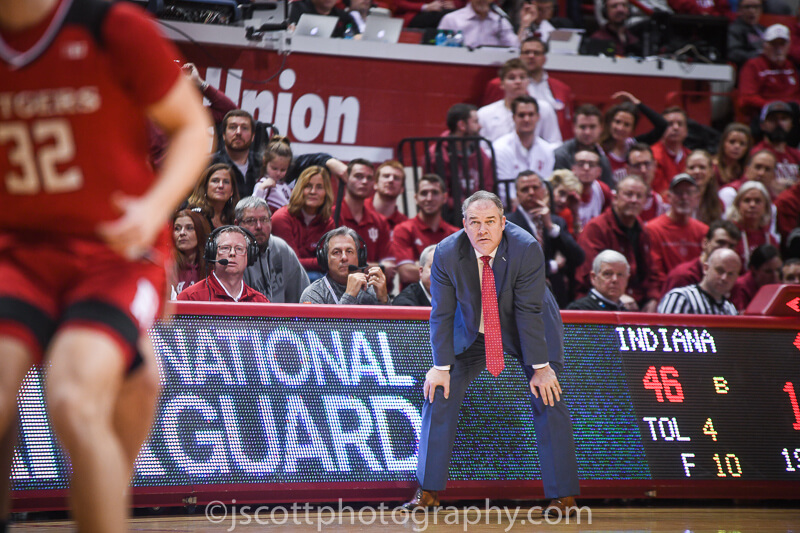 With the start of college basketball season on the horizon, we'll be taking a long look at the conference at large as well as Indiana's roster over the next month. Today, our Big Ten team previews begin with a look at Rutgers.
Steve Pikiell's fourth year at Rutgers may be the first with concrete expectations for his Scarlet Knights squad.
After opening his Rutgers tenure with consecutive three-win Big Ten seasons in 2016-17 and 2017-18, Pikiell's team eclipsed that combined total last season. A 14-17 overall record in the 2018-19 season featured seven Big Ten wins, including a season split against Indiana.
Expectations for continued on-court growth have to be balanced against what the Scarlet Knights lose from their most successful Big Ten season. Gone are two players who keyed last season's strong conference showing — center Shaq Doorson and forward Eugene Omoruyi.
Doorson didn't contribute much in the way of scoring last season with a 3.7 points per game average, but his presence as a rim protector was certainly felt. He compiled a team-best 32 blocks over 31 starts for Rutgers, and his graduation offers a chance for a player like sophomore big man Myles Johnson to step into his role as a rebounder around the basket.
Much more is lost with Omoruyi, who transferred to Oregon in the offseason. The former Rutgers captain was one of two players last season, along with now-junior guard Geo Baker, to average more than 10 points per game. Omoruyi led the Scarlet Knights with 13.8 points per game, he was the only player with more than 200 rebounds on the season and he consistently used his 6-foot-7 frame to get to the foul line, attempting and making the most free throws of any Rutgers player.
In short, Omoruyi's departure creates a major void on offense for Pikiell's team to fill. Replacements in that regard seem more likely to come from the backcourt rather than the front court.
The aforementioned Baker took on a large role as a sophomore last season, starting 31 games and leading the team in categories such as minutes per game (34), attempted and made 3-pointers (he made 60 of 176 attempts, which was 68 more attempts than the next closest Rutgers player), assists (126 for the season) and steals (51).
Baker had the second-highest offensive rating on the Rutgers team last season among significant or major contributors, according to KenPom. He was used by Rutgers on between 20 to 24 percent of its possessions last season, a number that should increase.
Sophomores guard Montez Mathis and guard/forward Ron Harper Jr., both four-star recruits to Piscataway, are two players also expected to help account for the scoring vacated by Omoruyi, Harper will have to improve his distance shooting though, as he made just 30 of his 108 3-pointers last season.
The Scarlet Knights will also work a couple new players into their on-court rotation this season. Senior forward Akwasi Yeboah was recruited from England, where he attended high school, by Pikiell when he coached Stony Brook, and Yeboah went on to be a first team All-America East player for the Seawolves. The transfer will be immediately eligible for Rutgers.
The other new face is junior guard Jacob Young, a transfer from Texas who sat out last season per NCAA guidelines after two seasons in Austin.
Also watch for junior forward Mamadou Doucoure, who burst onto the scene as a freshman starter for Rutgers before being limited to just six games last season with a back injury.
Bottom Line: On the hardwood, Rutgers is becoming a more established Big Ten presence. C. Vivian Stringer has long led the women's program to success in Piscataway, and while Pikiell still has a mountain to climb for that kind of sustained winning, he's getting closer.
Rutgers hasn't made the NCAA tournament since 1991 and the NIT since 2006. The former won't change in 2019, but there's an outside chance for the latter may do so. Consistent, high-scoring guard play figures to take hold with a more inexperienced front court, but should players like Baker and Harper rise to the occasion, Rutgers could float around .500 in conference play.
Quotable: "Better days ahead. This was just a step. When I took the job I knew it wasn't going to be easy. It's the best league. This year, certainly in my three years, by far the best league that I've played in, and it's been really good the previous two. So to make the strides that we've made, I feel good about that. Doesn't help me today, but when we look back on it, a lot of good things were accomplished," — Pikiell, following Rutgers' Big Ten Tournament loss to Nebraska last season.
Subscribe to Inside the Hall's YouTube channel and like our page over on Facebook.
Filed to: 2019-2020 Big Ten preview, Rutgers Scarlet Knights