2019-2020 ITH Season Preview: Wisconsin Badgers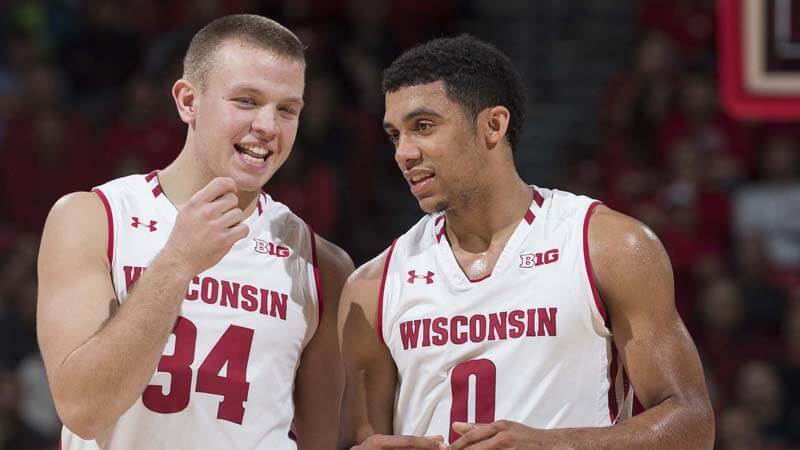 With the start of college basketball season on the horizon, we'll be taking a long look at the conference at large as well as Indiana's roster over the next month. Today, we preview Wisconsin.
(Previously: Minnesota Golden Gophers, Northwestern Wildcats, Rutgers Scarlet Knights, Nebraska Cornhuskers, Iowa Hawkeyes, Michigan Wolverines)
After a storied career, all-time program great Ethan Happ has departed Madison. How Wisconsin responds to his absence will write the story of the program's 2019-2020 season.
Happ was an All-Big Ten first team selection the last three seasons and consistently stuffed the stat sheet for the Badgers. He was one of the Big Ten's best scorers and defenders and his fundamentally sound post game made him an impossible cover at times for conference foes.
But there are also areas of the game in which Happ struggled, which may have limited Wisconsin's ceiling as a team. Happ was a poor free throw shooter, didn't operate much outside of five feet and may have limited other Wisconsin players from expanding their games due to his high usage rate.
The Badgers also graduated forward Khalil Iverson, who was the best athlete and one of the team's best defenders last season. Fortunately for Greg Gard, a solid returning nucleus should put Wisconsin back in the mix for another NCAA tournament appearance.
The headlining returnees are juniors Brad Davison, D'Mitrik Trice and Nate Reuvers, who all started every game last season for the Badgers.
Trice, a 6-foot guard, is the leading returning scorer for Wisconsin and a point guard who strikes a solid balance between scorer and distributor. He shot 39 percent on 3s a season ago and his decision making last season was a major reason Wisconsin finished 9th in the country in turnover percentage. He faded down the stretch last season and only scored in double figures twice in the team's final 14 games, so finding consistency will be key for Trice fulfilling his potential.
Davison, a 6-foot-3 guard, averaged 10.5 points last season, but shot just 34.9 percent on 3s. It won't be surprising if Trice and Davison are joined in the starting lineup by sophomore Kobe King, a 6-foot-4 guard who averaged 4.2 points in 19 minutes per game off the bench last season. Senior Brevin Pritzl will also be in the guard rotation after averaging 4.8 points and shooting 41 percent on 3s last season. Junior Trevor Anderson only played in eight games last season before shutting things down with a knee injury, but could get some minutes this winter as a backup to Trice.
In the frontcourt, Wisconsin is banking on a breakout junior season from Reuvers, a versatile 6-foot-11 forward who can block shots and also shoot from the perimeter. He made 38.1 percent of his 3s last season and finished 50th nationally in block rate.
He'll be joined in the frontcourt rotation by Micah Potter, who sat out last season after transferring from Ohio State and junior Aleem Ford, who was a bit of a disappointment last season. Potter started 16 games during his time in Columbus and his 6-foot-9, 240-pound presence in the post should also help Reuvers to float out to the perimeter for open looks.
The 6-foot-8 Ford got off to a poor start last season due to a knee injury and averaged just 3.1 points on 34 percent shooting. Tyler Wahl, a 6-foot-7 freshman from Lakeville, Minnesota, could also crack the rotation and is a former high school teammate of Reuvers.
Bottom Line: Wisconsin will look much different without Happ, but could develop into a more well rounded team if Reuvers is able to take a major step forward and Trice and Davison can develop more consistency as juniors. Wisconsin is being viewed by many as a fringe NCAA tournament team by most entering the season, which is fair given the loss of Happ. The program seems to have decent momentum for the future as Gard currently has five players committed in the 2020 class, including a top 100 pledge in Ben Carlson.
Quotable: "It changes in terms of skill set and ability and characteristics that different players bring to it. It has been unique the last couple of years because we've played to strengths and now the strengths will be a little bit different. Overall, the consensus is that it will be a much more diverse group, a much more multi-dimensional offense. I think we will be much more difficult to guard and prepare for because we've got multiple guys who can play on the perimeter and play inside/outside. I like the versatility of the returning group. The hardest teams to guard are when you can't key on one guy. Those are the ones that keep you up at night." – Gard to UWBadgers.com on the different look this year's Wisconsin's team will provide.
Subscribe to Inside the Hall's YouTube channel and like our page over on Facebook.
(Photo credit: UWBadgers.com)
Filed to: 2019-2020 Big Ten preview, Wisconsin Badgers