Comeback too late as Indiana falls short in Big Ten tournament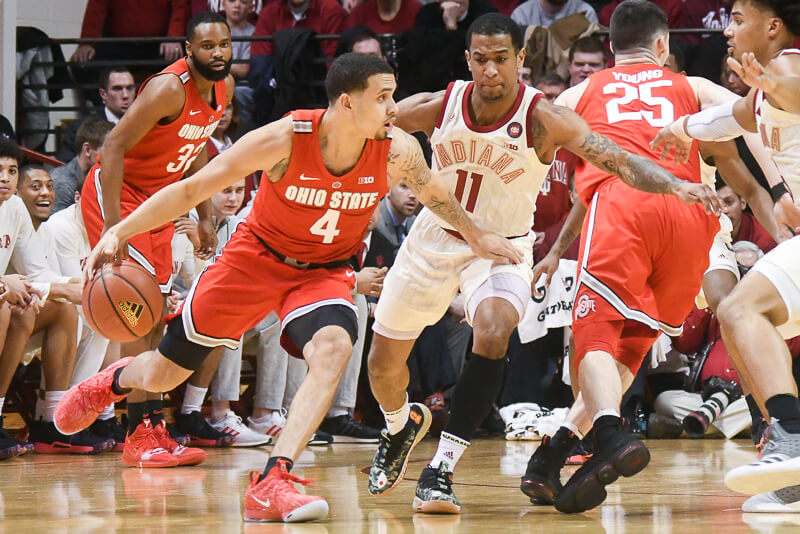 CHICAGO – There was little difference between Indiana's loss to Ohio State on Thursday and the contest between the two teams in Bloomington just over a month ago, save for the stakes.
Both teams entered play with a possible NCAA Tournament bid on the line and neither could much afford a loss. The game itself was physical, ugly, and, against all odds, close down the stretch. Given how the Indiana offense looked in the early stages of the game, it's something of a wonder that the Hoosiers scored over a point per possession for the game. Coming off perhaps its best five-game stretch of the year, Indiana's offense more closely resembled the incoherent mess that caused the Hoosiers' mid-season tailspin for much of the game – due in large part to Ohio State's physicality and devoted barricading of the lane.
By clogging the lane and selling out to take away driving lanes, Ohio State reduced IU's possessions to one-on-one attacks, uncomfortable shots, or perplexing turnovers. Indiana, whose offense is heavily reliant on generating shots around the basket, scored just six fast-break points and took only seven shots at the rim in the first half. After three consecutive games with fewer than 10 turnovers, Indiana's 17 giveaways on Sunday served to undercut much of its offensive progress over the last three weeks. IU led only once all game – a 3-2 edge two minutes into the game – and Ohio State controlled both ends of the floor for most of the game, building its lead up to as much as 20 in the second half.
But suddenly, after giving little indication that they cared to make it a game, the Hoosiers climbed back into the game. An 11-point flurry from Devonte Green, who netted a game-high 26 points, and Evan Fitzner cut the Ohio State lead to just nine before Chris Holtmann called timeout to settle his club. De'Ron Davis, however, didn't seem to mind the stoppage and converted a layup on the ensuing possession. Romeo Langford, who struggled mightily all game, provided two clutch buckets inside of two minutes that put just enough pressure on OSU to keep Indiana in the game.
Ohio State, for its part, fended off Indiana's efforts with momentum-swinging plays and consistent, coherent offense. OSU ran well-executed sets that, while not always converted, generated a shot quality consistently higher than IU's and led to 22 assists on 28 made baskets. The mere size and strength of Ohio State's guards – particularly Keyshawn Woods, who scored a team-high 18 points, allowed them to get to their preferred spots on the floor and rise up to a point where no Hoosier could do much about it. The Buckeyes came a turnover short of matching Indiana's total (17), but scored 24 points off of turnovers to Indiana's six. In the first half, they seemed to answer every Indiana push with a timely bucket to two that kept the Hoosiers at an arm's length, and conjured just enough stops and scores in the second to come out alive.
Notably absent from IU's lineup during its 32-14 run down the stretch was Juwan Morgan, whose frustrating afternoon included just eight shot attempts, three turnovers, and four fouls. Morgan is cagey and rugged, but Kaleb Wesson is physically overwhelming and a matchup that, on this day, Morgan simply wasn't suited to handle. The senior shot six free throws and scored 12 points, but Indiana couldn't unlock him fully enough for him to impact the game the way he needed to and the tandem of Davis and Fitzner found a groove that Miller chose not to disrupt.
Both Fitzner and Green were crucial in turning the game in the final 7:10. Their outside shooting, paired with Davis' physicality on the block, forced the Buckeye defense into more difficult choices. No longer could they blockade the lane at all costs with Fitzner and Green pouring in jumpers from beyond the arc, and Davis' sheer size allowed Indiana to match Wesson's inside. As a result, IU had more space to operate in every area of the floor.
Indiana, however, made its push too late and simply ran out of time in the midst of a comeback. The Hoosiers could not overcome the 42 possessions that ended in turnovers or missed shots and robbed them of any flow until the final seven minutes of the game. Indiana turned the ball over just once in the final 10 minutes, but that lone turnover – an ill-advised long hit-ahead pass by Green – led directly to an Ohio State three-pointer. Moments later, a similar downcourt pass from Andre Wesson to Duane Washington Jr. slipped through Al Durham's hands, and Washington slammed home a heavy nail in IU's coffin.
The loss, in many ways, traced the arc of Indiana's entire season, and if the Hoosiers indeed miss the NCAA Tournament, Thursday was a fitting end to a turnaround effort that fell just short. Only the mercy of the committee can save them now.
Filed to: 2019 Big Ten tournament