The Minute After: Ohio State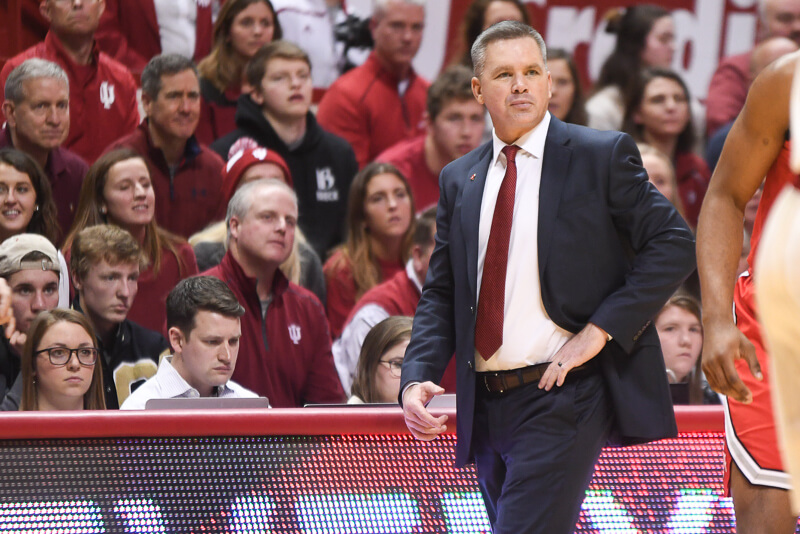 Thoughts on a 79-75 loss to the Buckeyes:
CHICAGO – The ball tipped, and the Hoosiers were in a familiar spot.
Ohio State and Kaleb Wesson dictated the terms, keeping the paint packed and the Hoosiers uncomfortable on offense. All of a sudden, the good feelings of the four-game winning streak had evaporated, and it felt like Indiana was back in its January and February malaise. The Hoosiers took too many 3-pointers and they weren't falling. The Buckeyes played off Justin Smith just like before and he didn't capitalize (0-for-5, 0 points for the game). Robert Phinisee, so integral in Indiana's winning streak, had no impact in the first half, taking no shot attempts, turning it over twice and registering just one assist. Just when the Hoosiers looked like they were back in it, here came Ohio State to knock down a shot and keep them at bay.
As the game went along, a reality became clear: The Buckeyes are bigger, stronger and more physical than the Hoosiers and Indiana just didn't have enough of a counter to get over the hump. The Hoosiers entered the locker room down seven. And as the game picked up again in the second half, they seemed to lose a bit of focus and this one really started to get out of hand. With 7:30 to go, the Buckeyes were up 20 points and Indiana looked sunk. Keyshawn Woods was sensational, as he hit a number of timely daggers en route to a team-high 18 points on 9-of-13 shooting. Wesson's return was a huge boost for the Buckeyes and he was tough for Indiana to handle. While it took him 15 shots to get 17 points, he snagged a game-high 13 rebounds, had three blocks and a couple of his three assists went to open 3-point shooters that knocked down triples as Indiana's defense payed him extra attention.
Yet, Indiana was able to somehow still make a game of it, ripping off a 13-0 run after getting down 20 points. Devonte Green was a big reason why. In a game Indiana didn't have a lot of offensive answers, Green's ability to freelance and make something out of nothing was key.
"He was all we had there for a while," Archie Miller said after the game.
The junior scored a career-high 26 points and was red hot from distance, hitting 8-of-10 beyond the arc. Al Durham (nine points), De'Ron Davis (nine points) and Evan Fitzner (eight points) all chipped in down the stretch as well and all of a sudden the sea parted and the Hoosiers got within striking distance, down just three after a Langford score with 55 seconds to go.
But Woods carved up Langford on the other end and scored to put the Buckeyes back up five with 34 seconds to go. Another Green 3-pointer got Indiana within four with 13 ticks left and then another 3-pointer from the junior pulled the Hoosiers within two points with six seconds to go. But C.J. Jackson (17 points) sealed it at the line, making two, after Indiana fouled. The Hoosiers also were outscored 24-6 in points off turnovers in this one, as they turned it over 22 percent of their possessions, a departure from their last couple contests where they were good with the ball.
"We just didn't play at a high enough level for long enough stretches," Miller said.
And the comeback attempt was too little, too late. The bubble has likely burst for these Hoosiers. NIT here they come.
Filed to: Ohio State Buckeyes