2018-2019 Player Profile: Evan Fitzner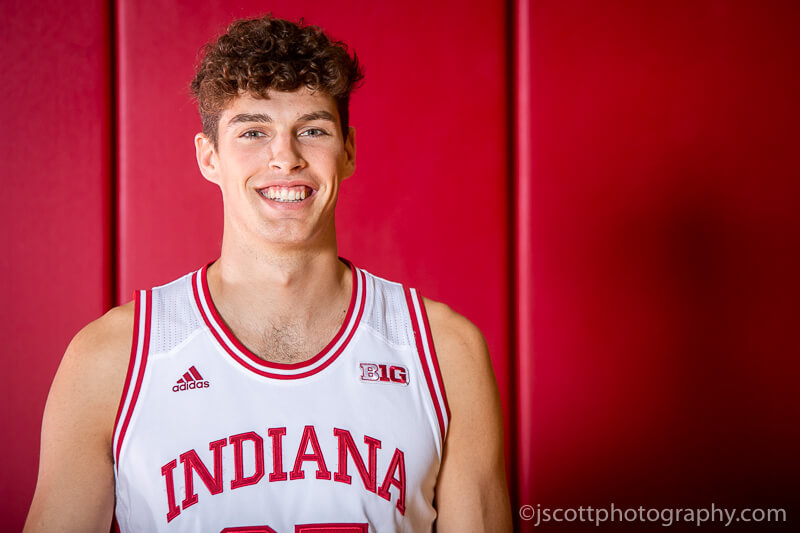 With the start of college basketball season on the horizon, we've transitioned from our look at other Big Ten programs to our player-by-player previews of the 2018-19 Indiana roster. Today, our profiles continue with a look at Evan Fitzner. (Previously: Jerome Hunter, Robert Phinisee, Damezi Anderson, Jake Forrester, Romeo Langford, Race Thompson, Justin Smith, Clifton Moore, Al Durham Jr., Devonte Green, De'Ron Davis, Zach McRoberts)
The final addition to Indiana's 2018-2019 roster came in mid-May when Saint Mary's graduate transfer Evan Fitzner made a pledge to finish his eligibility in Bloomington.
The 6-foot-10 forward was a role player for the Gaels over three seasons, but saw his minutes fluctuate as Jock Landale gobbled up the majority of the frontcourt time in Randy Bennett's system.
While Fitzner is still expected to be a role player for the Hoosiers, he's looking to carve out a more consistent presence under Archie Miller and the IU coaching staff in his final season.
Although his IU teammates have described his post moves as "majestic," the bread and butter of Fitzner's offensive game is his floor spacing ability. Last season's Indiana team ranked in just the 25th percentile in spot up shooting situations, according to Synergy Sports. Fitzner ranked in the 76th percentile in such situations as a junior at Saint Mary's, according to Synergy.
On a team with two clear go-to options in Romeo Langford and Juwan Morgan, it's not hard to imagine Fitzner being the beneficiary of aggressive double teams thrown at both players.
Those who watched the Hoosier Hysteria scrimmage already got a glimpse of Fitzner's ability to spot up as he knocked down a trio of 3-pointers. In addition to the spot up ability, Fitzner also graded out favorably in a few other key areas last season for the Gaels.
According to Synergy, he ranked in the 73rd percentile nationally in cut situations. Fitzner scored 1.27 points per possession off of cuts. While he's not an explosive athlete, Fitzner can also be effective as the roll man in pick-and-roll situations. He ranked in the 54th percentile in such situations last season at Saint Mary's, per Synergy.
But after dissecting plenty of Fitzner film last spring upon his signing, perhaps the most underrated part of his game is his ability to operate as the roll man. As the clips below show, Fitzner can pop out and knock down the 3 as the roll man when needed and can also put the ball on the floor:
While the offense is certainly a welcome upgrade for the Hoosiers, Fitzner's ability to hold his own defensively will likely determine his ultimate role on the roster.
Will he have the bulk to withstand some of the rugged post players present in the Big Ten? He's listed at just 225 pounds and his shot blocking and rebounding numbers were pedestrian for a 6-foot-10 player. Having a floor spacer at that size will be helpful, but defense is equally important in Miller's system.
Bottom Line: Morgan and Zach McRoberts are Indiana's captains this season, but adding a player with Fitzner's experience will be a positive for the IU locker room. He's played against plenty of power five opponents and in the NCAA tournament, which should help him emerge as a leader on a roster welcoming plenty of new faces. Miller mentioned on a recent radio show that Fitzner is having to unlearn some things as he adapts to Indiana's system, but he should be a rotation stalwart from day one as Indiana looks to climb the Big Ten standings.
Quotable: "Evan is a fantastic kid. He's a fantastic player. Couldn't be more excited he decided to join us, and I would say of all of our additions, he may be the most important just due to the age that he comes with, the experience level in college basketball's big scene, by winning as many games as he's won, and he brings an offensive skill set that maybe, like you said, was lacking a little bit from the ability to maybe have a fourth shooter on the floor, fifth shooter on the floor. I definitely think he's a bona fide game three-point shooter. His percentages stay that way, and then watching him work out, he's very serious about his game. He just brings another mature winning approach, and I think he'll be a home run in terms of to our fan base and to his teammates and everyone. He's just a really, really likable guy that we're excited to have." – Archie Miller on Fitzner at media day.
Filed to: 2018-2019 season preview, Evan Fitzner